Keanu Reeves Signs Autographs For His Fans Before Performing In California
Keanu Reeves Signs Autographs For His Fans Before Performing In California
Updated on August 25, 2023 17:07 PM by Michael Davis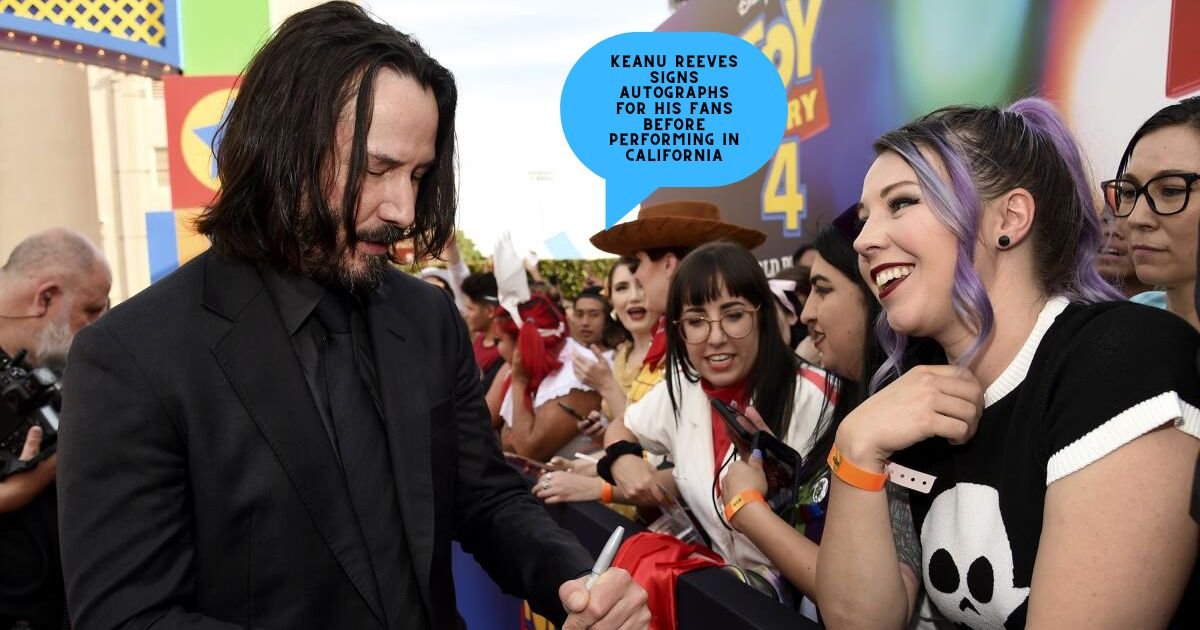 (Keanu Reeves Signs Autographs For His Fans Before Performing In California /Image Credits:Los Angeles Times)
Keanu Reeves Seen Signing Autographs

After taking a huge gap in performing live, the band Dogstar is in the game once again! Keanu Reeves was seen signing autographs for his fans before his performance in Southern California. He was seen wearing a grey checked coat over a black t-shirt and dark-colored jeans. He wore a brown baseball cap to match his brown boots and had a pair of sunglasses to complete his look!

About Dogstar

Dogstar was formed by Keanu Reeves, who is also a Hollywood actor. He started Dogstar in the year 1991. The group had two other members besides Keanu Reeves. They were Gregg Miller and Robert Mailhouse. By the year 1994, they became a group of four as Brett Domrose also made his way into the band. They were mainly known for their rock music genre and gained ample popularity over time.
In 1996, they released their first-ever album, 'Our Little Visionary.' This album comprised four tracks that soon became a hit.
Then, in 1999, they released their second album, 'Happy Ending'. After this album, the band split up!

What Happened After The Split?

After Gregg Miller left the band, Brett Domrose also started performing solo. However, Keanu Reeves performed in a band called 'Becky' along with Robert Mailhouse once again.
Later, all the boys would meet up and have jamming sessions. After the strike of Covid-19 in 2020, the four of them had to quarantine together. They made the most out of this time and started writing songs. By 2022, they had written songs that were enough to become an album.

'We Are Back' – Instagram Post

In July 2022, they made a post on Instagram saying that they were back again.

Performed Together After Decades
(Keanu Reeves Signs Autographs For His Fans Before Performing In California /Image Credits:Happy Mag)

Dogstar, the band that was already famous, performed live together after decades. Earlier this year, in May, they performed at the Bottle Rock Napa Valley Music Festival.
New Single Released

After making a comeback, Dogstar released their new single, 'Everything Turns Around'. It came out in mid-July and is actually part of their upcoming album

When Is The New Album Coming?

Dogstars' upcoming album, 'Somewhere Between the power lines and palm trees,' will make its way this year! It's all set to release on October 6, 2023.

Upcoming 25-Day Tour

The return of the band has been crazy! They have already announced a 25-day tour, which began on August 10.
Some of the dates are as follows:
August 10 – Hermosa Beach, California
August 26 – Ventura Music Hall, California


August 27 – Solano Beach, California


August 28 – Santa Ana, California

After performing in California, they will travel to Japan in September. After a few shows there, they will come back to The United States.

The music tour is expected to conclude on December 21 in Nashville.

Are you as happy as we are we the return of Dogstar?
Also Read: Katharine Mcphee And David Foster Are Back On Stage Since Nanny's Death!
Also Read: Tyler James Williams Was Hospitalized While Transitioning From 'Everybody Hates Chris' Child Star to 'Abbott Elementary' Adult Actor

Also Read: There Is No Truth To The Rumor That Heidi Klum Consumes 900 Calories A Day: 'Don't Believe Everything That You Read'

Also Read: Terry Funk's Last Movie Before He Died!