There Is No Truth To The Rumor That Heidi Klum Consumes 900 Calories A Day: 'Don't Believe Everything That You Read'
There Is No Truth To The Rumor That Heidi Klum Consumes 900 Calories A Day: 'Don't Believe Everything That You Read'
Updated on August 31, 2023 10:40 AM by Evelyn Mia
(There Is No Truth To The Rumor That Heidi Klum Consumes 900 Calories A Day: 'Don't Believe Everything That You Read' Image Credits: Popstar! Magazine)
These reports, which suggest that she falls below the recommended daily intake of 2,200 calories, for a woman her age are inaccurate.
During the session the former Victoria's Secret model shared some details that raised a bit of concern among her fans. When questioned about her eating habits she mentioned that she likes to have a breakfast consisting of poached eggs cooked in chicken broth. Additionally when asked about her weight Heidi Klum openly stated that she currently weighs 140 lbs.
Sets the Record Straight
The model and TV personality clarified on her Instagram stories that these claims are false and stated, I just got home and some friends are sending me these articles that have been written that I only take in 900 calories.
She further emphasized, I want to clarify that I have never felt the need to count my calories throughout my life. It's important not to believe everything you read. Klum admitted to stepping on a scale when someone asked about her weight and attributed the calorie counting rumors to this incident.
I was recently asked about my weight so I stepped on the scale. Shared the number. It's frustrating how people take that information and fabricate stories. It's like someone starts writing something. Then everyone else jumps on the bandwagon.
Healthy and Honest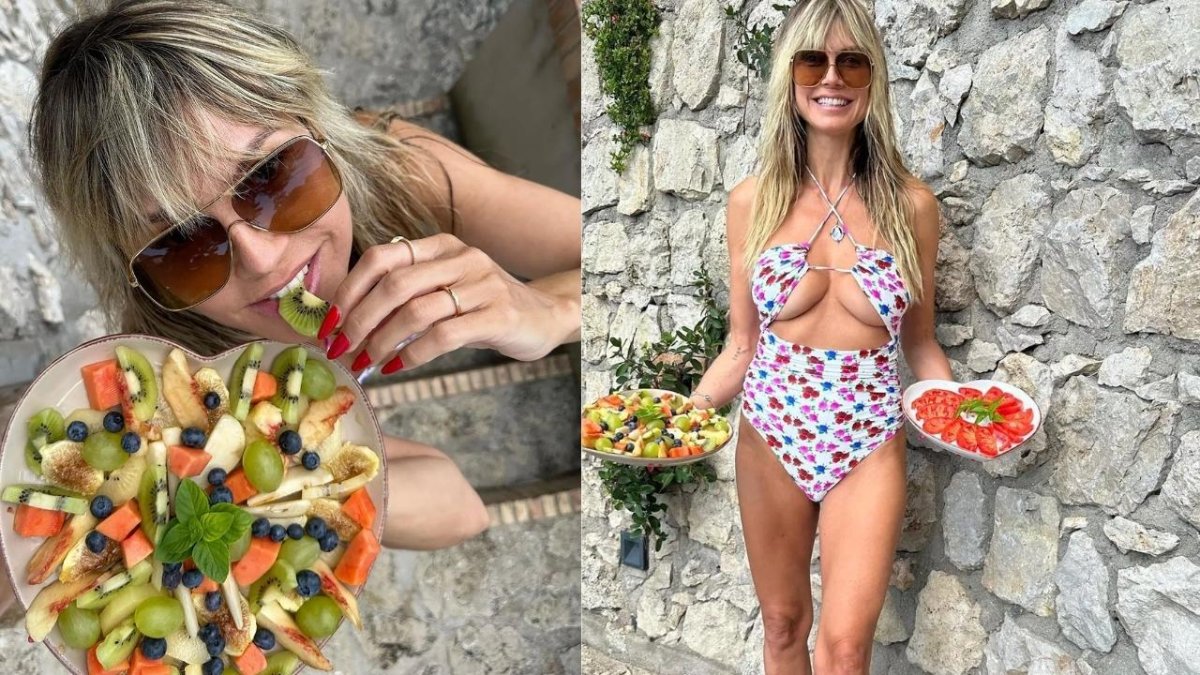 (Healthy and Honest Image Credits: US Today News, The Daily Star)
Klum also highlighted the fact that following a 900 calorie diet isn't healthy and these reports might mislead people into adopting practices.
It's truly disheartening because when individuals read those articles they might actually believe it and follow suit, which is not beneficial, for their well being she expressed.
This isn't the time Klums Instagram comments have gained attention; She previously mentioned having to disable comments, on her page, where she has 11.3 million followers for the sake of her health.
As I just arrived home some friends have been sending me articles claiming that I strictly consume 900 calories. Let me clarify something—I've never had to monitor my calorie intake in my life. Don't believe everything you read; it's important to question things.
No Calorie Counting here
I sometimes find it disheartening how people express their opinions and I believe it's not healthy to let others' words sway your decisions, the model explained. It can deter you from following your instincts and doing what truly resonates with you.
And by embracing this mindset I feel more liberated, she added.
Of course I do feel a sense of sadness for the fans whom I can't engage with, she expressed. However the abundance of negativity prevalent in today's world is overwhelming.
People tend to fabricate stories. It starts with one person's account. Then everyone jumps on board. It's truly disheartening because individuals read those narratives, internalize them and potentially even act upon them.
Klum is not the celebrity who has faced scrutiny regarding their practices. This year actress Gwyneth Paltrow faced backlash in the media after disclosing her adoption of intermittent fasting coupled with a low calorie diet that includes bone broth lunches.
Also Read: Carlos Alcaraz Net Worth | A professional tennis player
Also Read: R Kelly's net worth | Songwriter, producer, and singer from the United States
Also Read: The net worth of Chris Rock is estimated to be $80 million