Boxer Josh Popper, 29, Confirms His Romance With Madonna, 64
Boxer Josh Popper, 29, Confirms His Romance With Madonna, 64
Updated on March 10, 2023 18:31 PM by Andrew Koschiev
The singer has confirmed her rumoured romance with boxer Josh Popper, 29, by posting a selfie of the pair kissing on her Instagram story. As a result of posting several pictures of herself with Popper at a New York City gym, the 64-year-old singer recently sparked speculation about a relationship with the boxing coach.
A picture of the 29-year-old athlete and the pop star was shared on Instagram on 12 February, in which he held his bicep while his arm was around her. Madonna recently cheered for Popper at his boxing match on Friday, 3 March. Her Instagram story was updated with several photos from her Purim celebration on Tuesday, marking the Jewish holiday.
There is a kiss between her and Popper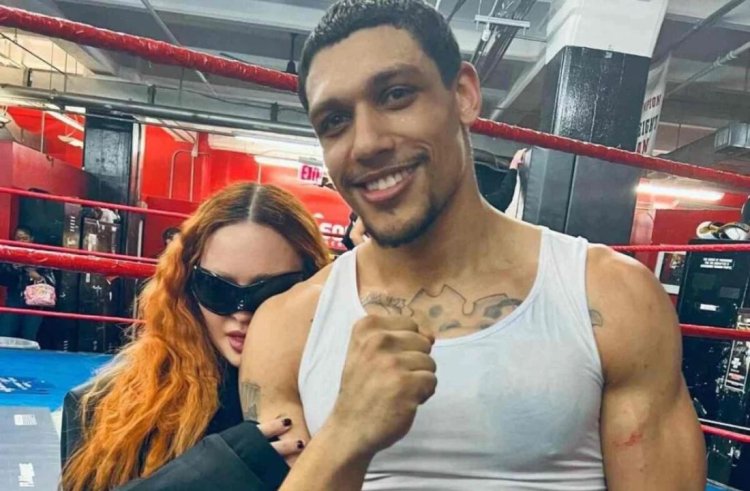 (Image Credits: FirstSportz)
She wore a lace face cover, black cat-eye sunglasses, and a leather jacket to celebrate the Jewish holiday. In one of the photos, Popper wears a black ski mask, only showing his eyes and nose, and she appears to be kissing him. Madonna and Popper were reported to be in a budding romance.
A source told the outlet that Popper taught one of Madonna's six children boxing before meeting Madonna. Popper also appears on Bravo's reality show Summer House and is a former NFL athlete living in New York City. He founded Bredwinners boxing gym in Manhattan and was a former NFL athlete.
She was being criticized for her appearance
A year after they were first seen kissing at a concert, Madonna has called off her relationship with 23-year-old model Andrew Darnell. Before that, Madonna was rumoured to be dating 28-year-old backup dancer Ahlamalik Williams. After three years of dating, the two broke up in April 2022.
After criticizing her appearance last month, Madonna accused Grammy viewers of being "ageistic and misogynistic". Before Sam Smith and Kim Petras performed "Unholy," she introduced them onstage at the 2023 awards ceremony. According to some social media users, Madonna's face is covered with plastic surgery, so she should concentrate on ageing gracefully.
Thanking artists for their work
The audience chose to focus on the close-up photos of me that a press photographer took using a long lens camera, which would distort anyone's face, rather than what I said in my speech, which was about expressing gratitude for artists like Sam and Kim, who are fearless.
There is no doubt that ageism and misogyny pervade the world we live in, and I am once again trapped in it. Women who are strong-willed, hard-working, and adventurous are punished for living beyond 45 in a world that refuses to celebrate their accomplishments as they age.
Also Read:Rande Gerber Net Worth 2023