Aniston Says Adam Sandler Criticizes Her Dating Choices
Aniston Says Adam Sandler Criticizes Her Dating Choices
Published on March 23, 2023 14:51 PM by Andrew Koschiev
As she reflected on her friendship with Adam Sandler on The Tonight Show Starring Jimmy Fallon on March 21, Jennifer Aniston said, "Over thirty years." In her interview, she told Jimmy Fallon that Jennifer, 54, and Adam, 56, first met at Jerry's Deli when they were 20 and 22.
Sharing Is Comfortable For Adam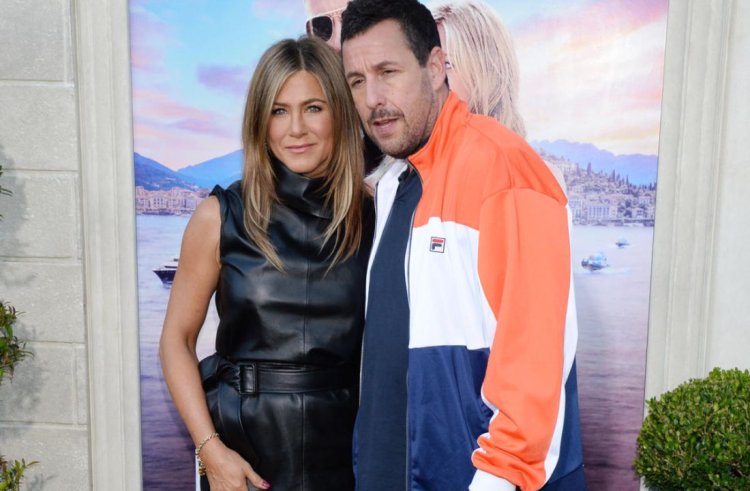 (Image Credits: Yahoo)
In the meantime, Adam and his Murder Mystery 2 costar have grown closer to the point where Adam feels comfortable sharing brutal truths. She mimicked Adam's chastising her, shouting, "What are you doing?! What's wrong with you!" When he asked, "What are you doing?! What's wrong with you?"
It is so important to me that he takes care of himself, said Jen. He is so concerned with caring for others that he doesn't do so for himself. From there, Jen said, "I'm sorry to call you out on national television, Adam, but you have to know this." She made smoothies for Adam "when he is tired" and acted like a mobile pharmacy. I'm the set medic."
On-Screen Romances Are Common
She also said that it was nice to be honored at the Kennedy Center on March 19. The Billy Madison star was presented with the Mark Twain Prize for American Humor. When she appeared alongside Adam Sandler's other frequent on-screen romance, Drew Barrymore, she said, "Adam Sandler, you have no equal." Jen and Drew, 48, performed a routine in which they compared everything Adam had done for them over the years, revealing that they both had the same experience with him.
His films, music, and his role as a cast member on SNL have entertained audiences for more than three decades, says Kennedy Center President Deborah F. Rutter. I am so thrilled to be celebrating Adam Sandler's career at a ceremony that will bring together the very best in comedy as we celebrate his career. Our hearts have been filled with laughter, tears, and laughter from tears as a result of Adam's characters. I am looking forward to an evening filled with laughter like no other."
Also Read:
New Interview With Jennifer Aniston Pokes Fun At Her Famous Exes
Thanks 2022, says Jennifer Aniston in her sweet year-in-review video with friend Adam Sandler