Flooding Forces Fort Lauderdale Airport To Close, Stranding Drivers
Flooding Forces Fort Lauderdale Airport To Close, Stranding Drivers
Flooding forces Fort Lauderdale airport to close, stranding drivers
Updated on April 14, 2023 12:18 PM by Andrew Koschiev
For several hours on Wednesday afternoon and overnight, Fort Lauderdale, Florida, was closed by nearly a foot of rain and flash flooding. It was a "temporary" halt to arrival and departure flights at Fort Lauderdale-Hollywood International Airport (FLL) shortly after 3 p.m. As a result of heavy rain and strong winds.
Extreme rainfall impacts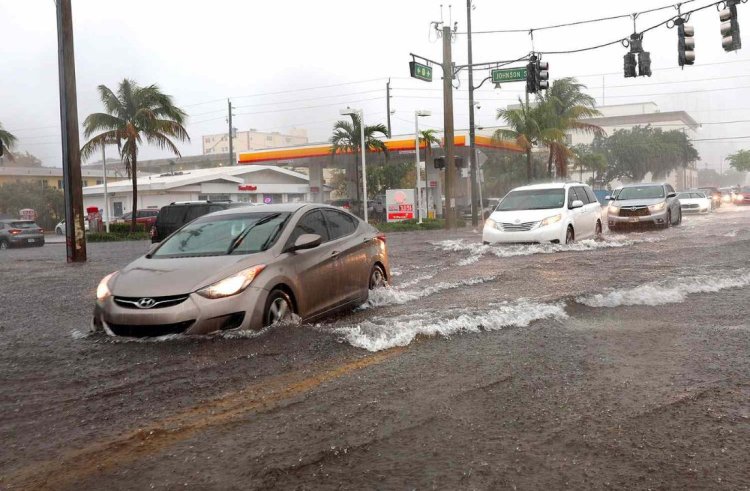 (Image Credits: People)
Travelers were left stranded for several hours. Following up on its previous message, the Fort Lauderdale airport announced resuming operations at noon on April 13 after remaining closed overnight. According to FLL, the airport's roadways remain closed due to flooding.
The main exit artery of the facility remains flooded and congested with slow-moving traffic while stalled vehicles are removed from the upper/lower levels. Until we can safely assess the impacts of this unprecedented rainfall, we request your patience while we restore airport operations."
Reports indicated that 20 inches of rain had fallen
Throughout the day, flash flood warnings remained in effect in Fort Lauderdale, Lauderhill, Hollywood, Dania Beach, Sunrise, and parts of Palm Beach County. The Fort Lauderdale Police Department and Fire Rescue Department continue to answer calls for service. A city statement said Public Works workers are clearing drains and running pumps to alleviate the flood.
The Sun-Sentinel reported that Broward school districts also canceled classes Thursday. More than 20 inches of rain were reported in the city by the National Weather Service Miami within six hours of Wednesday morning. At the start of the day, the airport announced a "temporary" closure. By 4 p.m., the facility said its main entrances and exits were flooded and impassable.
Airport exit and entry warning
At this time, it is not advisable to enter or leave the airport. Later that same afternoon, FLL warned travelers against entering and leaving the airport. There are numerous photos and videos of stalled vehicles around the airport after the flooding.
In addition to the city's central area, other parts were closed through the night due to the heavy rain. Traffic should avoid flooded areas in Wilton Manors, according to the Wilton Manors Police Department.
Also Read: U.S. citizens hunker down from frigid, deadly storms and freezing temperatures!