U.S. citizens hunker down from frigid, deadly storms and freezing temperatures!
U.S. citizens hunker down from frigid, deadly storms and freezing temperatures!
Published on December 26, 2022 22:59 PM by Andrew Koschiev
People in the United States hunkered down in deep freeze early morning and overnight. The frigid storm killed at least 24 people across the U.S. The snow drifts trapped inside residential homes, knocking out power to several hundred thousand homes and businesses. The storm has been unprecedented from the Great Lakes near Canada to Rio along the border of Mexico.
Moreover, 60% of the U.S. population faced weather advisories, and temperatures plummeted below normal from east of the Rocky Mountains to the Appalachians. Early Sunday, 1346 domestic and international flights were cancelled due to the worst weather.
A bomb cyclone due to atmospheric pressure!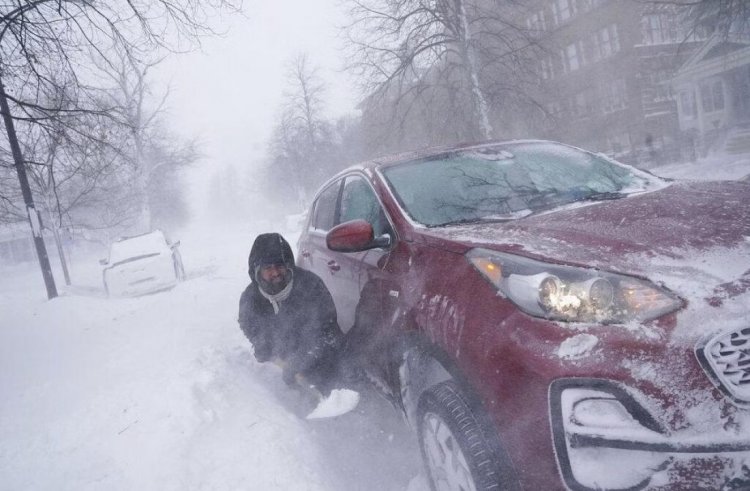 (Image Credits: The New Indian Express )
Atmospheric pressure drops quickly in a strong storm near the Great Lakes, stirring up blizzard conditions, including heavy winds and snow. According to the officials, Kathy Hochul said a fire truck in the city was stranded and shunting down the airport. On Friday, two people died in Suburban Cheektowaga, New York. More deaths were confirmed overnight, bringing the Erie County total to seven.
The city streets were under a thick white blanket covered with snow, and there was no option for people like Jeremy Manahan to charge his phone in his parked car for almost 29 hours without electricity. Manahan said, 'one warming shelter would be too far for me to get to, and I can't drive because I'm stuck.'
County buried in snow at the time of Christmas!
Ditjak Ilunga, if Gaithersburg, Maryland, was on his way to visit relatives in Hamilton for Christmas, stuck down with his daughters where their SUV was trapped in Buffalo. They spent many hours with the engine running in the vehicle, buffered by the wind and buried in snow as they were helpless.
On Sunday, across the six New England states, about 121,300 customers remained without power, with Maine still the hardest hit. Storm-related deaths include:
Seven in Erie County, New York
Ten multiple crashes in Ohio involved 50 vehicles
An electrocuted utility worker
Four motorists were killed in separate crashes in Missouri
A woman fell through the Wisconsin river ice
Freezing temperatures across the country!
In Florida, the temperature was below freezing at Tampa International Airport for the first time in almost five years. It dropped into the 20s and 30s in parts of central Florida. In South Florida, the temperature was low, with 43 degrees in West Palm Beach.
Also Read: A review of the fourth episode of Season 1 of The Witcher: Blood Origin