Blind Side Family's Son Denies Other Allegation But is Aware Why Michael Is Mad
Blind Side Family's Son Denies Other Allegation But is Aware Why Michael Is Mad
Updated on August 16, 2023 11:06 AM by Ava Sara
The NFL star and the main character of the film "The Blind Side," featured in 2009, Michael Oher, claims and filed a legal case against the Tuophy family that they never actually adopted Michael but made millions of dollars by publishing a fabricated version of Michael's life story. In response, the actual son of the Tuophy family, Sean Tuophy Jr, talks about the allegations.
About the Film
(About the Film/Image Credits: NBC News)
The film tells about how the Tuophy family helped Oher by adopting him when he was homeless and how they helped him to get into college and supported him in his NFL career. This persuasive story of an athlete who was just 12, had an addicted mother, was adopted and played NFL made Sandra Bullock wins an Oscar as the Best Actress for her Leigh Anne role.
Tuophy Jr rejects all the Allegations
On Monday, Tuophy Jr had an interview with Barstool Sports, where a question arose about why his adopted brother, Michael, was upset. In his response, he stated that he completely understood why Michael was upset. But Tuophy Jr completely denied the allegations of Michael regarding his family making "$2 Million "out of the film. He further said that if he had $2 Million in his bank account, it would have been in his email signature as "SJ Trophy multi-millionaire, signed." Moreover, he said his friends have been roasting him by sending him links to various articles.
Famous Blogger Stance on the Situation
Dave Portnoy, the owner of a famous sports blog, added in the discussion that somebody is making money out of the movie; he even said that if someone made a movie, he would think it made on him, and the film even earn $3 Million at the box office and if he doesn't see anything that will surely upset him—this stance of his supports Michael Oher.
Michael Oher's Family Relationship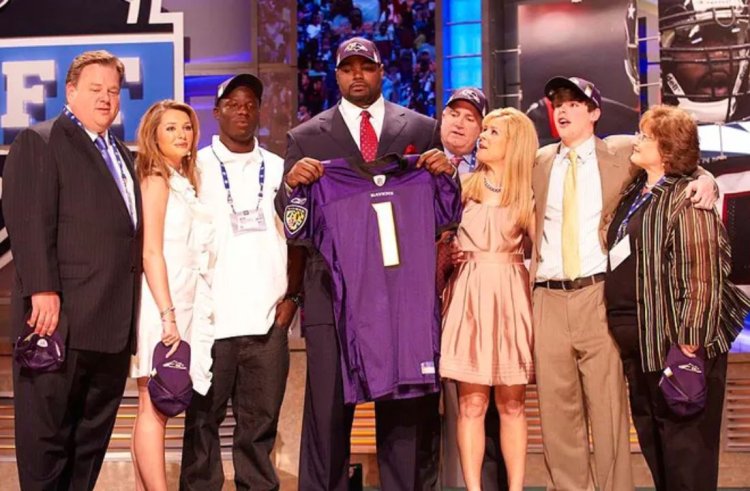 (Michael Oher's Family Relationship/Image Credits: FOX 5 Atlanta)
Talking about Michael Oher's Family Relationship, they were not that good. According to Michael's allegation, Jr Tuophy's parents, Sean and Anne, faked Michael's adaptation; not only this, they even made Michael sign some legal papers, which made Anne and Leigh his conservators. Michael being innocent and thinking them trustworthy signed those papers. The truth came out in February 2023 when he discovered those were not adaptation papers or equivalent to adaptation papers. After 20 years, Anne and Leigh still possess power of attorney to act upon; this spiced up Michael Oher's family relationship. The documents that made Tuophys Michael's conservators state that "he (Michael) will not be permitted to enter into any contract without the direct approval of his conservators (Anne and Leigh).
Conclusion
Faking an adaptation for your benefit can be heartbreaking for the person emotionally attached to you; several reasons justify Michael Oher's Family relationship and Michael's allegations. Before concluding or making decisions, people should wait for the verdict proving who has played dirty, Michael or the Tuophy Family.
Also Read: The Bachelorette's Xavier Told Charity His 'Darkest Secret' When He Opened Up About Past Cheating
Also Read: Love Island's Scott and Sam Thompson's Controversy: 'Bad Attitude' Claims
Also Read: An unplanned sight of Micheal going live in concert of Foo Fighters