Jenna Jameson's Journey- From Queen Of Porn To An Introverted Married Life
Jenna Jameson's Journey- From Queen Of Porn To An Introverted Married Life
Updated on September 02, 2023 17:39 PM by Anthony Christian
(Jenna Jameson's Journey- From Queen Of Porn To An Introverted Married Life: creadits/DeQueen Bee)
Porn icon Jenna Jameson opens up about her married life in an interview with Entertainment Tonight. Jenna Jameson is a former porn actress and is one of the world's most famous adult performers. For this, she is known as the Queen of Porn' in the adult film industry.
Jenna's Rise to Success
(Jenna's Rise to Success : creadits/Daily Mail)
Before starting her career in sensual videos in 1993, Jenna Jameson was working as a stripper and a glamour model. In only a matter of three years, following the beginning of her career as a pornstar, Jenna was titled and awarded as the Top Newcomer. She has won numerous awards and has been a member of the Adult Hall of Fame.
Jenna is also a successful businessman, who founded her own adult entertainment company by the name of ClubJenna, which was started with her ex-husband, Jay Grdina.
Also Read :Adam Lambert Net Worth : Actor, Musician And Family Details
Exploring Jenna's Personal Life
Jenna was always open about her life and the problems she had to face which introduced her to the adult film industry. She mentioned that her boyfriend's infidelity was the reason why she started working as a porn star. Her joining this industry was a form of revenge and retaliation for her boyfriend's cheating.
Jenna has had multiple sexual partners, both on and off-screen. She identified herself as bisexual. She got married twice, first to the director of Wicked Pictures, Brad Armstrong, and then to a pornographic studio owner, Jay Grdina, before finally marrying off the barber, entrepreneur, and influencer, Jessi Lawless.
She also has a daughter with one of her long list of boyfriends, Lior Bitton, who was a Jew. Jenna therefore, also converted to Judaism to get married to her boyfriend. Her conversion was broadcast on Israel's Channel 2, as a documentary in the form of reality TV series.
Also Read :G Flip Net Worth | What Is G Flips Net Worth 2020 to 2023
Jenna's Happily Ever after with wife Jessi Lawless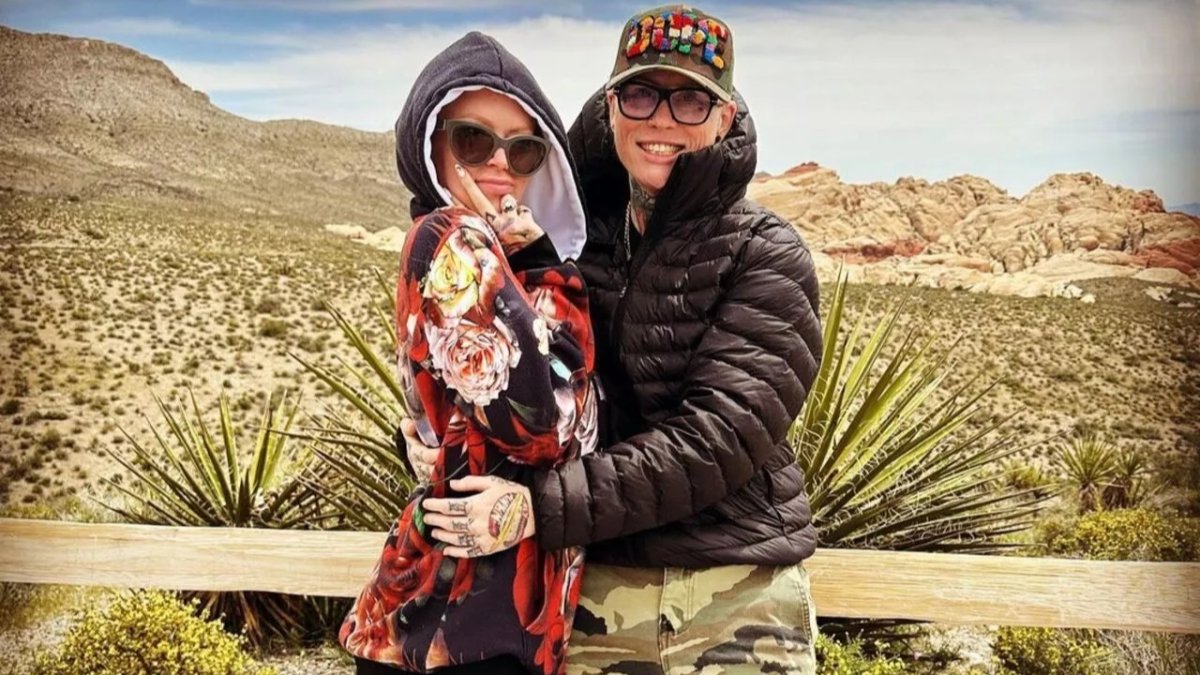 (Jenna's Happily Ever after with wife Jessi Lawless : creadits/AceShowbiz.com)
James tied the knot with Jessi Lawless on 23rd May 2023. The 49-year-old pornstar opened up about her relationship with the 40-year-old wife, Lawless in an interview with the Entertainment Tonight. Jenna described her wife to be someone with her fire and a really special girl. She also publicly said that she loves her wife, Lawless.
Jenna also claimed that cooking is her love language and she often cooks for her wife, Lawless. She also stated that although she was a pornstar, she has always been an introvert and plans to enjoy a reserved simple life.
Further in the interview, Jenna clearly said that at this point she wanted someone who could handle her, and her wife does that. Jenna said that she was wild and therefore wanted someone with her fire who could handle her. It has been seen that Jenna is madly in love and is the happiest around her wife, Jessi Lawless.
Also Read :A Closer Look At Rachel Griffin Accurso's Net Worth: What Lies Behind The Spotlight?