Tori Spelling and Dean McDermott's Financial Woes Intensify Amid Separation
Tori Spelling and Dean McDermott's Financial Woes Intensify Amid Separation
Updated on July 29, 2023 12:54 PM by Andrew Koschiev
The ongoing drama surrounding Tori Spelling and Dean McDermott's troubled union may soon see yet another episode. Despite the 57-year-old Canadian actor's apparent desire to move on, a substantial financial obstacle is reportedly preventing the couple from finalizing their separation.
According to reports from insiders and various news outlets, the couple continues to reside in the same home due to financial constraints, despite McDermott's supposed readiness to distance himself from the relationship. Allegedly, he has yet to secure an affordable living arrangement, causing his departure from their marital home impractical at present.
Tori Spelling and Dean McDermott have been facing financial instability for quite some time now. According to reports obtained by In-Touch, the couple was hit with a $324 New York City state tax warrant amid their ongoing money woes. The state tax warrant was filed on April 20, 2022, and both Tori and Dean were listed on it.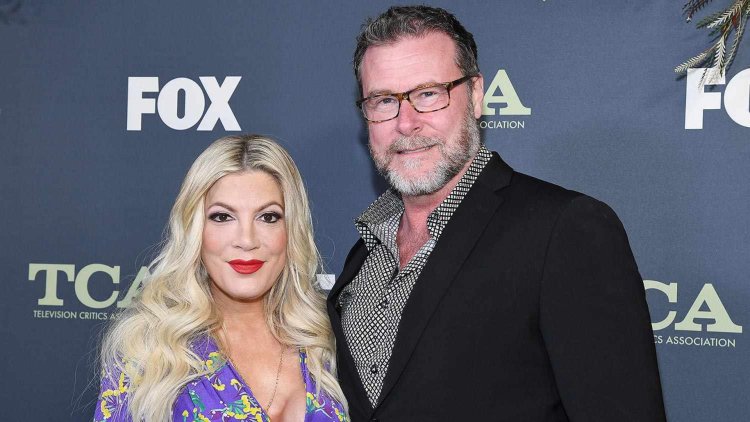 (Image Credits:People)
This latest tax lien adds to a series of financial troubles they have experienced in the past. In 2018, they were hit with a state tax lien amounting to $31,091.00, and in 2017, they faced a judgment lien of $17,730.00. Furthermore, federal tax liens of $184,390.00 in 2017 and $707,487.00 in 2016, along with a state tax lien of $259,108.00 in 2016, have compounded their financial challenges.
The tax liens, however, are not the only financial issues the Beverly Hills, 90210 star and her husband have encountered. In 2020, Tori's bank account was seized after she failed to repay her debts to American Express. In response, the court issued a writ of execution in March 2020, which was executed by the Los Angeles County Sheriff's Department in April 2020. At the time, Tori owed $88,731.25 to the credit card company. Nevertheless, she managed to settle the entire debt in April 2022, as reported by The Sun.
Amidst the ongoing writers' strike that has brought most TV and film shoots to a halt, Tori Spelling and Dean McDermott find themselves facing financial uncertainties due to their impending divorce. While both of them have some projects in pre- or post-production, the current industry standstill poses challenges to their income streams. Divorce can be an expensive process, and according to a close friend of McDermott's, he has reached his breaking point and expressed that he is done with the situation. As a result, they are in urgent need of resolving their financial situation.
On June 17th, Dean McDermott made a heartfelt announcement on his Instagram, which has since been deleted, revealing the news of his and Tori Spelling's separation after 18 years of marriage. In the post, he shared a series of photos of himself and Tori with their five wonderful children.
The post was captioned "It's with great sadness and a very very heavy heart that after 18 years together and 5 amazing children, that @torispelling and I have decided to go our separate ways, and start a new journey of our own," He further added that despite this significant change in their lives, they would remain united as loving parents, continuing to support and guide their children through this challenging time. However, just barely hours after, the post was deleted.
Tori Spelling and Dean McDermott tied the knot on May 7, 2006, and later renewed their vows on May 8, 2010. Throughout their marriage, they welcomed five children into their family. Their children include daughters Stella Doreen (14) and Hattie Margaret (11), as well as sons Liam Aaron (16), Finn Davey (10), and Beau Dean (6).
Amidst the events leading to their separation, Tori Spelling has been seeking solace and support from her mother, Candy Spelling. According to a source close to the family, Candy has played a vital role in helping Tori navigate this difficult time. Offering reassurances, Candy has assured Tori that she and her children will be taken care of, alleviating any financial insecurity that may arise in the future.
Also Read : The Best Parts of Barbie Land We'd Love To Experience in Real Life
Also Read : Whoopi Goldberg Supports Barbie Movie!

Also Read : The Southwest Detroit Technology College receives a donation from Queen Bey!