Rock myth turned charming soap: Daisy Jones & the Six
Rock myth turned charming soap: Daisy Jones & the Six
Updated on March 06, 2023 14:28 PM by Andrew Koschiev
The '70s rock and roll world of Daisy Jones & The Six is unexpectedly nice among the doom and gloom of thrillers and crime-filled TV shows lately. This series is refreshing because it focuses on the true reasons why a fictional band splits up, not the gritty, dark underbelly of the industry or era.
An anticipated ten-part drama chronicles Daisy Jones & The Six's rise and fall, their full stadium tour, the arguments behind Aurora, and the relationships these dynamic individuals affected. Fleetwood Mac, whose 11th studio album Rumours brought them to their heights, is loosely portrayed in this tale, a project that included their love affairs and scandals that helped propel them to fame.
An electric personality that attracts others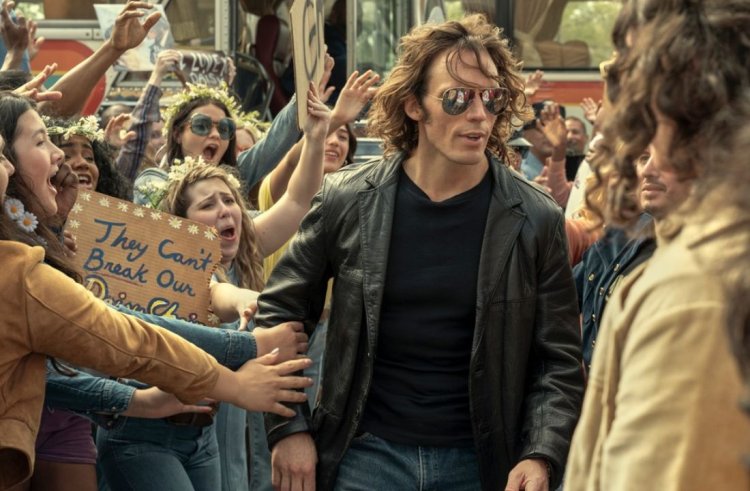 (Image Credits:Radio Times)
It is a sentiment carried through Daisy Jones & The Six because we're taken on a similar trajectory from Rumours, which Mick Fleetwood described as "almost killing us." For the first time in the series, Daisy Jones, real name Margaret, appears in a song. The character Daisy Jones, played by Riley Keough, has an electric personality that draws people to her in a room. She is simply effortless in her coolness.
We learn about Billy's dramatic journey into the music industry three episodes in when we also see Daisy's parents not believing in her. This moment occurs after we learn about their dramatic journeys into the music industry. Because of this added context, we understand why they behave as they do when they meet for the first time.
This new opportunity presents a different move
As a result of having passed comments and full song lyrics stolen by men to boost their careers, Daisy understands why she is wary of working with men. Still, Billy already possesses the experience of being a pined-after band frontman and is determined to make a different move with this new opportunity. The way Daisy rewrites Billy's song forces him to rethink why he's writing for who he is.
Eventually, it becomes the only version of the song they release. The pair begins getting to know each other through recording studio microphones, which become their safe spaces. The sparks begin to fly there, with lingering glances and explosive arguments hinting at a passion they aren't even aware of. A biopic format is beneficial in this regard.
An imaginary rock band stars in this musical drama
As with the characters within the show, it's a fun watch, and you'll find yourself devouring the episodes in the same chaotic manner they do. A musical drama about a fictional rock band with slightly damaged members deals with topics such as addiction, harassment, and discrimination - but it tackles them with humour.
This is mostly a nostalgic and messy show that's fun time-warping. Even if you know from the first episode that it isn't necessarily the happiest ending, it's worth taking on the ride. It has natural electric performances, ultra-cool sets, costumes, make-up and catchy songs.
Also Read: What is the Net Worth of Ruth Jones? How does she earn a decent amount of money?