What is the Net Worth of Ruth Jones? How does she earn a decent amount of money?
What is the Net Worth of Ruth Jones? How does she earn a decent amount of money?
Updated on January 07, 2023 15:06 PM by Emily Hazel
Name: Ruth Jones
Real name: Ruth Alexandra Elisabeth Jones
Date of Birth: September 22, 1966
Place of birth: Glamorgan
Age: 56
Height: 1.72 m
Weight: 57 kg
Profession: Actress, Comedian, Writer
Nationality: Welsh
Net Worth: $1 - $5 million
Ruth Jones is a Welsh actress; she co-wrote and co-starred in the award-winning BBC sitcom Gavin & Stacey. She was born in the Welsh town of Bridgend, Glamorgan.
Early Life
Ruth Jones's father worked as a lawyer for British Steel Corporation in Port Talbot, and her mother worked as a general practitioner. She grew up with two older brothers and younger sisters. Jones was brought up in Porthcawl.
Education
(Image Credits: HuffPost UK.com)
Jones attended Porthcawl Comprehensive School.
She participated every year in musical theatre productions.
Ruth Jones graduated from the University of Warwick with a degree in Theatre Studies and Dramatic Arts.
She also trained at the Royal Welsh College of Music & Drama in Cardiff.
Also Read: What is Ruth Negga Net Worth in 2023? Does her profession help her to gain popularity and earn money?

Career
In 1989, Jones made her professional debut with Dominic Cooke's Company, 'PanOptic .'She played Countess Almaviva in Cooke's adaptation of The Marriage of Figaro, which toured the UK for six months.
In 1990, producer Stan Sennett offered her an Equity contract, shifting scenery and playing a Teenage Mutant Ninja Turtle in Dick Whittington at the Porthcawl Pavilion, where she performed in school musicals.
In 1991, she worked in TV and radio comedy for BBC Wales.
In 1996, she appeared in the BBC television period drama Drover's Gold billed as a Welsh Western, the story of a cattle drive that went from West Wales to London.
In 1999, she appeared in the popular British movie East Is East and her performance paved the way for her to land jobs with the RSC and National Theatre.
In 2007, Jones achieved prominence as a co-writer with James Corden of the BBC Three sitcom Gavin & Stacey and played a lead role in it as Nessa Jenkins.
In 2009, she and co-star Rob Brydon recorded 'Islands in the Stream,' which peaked at number one on the charts.
In 2011, she played Hattie Jacques in the BBC four dramas Hattie.
In 2017, the run was completed by four more series and two Christmas specials, with the final episode airing.
In 2018, Jones returned to the stage after a 12-year absence in the new play 'The Nightingales' by William Gaminara.
In 2020, she participated in iaith ar Daith, a show for S4C, and other celebrities' learned Welsh broadcast in April 2020.
Ruth Jones is starring
She acted in several television shows, including:
Fat Friends (2000-2005)
Little Britain (2003-2007)
Nighty Night (2004-2005)
Saxondale (2006-2007)
The Street (2009)
Stella (2012-2017)
She is best known for her role in the critically acclaimed BBC sitcom 'Gavin & Stacey' 92007-2010, 2019).
Personal Life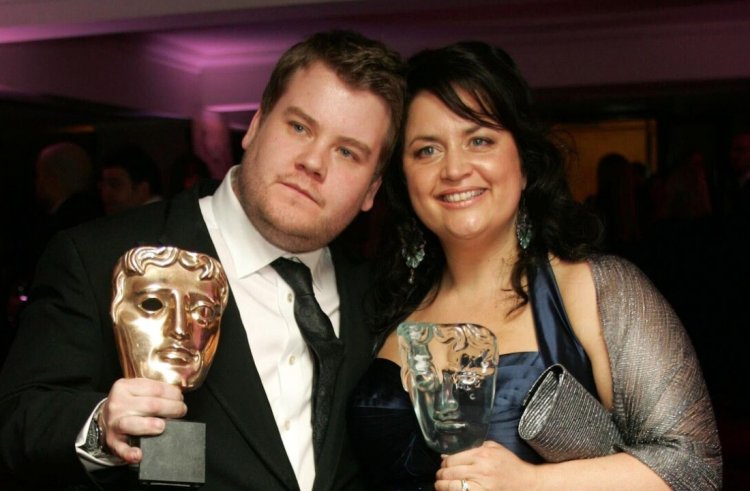 (Image Credits: Daily Express.com)
In 1999, Jones married the TV and radio producer David Peet. Jones is the stepmother to three children from Peet's previous marriage. In 2010, Jones took part in Channel 4's Comedy Gala, a benefit show held in aid of Great Ormond Street Children's Hospital and filmed live at the O2 Arena in London on March 30. David was previously married. He and his spouse have three children, Louis Peet, Alex Peet, and Fiona Peet. The couple is now living in Cardiff.
Also Read: Jenna Ortega's Net Worth
Net Worth
Ruth Jones is a multi-talented woman with writing, humor, producing, and acting expertise. She had numerous performances in films and won awards. Her net worth is between $1 million and $ 5 million as of 2022. her source of income is from the entertainment sector, and she also earns a respectable sum from her writing and career. She earned millions of dollars from her profession.
Awards and accolades
In 2007, Jones was judged the Best Female Comedy Newcomer at British Comedy Awards and nominated for Best Television Comedy Actress.
In 2009, she received the Ultimate Funny Woman award at the annual Cosmopolitan Ultimate Women of the Year Awards.
In 2012, she received a nomination for the British Academy Television Award for Best Female Comedy Performance for her performance in Stella.
In 2013, she received an honorary degree from the University of Warwick.
In 2014, she was appointed as a Member of the Order of the British Empire in New Year Honours for Services to entertainment.