Malia Obama's Bold Outfit: She Worn Same Top Like Dua Lipa
Malia Obama's Bold Outfit: She Worn Same Top Like Dua Lipa
Updated on August 29, 2023 18:56 PM by Evelyn Mia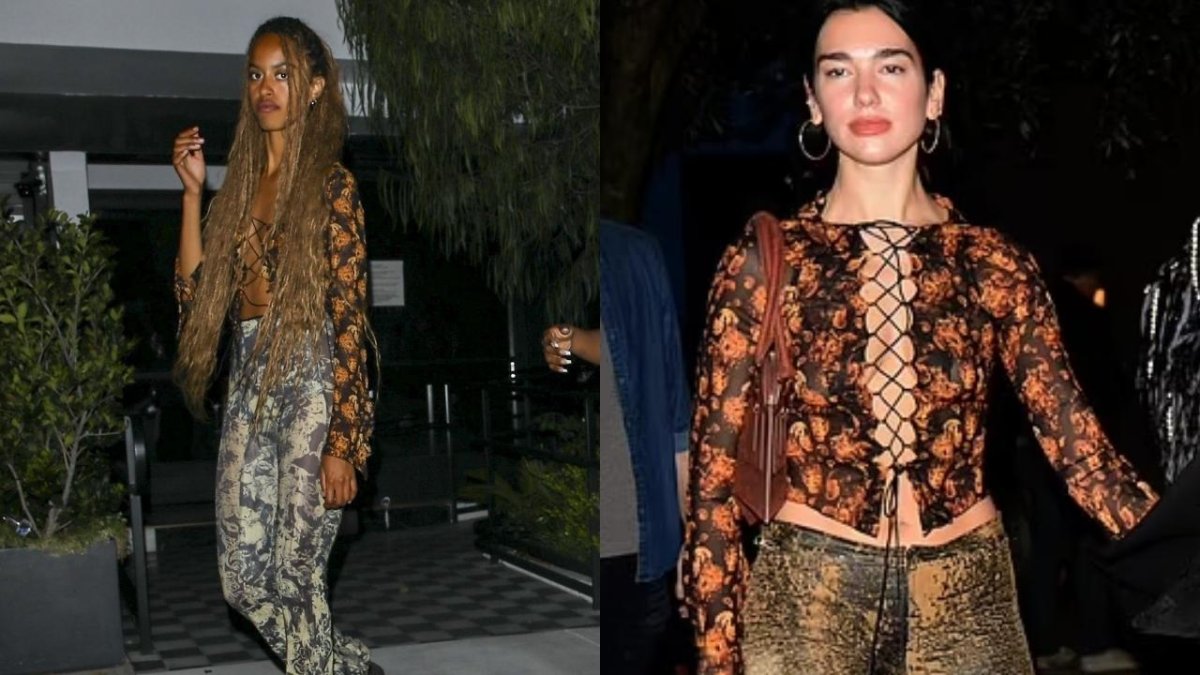 (Malia Obama's Bold Outfit: She Worn Same Top Like Dua Lipa Image Credits: Page Six, Naija Super Fans)
The former president's daughter, Malia Obama, wore a top by Charlotte Knowles from a British Designer. The same top was also worn by Dua Lipa, back in the days.
Malia Obama's New Look
It seems that the eldest daughter of Brack Obama is drawing fashion inspiration from her celebrity idols. Malia Obama was seen with her sister, Sasha Obama, at a party in Los Angeles. It was hosted by Drake. The event happened in a celebrity HubSpot, The Bird Streets Club, in West Hollywood.
The 25 years old Malia skillfully made a bold fashion choice by combining the two different patterns. She also wore a brown laced-up top with sheer high-waisted pants. The fans of Dua Lipa quickly connect the dots and could tell that this top was once worn by Dua Lipa. This top brand, only specific to A-listers celebrities, was designed by Charlotte Knowles. The designers are famous among the big celebrities, such as Gigi Hadid, Bella, Kardashians, and Beyoncé.
Sisters' Wild Night Out
(Sisters' Wild Night Out Image Credits: HOLA, Page Six)
Sasha, who is 22 years old, and a recent graduate of the University of Southern California was also showing off her fashionable style. She was wearing a very black crop top along with baddy grayish pants. She also had a hot pink purse, pendant eye-popping necklace along with earrings and bright-colored rings.
It seemed that Malia and Sasha had a wild night out at the after-party of the famous rapper. Both the sisters left the club at 4 a.m. in the morning. They had a good time at the celebration. Malia attempted to cover her face as both sisters made their way back to the car.
Charlotte Knowles, The Famous British Designer
In the fashion industry, Charlotte Knowles is known for her edgy twists and daring feminine style. The British designer has a brand called KNOWLES which she ran with her partner Alexandre Arsenault. The brand label holds the essence of contemporary fashion through its imaginative lingerie-infused sheer and corsetry designs holding irresistible allure.
Beyoncé, the Queen-Bee, is also a fan of Charlotte Knowles. On an Instagram post, Beyoncé wore a three-piece outfit from the brand. It includes a Red Pulp Bustier Tank Top with a matching turtleneck top and leggings. The post was liked by Natalia Bryant, Julia Fox, Hailey and many more.
Kim Kardashian was found wearing this brand several times. In the early 2020, on an Instagram post, the businesswoman and the reality star was seen wearing KNOWLES Venom Top and Robert Cavalli western fringe pants. The match of Yeezy python ankle boots gave the right cowgirl vibes.
Kendall Jenner is another family member of the Kardashian house who loves this brand. Kendall was spotted multiple times wearing this brand. One Instagram spotted her in a Las Vegas party where she shared her photo wearing Green Check Skin Top Dress with matching Truss Trousers and wrote: 'one night only.'