Kyle Richards Opens Up About Her Separation From Now-Estranged Husband Mauricio Umansky : This has been very hard to do
Kyle Richards Opens Up About Her Separation From Now-Estranged Husband Mauricio Umansky : This has been very hard to do
Updated on August 31, 2023 14:40 PM by Sophia Luna
(Kyle Richards Opens Up About Her Separation From Now-Estranged Husband Mauricio Umansky : This has been very hard to do /Image Credits: Yahoo News UK)
Kyle Richards in a recent Q& A with fans finally opened up about her recent split with her now enstranged husband Mauricio Umansky saying that it has been very hard.
The Real Housewives of Beverly Hills star, 54, opened up about how she has been coping following the heartbreaking news of her separation from her husband, 53, during a Q&A fan chat with Amazon Live on Wednesday 30th of August.
While chatting with her fans in an Amazon Live session, The Real Housewives of Beverly Hills star admitted that going through a mutual separation with her estranged husband has been tough for a few reasons.
She made this reveal when a fan asked her how she was doing. In response to this question, the 54 year old actress stated That's a very loaded question. You know this has been very hard to do [because] it's playing out with so many people having eyes on us and [with us] being in the public eye.
Obviously we care about each other a lot, she added, before noting how the couple recently returned from an Italian vacation with their entire family.
(Kyle Richards Opens Up About Her Separation From Now-Estranged Husband Mauricio Umansky : This has been very hard to do /Image Credits: Us Weekly)
Though she implied that she and Umansky, 53, were on good terms, Richards refrained from sharing any more details and admitted it was just too much to deal with right now.
On July 3, PEOPLE confirmed and released an official report on the duo's decision to separate after 27 years of marriage.
Kyle and Mauricio have been separated for a while now but are still living under the same roof, a source close to the pair shared at the time. They remain amicable as they figure out what's next for them and their family.
Richards and Umansky first met at a nightclub in 1994. At the time, Richards was divorced from her first husband Guraish Aldjufrie, with whom she had daughter Farrah Brittany (née Aldjufrie), 34.
Just few months after their meeting, they got engaged later in the year and officially tied the knot in January, 1996. In the 27 years of being together, the couple welcomed three beautiful daughters: Alexia, 27, Sophia, 23 and Portia, 15.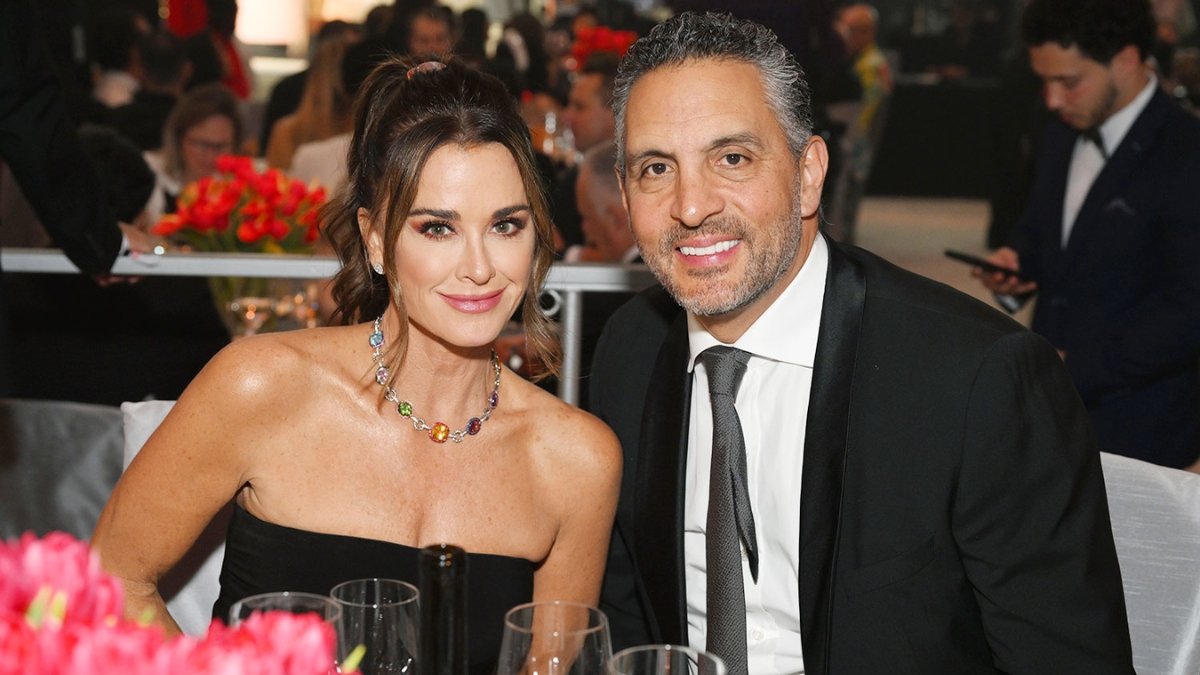 (Kyle Richards Opens Up About Her Separation From Now-Estranged Husband Mauricio Umansky : This has been very hard to do /Image Credits: Entertainment Weekly)
Last week, Umansky posted a family photo from their trip to Italy on Instagram featuring his estranged reality star wife.
Richards and Umansky revealed that they were separating after they released a joint announcement together in July. In the statement, the pair responded to separation rumors and admitted that they had been having a 'challenging' year.
Shortly after the news of their separation, the Halloween Ends star opened up about how her daughters have been handling things in an Amazon Live session in July.
Revealing how her daughters were holding up, she stated, You know, they're really strong they know that we all love each other and they're old enough to understand that not everything is perfect all of the time and that's okay and no matter what they're loved,
The news of Richards and Umansky's separation will forever be heartbreaking for all Hollywood fans as their marriage has been used as an example by several young couples over the years.
Also Read: Kyle Richards from Real Housewives Of Beverly Hills and Quotes that sum her personality
Also Read: Why Fans Think Kyle Richards Should Stay On RHOBH
Also Read: Real Housewives of Beverly Hills: Taylor Armstrong claimed that she stopped watching the show after Kyle Richards and Lisa Vanderpump ended their friendship