Has Meghan Markle's Net Worth increased in 2023 post-Spotify and Netflix deals?
Has Meghan Markle's Net Worth increased in 2023 post-Spotify and Netflix deals?
Updated on January 06, 2023 17:49 PM by Anna P
Meghan Markle and her husband, Prince Harry, hit the headlines as they bought a Santa Barbara property for $14.65 million in July 2020. The couple brought this large estate to give their kids the best life for their son Archie Harrison and daughter Lilibet Diana.
This purchase by the couple raised many eyebrows as they kept wondering how the royal couple could afford it. Because that was the fresh moment they stepped down from their royal duties, which would have made a further decline in wealth.
Meghan Markle's major shows
Meghan Markle started appearing on tv shows, including the documentary series on Netflix and podcasts on Spotify respectively.
Harry & Meghan
Markle's Archetypes podcast
After this, people started questioning Meghan Markle's net worth and continued reading further to know better.
Meghan's acting career
Right before getting married to Prince Harry at the age of 36, Meghan had a strong acting career with which she reported a net worth of $5 million, and now, with her spouse, she is worth more than that.
Also Read: Prince Harry Opened Up About Meghan Markle's Suicidal Thoughts
Meghan Markle's salary
Meghan starred in 100 plus episodes in the series Suits, which made a fortune of $50,000 per episode. She made about $360,000 after her appearance in the 2010 movies, 'Remember Me' and 'The Candidate.'
Markle receives royalties from the show through reruns and streaming on Amazon Prime and Netflix in addition to the pay she receives exclusively for her work in Suits.
She owns a lifestyle blog named The Tig which she regrettably had to shut down once her relationship with Harry became serious. Her income through advertising and branding was alone $80,000 per year.
Prince Harry inherited his net worth
According to a 2018 report, Prince Harry inherited a net worth of somewhere between 25 million dollars to 40 million dollars from her later mother, Princess Diana, and her later great-grandmother Queen Elizabeth II.
Additionally, he received a salary of $50,000 yearly as he was commissioned as the Captain in the British Army.
Wedding increased Harry and Meghan's net worth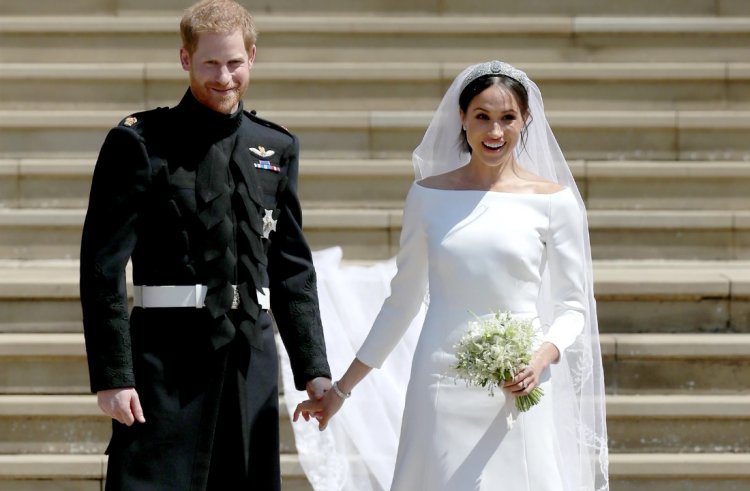 (Image Credits: Vogue India.com)
After exchanging the wedding vows between Meghan Markle and Prince Harry in 2018 at the St. George's Chapel at Windsor Castle after taking up duties as a Duchess of Sussex, their combined net worth was between $25 million-$40 million.
As both Meghan and Harry stepped down from their royal duties in 2020, their net worth was $60 million, which is their independent wealth. The couple was forced to spend money from their pockets after the royal families no longer supported them.
Additionally, the couple paid back £2.4 million ($3 million) in government funds used to renovate Frogmore Cottage on the Windsor Estate, which will continue to serve as Harry and Meghan's home in the United Kingdom. Meghan went in for a $9.5 million mortgage to acquire the 7.4-acre property for their $14.65 million Santa Barbara mansion.
Also Read; Meghan Markle and Prince Harry Talked About Their Wedding: What A Royal Wedding!
Meghan Markle's book
Markle received a $700,000 advance for her June 2021 release of The Bench.
Prince Harry's book
Prince Harry's book deal is estimated to be worth at least $20 million for his book named Spare.
Meghan on Deal or No Deal
Meghan was paid $800 per episode for her appearance in Deal or No Deal and appeared in 30 episodes.
Charity work by Meghan
In exchange for a sizable donation to Elephants Without Borders, Markle provided the narration for the Disney documentary Elephant.
Money from Oprah Winfrey show
Oprah Winfrey's interview with Meghan and Harry garnered few shocking revelations about the royal family members the Sussexes and Winfrey herself made it clear during the interview that they weren't paid a penny for it.
Also Read; The Netflix documentary Harry and Meghan revealed a beautiful Archie and Lili moment!
Couple's deal with Spotify
According to reports, it cost Prince Harry and Duchess Meghan a staggering $25 million to get an exclusive Spotify arrangement for their Archewell Audio podcast network, which has released 12 episodes.
The couple announced the Netflix contract in September 2020, and their deal was estimated to be $150 million, but insiders stated that the deal was in nine figures and the show's creators were Shonda Rhimes and Ryan Murphy. Harry and Meghan were the show's producers and not creators of content, and the payday was said to be smaller than big.