Gucci creative director Alessandro Michele steps down
Gucci creative director Alessandro Michele steps down
Updated on November 25, 2022 01:28 AM by Anthony Christian
After almost eight years as Gucci's creative director, Alessandro Michele has quit. During that time, he helped bring the Italian label back to life and change its fortunes.
The parent company of the luxury house, Kering, announced the decision on Wednesday. The 49-year-old designer "was key to making the brand what it is today."
In a statement, François-Henri Pinault, chairman and chief executive officer of the conglomerate, said, "The road that Gucci and Alessandro walked together over the past years is unique and will remain an outstanding moment in the history of the House, His passion, his imagination, his ingenuity, and his culture put Gucci centre stage, where its place is."
After being employed by Gucci as a handbag designer, Michele was promoted to CEO in 2015. Before that, she had never been in control of a big brand. However, it appeared that the Brand's reputation was declining, so he gave it an entirely new appearance by abandoning the overtly seductive style that had been established by his predecessor Tom Ford in favour of a more eccentric style known as "geek chic."
Renaissance art via the medium of fashion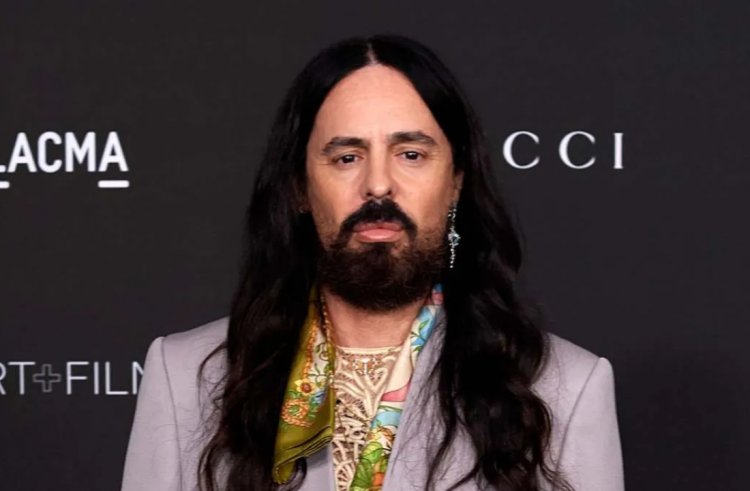 (Image Credits: usmagazine)
After that, Michele ushered in an age of bright, maximalist designs by reinterpreting Renaissance art via the medium of fashion and organising lavish catwalk presentations at historic locales. He embraced the sumptuous tradition of a business that only celebrated its one-hundredth anniversary last year, even going so far as to name one of his most well-known designs, the Dionysus handbag, after the Greek god of wine. This was done in honour of the Brand's centennial celebration.
His genderfluid collections also managed to blur the barrier between the menswear and female divisions of the label. At the same time, his intelligent collaborations with companies like Adidas and The North Face helped to give the label mass market appeal.
Michele courted celebrities and hired the likes of Harry Styles and Billie Eilish as brand ambassadors. In 2017, Time magazine included Michele as one of the 100 most important people in the world. In May of this year, at the Met Gala, attended by many celebrities, he and actor Jared Leto appeared together on the red carpet wearing identical Gucci suits.
Also Read: Horror icon quits 'The Masked Singer'
Michele's significance over Kering
During Michele's tenure as CEO, revenue increased significantly. Kering also owns Balenciaga, Bottega Veneta, and Saint Laurent, but Gucci now makes more revenue than all of them, reportedly generating 9.7 billion euros ($10.1 billion) for the firm last year.
Michele's term, however, was not without controversy. He sent models down a Milan runway in white straight jackets in 2019, prompting a protest from one of them, Ayesha Tan Jones, who held out a note scribbled on her palms that read: "Mental health is not fashion." The same year, the label was compelled to apologise for selling a sweater that was compared to blackface, while a $790 turban was accused of cultural appropriation.
The Brand had also had trouble recovering from the Covid-19 pandemic as quickly as some of its competitors, particularly in China, which is now estimated to account for almost one-third of Gucci's sales.
Michele's replacement
In a statement released on Wednesday, Michele, who started working at Gucci in 2002, said, "There are times when the road's part ways because of the diverse perspectives each one of us may have." Today marks the conclusion of a remarkable journey for me that has ned more than twenty years and has been spent working for a company to which I have unflinchingly given all my love and creative enthusiasm. Gucci has served as my residence and my adopted family throughout this extended length of time," he explained, adding, "Together with them, I have dreamt, dreamed, and fantasised."
The individual who will take Michele's place has yet to be announced, and Kering has hinted that other shake-ups may be on the horizon. According to the press release issued by the company, Gucci's design office will be in charge of directing the Brand's production until a "new creative organisation" is revealed.
Also Read: An amicable split between Kendall Jenner and Devin Booker!