Getting to Know Lilly Jay, the Intriguing Ex-Wife of Ariana Grande's New Flame, Ethan Slater
Getting to Know Lilly Jay, the Intriguing Ex-Wife of Ariana Grande's New Flame, Ethan Slater
Updated on July 31, 2023 15:29 PM by Andrew Koschiev
Since the recent speculation of Ariana Grande with her new flame, Ethan Slater, the question in everyone's mouth has been who is Lily? Summarily, Lilly Jay is currently or soon to be ex-wife of Ethan Slater following his alleged relationship with the music pop star Ariana Grande.
It was reported that Ethan had begun dating Ariana Grande in July 2023.
On July 26th, Ethan filed for divorce from Lilly his wife of five years, following reports from multiple outlets that the Tony-nominated actor, has started dating his Wicked co-star Ariana Grande, they're 31 and 30 respectively.
The news of Ariana and Ethan's alleged coupling broke on July 20th. Despite neither party confirming their relationship status, Ethan filed for divorce from Lilly in New York just the following week, according to documents obtained by TMZ.
Let's find out more about Lilly Jay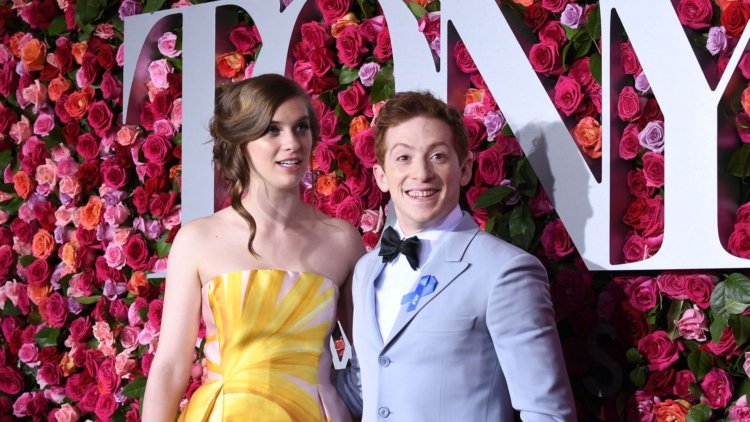 (Image Credits:ELLE)
Lilly Jay Relationship
Ethan and Lilly, who tied the knot in their 20s, have been together since they were teenagers. According to a 2018 article by MoCo 360, Lilly and Ethan were high school classmates and were already engaged at the time. In a heartwarming Instagram post in November 2022, Ethan celebrated their 10th anniversary together and revealed that they had been dating since 2012. Alongside a sweet photo of the both of them together which he captioned, "My best friend. Four years married, 10 years together." Since then, Ethan has made his Instagram account private.
Lilly Jay's Marital Life
There is no evidence of Lilly being married before she wedded Ethan. She was completely devoted to him from 2012 onwards, and after six years together, they finally exchanged vows in 2018. During this time, Ethan was starring in The Spongebob Musical as the titular character and making sporadic television appearances in shows like Law And Order: Special Victims Unit and The Marvelous Mrs. Maisel. Lilly was frequently by his side at high-profile events, such as the 2018 Tony Awards, where he received a nomination for Best Actor In A Musical.
Her Child
Lilly and Ethan have been hitched for four years before they decided to expand their family in August with the arrival of their adorable baby. They shared this news happily with a cuteness overload on Instagram with a shot of their baby in a onesie-clad tot. In May 2023, Ethan further sent Lilly a special shoutout on Mother's Day. He writes, "Happy first Mother's Day to the most loving, caring, and amazing mommy in the whole wide world! However, it seems that things didn't quite work out between them as just barely a year after the baby was born the couple is already separated.
Lily's Education
Lilly is said to have studied Psychology, although the institution she attended is not yet known to the public, this information was revealed by Ethan when he extended a public gesture of admiration upon her accomplishment of earning a degree in Psychology in December 2020. In a tweet, he expressed his profound pride and accolades, stating, "After nearly 5 years of hard work, hundreds of hours researching and writing over 200 pages worth of paradigm-shifting thought in the field of psychology, my wife finally defended her dissertation. I am so proud of her, and cannot wait to introduce her at parties as kiddo," he wrote."
On July 20, news emerged that two actors from the hit musical production of Wicked, Ariana, and Ethan, had begun dating, mere weeks after it was reported that Ariana's husband, Dalton Gomez, had split from her after two years together. An insider close to the situation revealed to People magazine that Ariana and Ethan had started dating "shortly after" her separation from Dalton and that Ethan was currently separated from his wife.
Interestingly, before the news of their romantic involvement became public knowledge, a photo surfaced of Ariana and Ethan spending time together on the set of Wicked on May 31st. In the image, they can be seen dressed in their respective costumes as Glinda and Boq.
Also Read : Ariana Grande - The Singer Asks Fans Not To Body Shame Her
Also Read : Listen to The Weeknd and Ariana Grande's remix of 'Die For You.'