Ben Affleck Back To LA, After Celebrating One Year Anniversary With Jennifer Lopez
Ben Affleck Back To LA, After Celebrating One Year Anniversary With Jennifer Lopez
Updated on August 25, 2023 18:19 PM by Anna P
Throw Back Their Married
(Throw Back Their Married \ Image Credits: NPR)
Jennifer Lopez and Ben Affleck got married in Ben Affleck's Georgia estate one year ago today. If we track back, Jennifer Lopez and Ben Affleck were engaged in 2002 and were postponing their wedding due to the media attention. They surprisingly broke up in 2004, but reunited again 20 years later, and initiated Jennifer Lopez to make her new album, 'This Is Me… Now'. According to the press release, 'This Is Me... Now' was described as an emotionally raw and honest project, unlike any Jennifer Lopez' albums has produced before, and was expected to release this year.
The One Year Anniversary Details
On Monday, August 21, the singer and actress, Jennifer Lopez, celebrated her one year anniversary with the actor, Ben Affleck. To commemorate the occasion, Jennifer Lopez shared a few gorgeous photos from the ceremony of her one year anniversary on Instagram. The first picture shows Ben Affleck lifting Jennifer Lopez up while they both laugh and smile. As can be seen on the post, they share a sweet kiss in the second photo with fireworks in the background.
Jennifer Lopez also captioned her post by adding lyrics from her new song 'Dear Ben Part II', which is on her upcoming album, 'This Is Me… Now'. She wrote the lyrics, 'Dear Ben, Sitting here alone, Looking at my ring ring, Feeling overwhelmed', and expressed that the lyrics makes her wanna sing and throw back to the moment one year ago from today.
Jennifer Lopez New Album
In her one year anniversary with Ben Afflect, Jennifer Lopez has revealed some song lyrics that will be featured in her upcoming album, 'This Is Me... Now', which is dedicated to his beloved husband, Ben Affleck. 'This is Me... Now' was Jennifer Lopez' upcoming album and was a sequel to her 2002 album 'This Is Me... Then', which discussed her relationship with Ben Affleck in many songs and was dedicated to him.
According to the conversation of Jennifer Lopez with Zane Lowe in November 2022, Jennifer Lopez was discussing her new album. She explained that the whole message of 'This Is Me...Then' is that love exists, now she thinks what the message of 'This Is Me...Now' is if true love does exist and some things do last forever and that's real. She also explained that her new album captured her at this moment in time when she was reunited with the love of her life when they decided to be together forever.
Ben Affleck Arrives At LA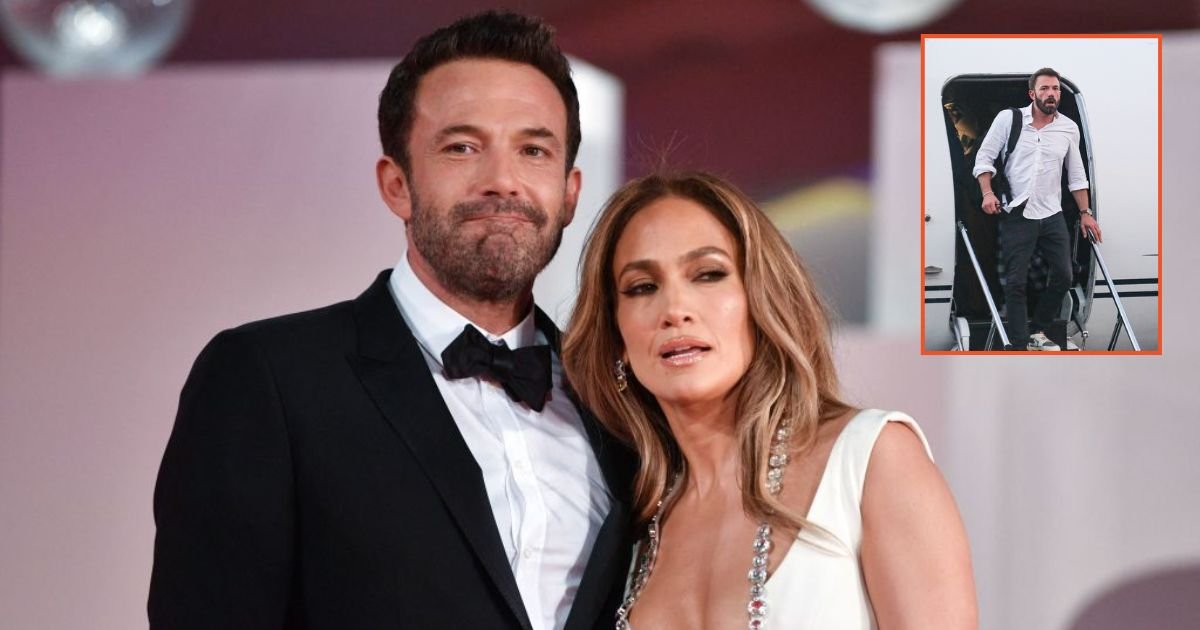 (Ben Affleck Arrives At LA \ Image Credits: Music Times)
The 51-year-old Ben Affleck, arrived back at his office in Los Angeles on Wednesday, August 23. The actor was so gorgeous sported a white T-shirt, jeans, and Nike sneakers for his casual workday ensemble. Ben Affleck also looks so cherished and has good reason to be cheery on that day, because he and Jennifer Lopez recently celebrated the one year anniversary of their wedding.
Also Read : This Christmas lesson from Ben and Jennifer Lopez is for all blended families
Also Read : Jennifer Lopez Disliked The 'South Park' Parody, Causing Team Members To Lose Their Jobs!