Netflix Faces Criticism for High-Paying AI Role During Writers and Actors Strikes
Netflix Faces Criticism for High-Paying AI Role During Writers and Actors Strikes
Updated on July 29, 2023 14:47 PM by Andrew Koschiev
Netflix faces criticism for posting a job advertisement seeking an AI professional at a salary of $900,000 amidst the ongoing Hollywood strikes. The use of artificial intelligence is a major point of contention among actors and writers who are protesting the company's hiring practices during the labor dispute.
Screenshot of the job posting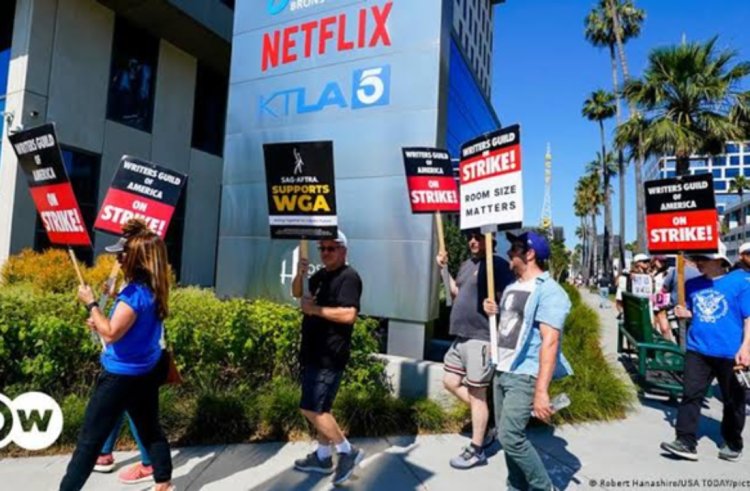 (Image Credits: Netflix)
Netflix has faced backlash for advertising an artificial intelligence (AI) product manager position with a salary range of $300,000 to $900,000 during the ongoing actors' and writers' strike. The Screen Actors Guild of America - American Federation of Television and Radio Artists (SAG-AFTRA) and the Writers Guild of America (WGA) have been striking since July 14, demanding higher pay, increased streaming residuals, and protections against being replaced by AI.
High-profile actors, such as Succession star Brian Cox, have expressed concerns about the potential impact of AI on jobs and the use of actors' likenesses, as seen during a rally in London. Despite these apprehensions, Netflix seems determined to continue investing in AI technology.
The high-paying role currently advertised by Netflix is an AI product manager position that involves the crucial task of gathering feedback and understanding user needs from AI practitioners and engineers. The offered salary range for this role is which is well above $300,000 and has drawn criticism from writers, actors, and comedians alike.
Several other TV and movie actors, including Mara Wilson, John Cusack, and Mandy Moore, have come forward to share their experiences of receiving low pay in the industry. Their aim is to highlight the importance of the ongoing strike and advocate for fair compensation and better working conditions for all actors.
On July 13, just hours before the strike action was called for, Disney CEO Bob Iger publicly criticized the decision, expressing his concerns by stating, "This is very disturbing to me." He further explained that the current circumstances in the world make it the worst time to add more disruption, emphasizing that the expectations set by the actors are simply not realistic.
In response to Iger's message, Bryan Cranston, the renowned actor from Breaking Bad, spoke out from the front lines of New York's "Rock the City for a Fair Contract" rally on July 25. The 67-year-old actor acknowledged that Iger might see things through a different lens, but he urged him to hear and listen to the actors' perspectives. Cranston emphasized that they are not willing to stand by as their jobs are potentially replaced by robots, and their plea is to be recognized and valued for their contributions in the entertainment industry.
One of the main issues at the forefront of the current strike involving members of the Writers Guild of America and the Screen Actors Guild is the need for protection against artificial intelligence. Shockingly, the Screen Actors Guild reports that a staggering 87% of its actors earn less than $26,000 per year.
Television screenwriter Javier Grillo-Marxuach took to Twitter to criticize the situation, pointing out the irony of claiming financial struggles while simultaneously recruiting highly paid individuals for the cause of advancing soulless AI technology that could potentially impact actors' livelihoods.
Rob Delaney, a well-known writer, actor, and comedian from Catastrophe, stood alongside Brian Cox during the rally and expressed his strong disapproval of Netflix's job listing for an AI product manager role, referring to it as "ghoulish." Delaney lamented that the substantial $900k annual salary for each individual in the AI army could instead provide health insurance for thirty-five actors and their families through SAG-AFTRA.
The actors and writers in the strike are determined to protect their right to work and earn a decent living while preserving their dignity. They stand united as a union, unwavering in their resolve to fight against any potential threats to their livelihoods posed by advancements in AI technology.
As of now, Netflix has not responded to inquiries about the matter.
Also Read: How To Audition For Netflix Without An Agent?
Also Read: Motivate your employees; Money matters, but it's not everything!