'Wednesday' is on Netflix's favorite binge list this week! 
'Wednesday' is on Netflix's favorite binge list this week! 
Published on December 24, 2022 03:44 AM by Sally Harbor
Wednesday is a comedy; mystery show based on Charles Addams's cartoon character Wednesday Addams. Wednesday was directed by Tim Burton. The show stars Jenna Ortega, Gwendoline Christie, Catherine Zeta-Jones, Riki Lindhome, Jamie McShane, Percy Hynes White, Hunter Doohan, and Emma Myers.
The series shows Wednesday Addams and her family as she attempts to solve a monster mystery at her boarding school called Nevermore Academy. Wednesday hit a total of 173.9 million hours of views this week. It made the top hit and most viewed title on Netflix. Less than a month after its initial release, it broke numerous streaming records and remained in the top spot.
Wednesday has achieved the second Most Popular English-language series on Netflix, with a total of 1.19 billion views among 176 million households. It will be the third Netflix series tracking one billion views after Dahmer-Monster: The Jeffrey Dahmer Story and Stranger Things Season 4.
Second most viewed TV show!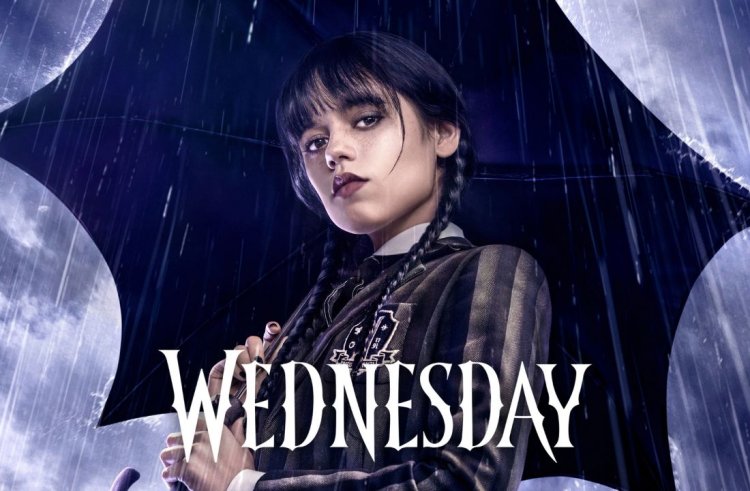 (Image Credits: rottentomatoes)
This week on Netflix, the documentary series Harry & Meghan, which covers the high-profile love story of the Duke and Duchess of Sussexes, hit the second list. On December 15, the documentary series that accumulated 97.7 million hours viewed in less than a week was released.
In the U.K., it appeared in the Top 10 in 85 countries and currently holds first place. The series Harry & Meghan remains widely watched and also the strongest debut for a documentary in its history on Netflix.
The Recruit is on the most-watched list starring Noah Centineo, coming at number 3 with 52.3 million hours viewed. Too Hot to Handle, Season 4 is gaining views, with 37.83 million hours viewed, and Firefly Lane season 2 currently has 26.5 million hours.
Most popular Christmas films!
Guillermo del Toro's Pinocchio took Netflix by storm and topped the English Films list with 39.38 million hours viewed. Some of the Christmas films that are popular at the moment include:
I Believe in Santa – 19.96 million hours viewed
Falling for Christmas – 6.4 million hours viewed
Scrooge: A Christmas Carol – 5.8 million hours viewed
The Noel Diary – 5.56 million hours viewed
Despite all popular titles, Wednesday and the documentary series Harry & Meghan had been dethroned from the top spot. Wednesday remains one of Netflix's most-streamed shows of all time and beats records over a month after its premiere.
Also Read: On Wednesday, Jenna Ortega's Legendary Dance Scene was filmed and became a trend!