Top Places Around The world to click instagram picture
Top Places Around The world to click instagram picture
Updated on August 18, 2022 22:38 PM by Ava Sara
Travelers and visitors are drawn to Instagrammable locations more than anything else. Because if you don't capture photos to post on Instagram, what's the point of flying to far-off places? Let's face it: When it comes to finding travel inspiration, Instagram pretty much has it all. There's no denying that capturing the ideal trip snapshot for Instagram has taken over how we travel, with millions of photos and videos being posted daily, ranging from selfies to expert drone footage and everything in between (in a good way).
A family photo opportunity at the base of the Eiffel Tower in Paris or a group selfie with Big Ben in London's skyline might make for the ideal Instagram moment. There is no shortage of inspiration, whether it comes from Norway, Turkey, or Morocco.
Since a picture is worth a thousand words, social media is now flooded with breathtaking vacation photos that will leave you in awe. Prepare those filters for the world's most Instagrammable locations!
Norway
If you haven't already put Norway on your bucket list, you should. Norway, home to more than 1,000 majestic fjords, is so full of breathtaking landscapes that it might just destroy your camera. You could tour Oslo while you're there. Go to Tromso. Make your way to Heddal Stave Church. Jotunheimen National Park is breathtaking. Everything you do with your time is entirely up to you.
The northern lights only appear during the winter, so keep that in mind if you're expecting to see them in Norway. Therefore, do not anticipate seeing the dancing show if you are traveling in June or July.
Also Read: Johnny Depp's Instagram post on Instagram gets unliked by Celebrities
Reykjavik, Iceland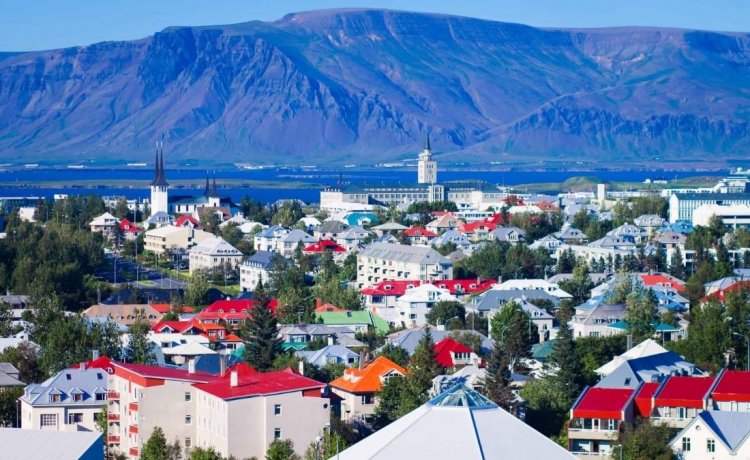 The vibrant capital is filled with attractive locations. It also has a long Viking past. The Hallgrmskirkja Church, an architectural wonder with hexagonal basaltic columns built of slowly cooling lava, is one of the many treasures found here. Don't forget to visit the rectangular glass prisms and mirrors that reflect and refract sunlight, creating unsettling shadows everywhere over Harpa Concert Hall. There are several options for getting the ideal shot!
Egypt
There is a lot to see and do, from the majestic River Nile to the spectacular Pyramids of Giza. As one might anticipate, Egypt is a dynamic Instagram feed. Point your camera at the Abu Simbel Temple or the vibrantly colored villages of traditional Nubia. For stunning vistas, climb Mount Sinai's peak and catch the sunrise. A taste of European elegance can be had by capturing the energy and romance of Alexandria. Make sure your camera is ready and waiting.
Also Read: Teen Mom OG's Tyler Baltierra Shares Dramatic Weight Loss Photos
Lucerne, Switzerland
Is there anything more beautiful, with the majestic Swiss Alps serving as the backdrop and interesting medieval architecture? Walk across Chapel Bridge, the oldest covered wooden footbridge in the world, and take it all in. Take in the colorful blooms that are sprouting on the building's surface while admiring its reflection in the Reuss River below. A sight like this is ripe for poetry. The Needle Dam is a nearby weir that uses tiny needle-shaped pieces of wood to manage the water level and flow in the Reuss River. Walk around this stunning area and take in the vibrant colors and impressive architecture. You will undoubtedly have numerous photo possibilities.
Also Read: Kim Kardashian shares photos of her stomach tightening procedure
Napa Valley, USA
This is the ideal place for stunning Instagram images because of the surrounding natural beauty, opulent wineries, and stunning architecture. One of the first indicators that you have arrived in wine country is the Grape Crusher Statue. Visit the fascinating Domaine Carneros or the wine chateau, which features a patio for wine tasting and distinctive gardens. Enjoy the beauty all around you while taking pictures on Instagram.
Japan
Japan is undoubtedly a country rich in history and natural beauty. For any photographer, setting off on a trip here is undoubtedly one of the most satisfying experiences because the nation gives so many distinct opportunities to capture a wide range of different things. Despite its modest size, there is a lot to see and do, so plan on spending a lot of time there if you want to see it all.
Also Read: How to Earn money by Sell Your Photos
Jerusalem, Israel
One of the oldest cities in the world and home to some of the holiest places in Jerusalem. Additionally, it is very scenic and distinctive. Whether it's the historic Wailing Wall or the breathtaking Dome of the Rock, there is living history, culture, and tradition everywhere you turn. These also offer fantastic Instagram opportunities! Visit the market for a more sensory experience and be lost in the colors, sights, sounds, and aromas of delicious cuisine and beautiful fabrics. Make sure that this location helps you and your family learn more about world history.
Queensland, Australia
Queensland offers a variety of vivid landscapes and breathtaking scenery for the discerning traveler, including the Fairy Pools, where you can see natural tidal pools, the Paronella Park, a lovely rainforest, and the wildlife sanctuaries of the Kuranda village, and the large red dunes at Birdsville Simpson Desert. Keep in mind the kangaroos, too! A photo opportunity is simply waiting to happen here.
Also Read: Shania Twain, always a style Icon, shared her throwback photos!
Cinque Terre, Italy
Cinque Terre is here to replace Venice. This location along the Italian Riviera coastline is made up of five fishing communities, as the name would imply. This place seems like something out of a postcard because of the brightly colored houses that dot the landscape. Walking among the villages and taking in their harbors and vineyards is a fantastic way to discover Cinque Terre. Old world vibe is created by the cobbled footpaths. Your camera memory will be full and you will be left stunned!
Symi, Greece
Greetings from Symi! This island's mountains are renowned for their lovely harbor and neoclassical buildings. This area, which is full of pastel buildings, tavernas, and stylish shops, also has a vibrant history and culture. Here, experience pristine island life while having fun at several hidden beaches. Symi will provide you and your family with picture-perfect experiences because she looks like a postcard.
Dunedin, New Zealand
The Lord of the Rings movies brought New Zealand's magnificent highlands to the attention of the world. But Dunedin is catching up quickly. The greatest hidden secret in New Zealand, so they say. This city is a jewel with bright street art, an abundance of wildlife, historic architecture, and fantastic eateries. Remember to visit the vibrant Otago farmers' market and the picturesque Tunnel Beach, which are excellent locations for snapping photos without filters and gaining hundreds of Instagram likes.
Leh-Ladakh, India
If the breathtaking scenery of Leh-Ladakh hasn't already inspired you, visit Pangong Lake for more ideas. This lake, also known as Pangong Tso or Pangong Lake, is roughly a five-hour journey from Leh. Its name means "long, narrow, enchanted lake" in Tibetan. Today, it is a popular destination for tourists and for good reason. The water's vibrant hues of blue, green, purple, and violet change constantly. Be ready for some incredible Instagram photos!
Easter Islands, Chile
This island, which is a part of Chile, is well-known for its enormous moai statues, which were made hundreds of years ago. The enormous heads, which are iconic of this isolated Polynesian volcanic island, add to its Instagramworthiness. But in addition to its variety of stunning beaches, Easter Island also boasts volcanoes. One such location is the Rano Kau volcano's crater, which is surrounded by around 400 unfinished and abandoned statues. An amazing sight to behold! The beach's white powder sand and turquoise waves are the ideal combinations. Throughout the year, it stays at a comfortable temperature for swimming. It's time to strike a posture for the postcard photos!
Turkey
Visit Turkey for one of the most Instagrammable locations, complete with the Hagia Sophia and several markets. Just consider it. We haven't even left Istanbul yet; the journey from the huge Bosphorus to the Blue Mosque is just getting started. As you soar above Cappadocia in a hot air balloon, you can take in the spectacular terrain.
Meghalaya, India
Meghalaya is located in an area of India that is yet relatively unexplored. But this "abode of the clouds"—as the name implies—is one location that demands respectful exploration. Take your kids to Mawlynnong, the cleanest village in all of Asia, not just India, to demonstrate what regular cleaning and eco-friendly living entail. It resembles a town from a fairy tale when the East Khasi hills serve as the backdrop. You can see your reflection in the water of the Umngot River because of how clear it is. Wouldn't that make a fantastic Instagram photo?
Conclusion
Traveling around the globe came to a halt due to the pandemic year. And even with many vaccine campaigns, people still think carefully about their safety before booking any vacation. However, it hasn't prevented them from daydreaming about upcoming travel. Documenting journeys in the form of photos, which are later shared on social media, is typical, among other things. Traveling, however, is not just about going to picturesque places; it's also about having life-altering and unique experiences. It is stated that travel broadens the intellect and nourishes the soul. What are you still holding out for? Although the places on the list above may not have been on your radar before, they now are. Explore with your family and snap some incredible Instagram photos!