The history of Adele and Rich Paul's relationship
The history of Adele and Rich Paul's relationship
Updated on March 02, 2023 15:42 PM by Andrew Koschiev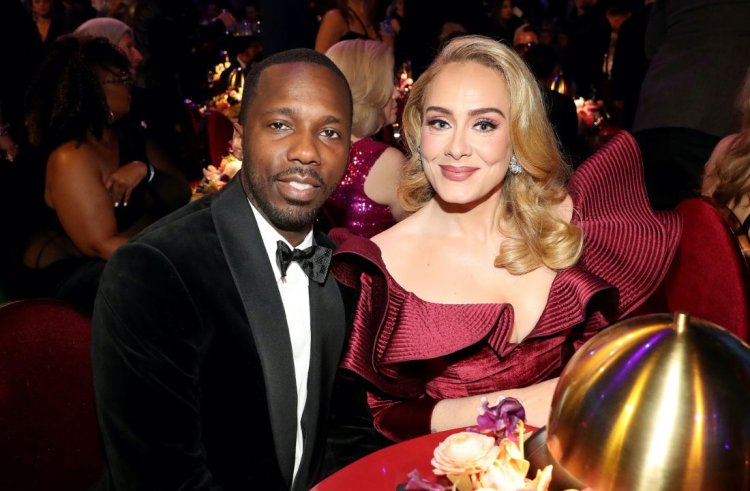 (Image Credits: NME)
Adele and Rich Paul's Relationship Timeline | New love has blossomed for Adele! Singer and sports agent of "Easy on Me" Rich Paul has developed a romance over the past year. In the summer of 2021, the couple took their relationship public after meeting at a party a few years earlier. Several glimpses of their sweet relationship have been shared with us since then. Paul and Adele have been photographed together and spoken about each other in a few interviews. Aside from Instagram and appearances together at various NBA games, Adele talked to a few media outlets about Paul. Check out the timeline ahead of their relationship.
July 2021 | Rumors claim Adele and Rich Paul are dating
They watched the Milwaukee Bucks play against the Phoenix Suns during the NBA Finals, and it was their first public appearance together. A girlfriend of Paul's sat next to LeBron during the game, ESPN's Brian Windhorst told listeners on The Lowe Post; a source confirmed It had been "a few months" since the two had started dating.
September 2021 | Rich Paul and Adele go official on Instagram
Adele accompanied Paul at the Los Angeles wedding of NBA star Anthony Davis and Marlen P in September 2021. Adele posted photos on Instagram following the ceremony, including a picture of Paul and her cuddling up in a photo booth. Though she didn't tag Paul, she captioned the post with a red heart.
October 2021 | Adele discusses her relationship with Rich Paul
A candid Adele opened up about her relationship with Paul in her cover stories for Vogue and British Vogue in November 2021. She said she had just gotten her boyfriend incredibly, "Rich just amazingly arrived." She also said that the two first met at a party a couple of years earlier when she asked him; she asked if I could sign her, saying she didn't feel nervous or anxious. "Do you need me to sign?" she asked. "It's wild." she said.
November 2021 | Oprah gushes over Adele and Rich Paul
As Adele and her team exited the London Palladium after taping An Audience with Adele, which was Adele's first performance in four years in the United Kingdom, the pair were seen taking a car to the exit together. Oprah Winfrey and Adele discussed Adele's bond during Adele One Night Only, Adele's CBS special on the singer's relationship with Paul. He's hilarious. Oh, he's hilarious, he's hilarious. And extremely smart. He's so smart. The woman said, "It's amazing to watch him work." According to her, this is her first relationship where she has embraced herself and allowed herself to be loved by others. "Just timing," she explained. "Nevertheless, I'd be curious to see what my reaction to anything that hurts me is like now that I am so secure in myself."
January 2022 | Rich Paul and Adele laugh during an NBA game
Their giggly faces were visible when they attended a basketball game in January 2022 between the Los Angeles Lakers and the Atlanta Hawks.
February 2022 | Rumors of Adele's breakup with Rich Paul debunked
Her Instagram post addresses breakup rumours surrounding her and Paul as Adele teased her performance at the BRIT Awards. The Brits will be next week! And while I'm in town, I'll also check in with Graham to chat for a bit! I'm looking forward to it!" she said before adding, "Oh, and Rich sends his love!". A diamond ring worn by Adele at the BRIT Awards on February 8 caught the attention of many. When The Graham Norton Show pointed out the massive diamond on her left ring finger on February 11, 2022. The singer maintained a coy attitude about engagement rumours. According to the woman, no one knew about her jewelry. Isn't it lovely?"
Do the couple have plans to wed in 2023?
The couple may be planning wedding rumours, and their relationship history suggests they have remained together. Despite the lack of formal confirmation, Adele's constant blushing over Rich Paul's relationship with her, coupled with Adele's constant mention of her relationship with Rich Paul, makes it clear that the couple will be married soon.
Also Read:Adele Added $13.8 Million To Her Fortune From Musical Album