Jason Momoa And John Travolta Head Banging At The Metallica Concert
Jason Momoa And John Travolta Head Banging At The Metallica Concert
Updated on August 28, 2023 12:30 PM by Emma Alice
Jason Momoa having fun at the epic concert night
Jason Momoa having fun at the epic concert night/Image Credits:www.ekro.com.br)
Actor Jason Momoa was seen entering the Metallica mosh pit with John Travolta on August 27th. The actor was seen enjoying and having a bash at the SoFi Stadium concert. The concert took place in Inglewood, CA. This is not the first time that the Aquaman actor, Jason, was seen in his wild element enjoying some heavy music.
The Aquaman actor was seen entering the gig with John Travolta and having the night of their lives. Legends of heavy metals, the Pantera, opened the gig for Metallica at their featuring show that happened in the SoFi Stadium. The successful concert began with the songs from their lead, Mammoth WVH.
BTS with Charlie Benante
One of the band members, Charlie Benante, who is most often seen creating magic at the drums with heavy beats in all the band's concerts, shared some behind-the-scenes videos as well as the ongoing rock music videos.Benante took to Instagram to share his experience and was overwhelmed with the concert and the footfall that happened there. He tagged Pantera, Metallica, and SoFi Stadium in his Instagram post. Benante shared his experience and even went as far as to say that he had never thought even in his wildest dreams that he would ever get the chance to play there.
Not only this, Benante also took to social media apps and shared a hilarious story about folding two slices of pizza while walking and eating simultaneously. He had this conversation with Travolta and was not reluctant to share and tag the Pulp Fiction actor.Benante is a new drummer for the Pantera who even joined the band on their tour and enhanced his experience in Los Angeles, California. In the videos, many stars were seen bashing at the concert, including Jason Momoa, Adria Arjona, John Travolta, and many others.John Travolta was also captured by his fans at the concert as well as the drummer Benante, who captured the Pulp Fiction actor banging his head with Metallica and meeting the band members.
Inspiration from Metal Music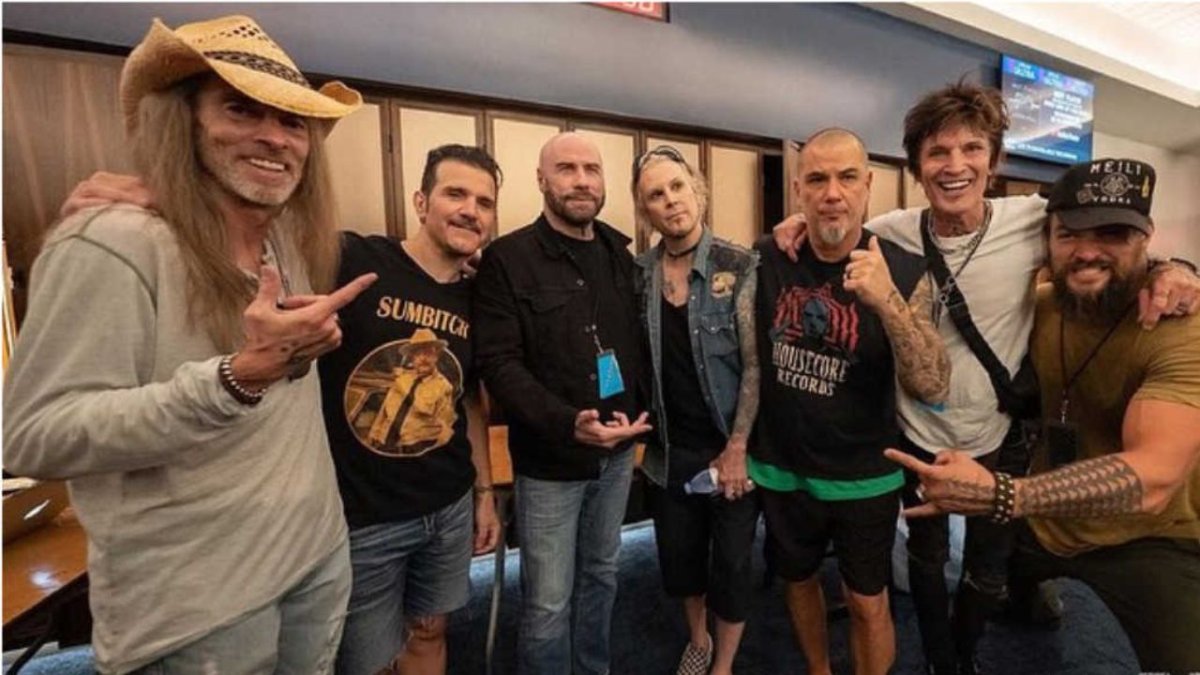 (Inspiration from Metal Music/ Image Credits:Glamsham)
Jason Momoa is a die-hard fan of live metal music and was seen at numerous metal music concerts before. He has confessed his love for rock metal music before too, especially notable are the early interviews he gave while shooting his infamous movies, Aquaman and Conan the Barbarian. He even went as far as to say that heavy metal music was actually what inspired him to add variation to the characters that he had been playing for so long.
Momoa is never reluctant when talking about his love for heavy music and how it shapes his entire personality. He has also mentioned songs from Pantera, Metallica, Tool, Exodus, and many more in his interviews.
Also Read: Derek Hough Net Worth

Also Read: Adam Lambert's Actor,Musician and Family detail's Net Worths

Also Read: Brock Davies Net Worth - factswow