Ellen Degeneres Celebrates 18th Anniversary With Wife Portia De Rossi: I Fall In Love With Her More Every Day
Ellen Degeneres Celebrates 18th Anniversary With Wife Portia De Rossi: I Fall In Love With Her More Every Day
Published on December 02, 2022 10:33 AM by Michael Davis
Ellen DeGeneres' Instagram post
Ellen DeGeneres, the talk show host, took it to Instagram on Thursday and posted two photos of the Couple with the caption, "It's our 18-year anniversary today." The Couple has been together for the past 18 years and celebrated their 14 years of marriage in August.
Photos of the Couple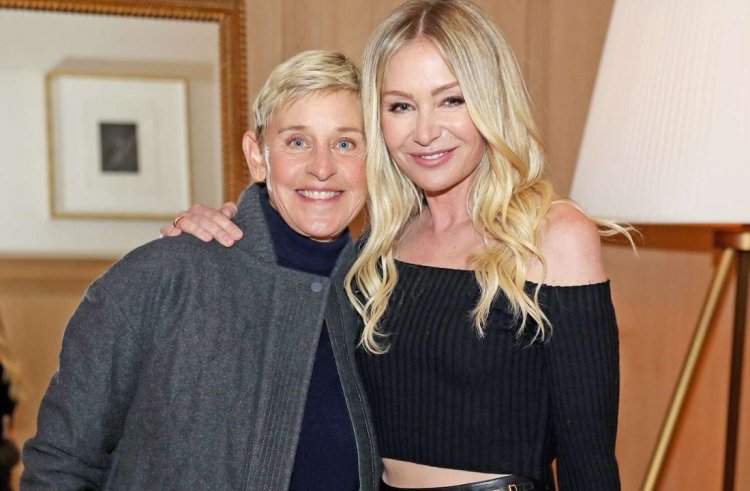 (Image Credits: People.com)
The first photo shows a close-up of the Couple, with de Rossi leaning her head on DeGeneres' shoulder and the comedian grinning into the camera. In the second image, DeGeneres supports de Rossi, 49, as she smiles and gives her wife a firm embrace.
The Couple married in August 2008, only after same-sex marriage was legally permitted in California. Last year, both DeGeneres and Rossi opened up about their relationship for a special outlet issue, where de Rossi said,
"We've grown together as a couple, and we really consider each other and put our relationship first added "By doing that, you become a lot more solid. I can't imagine spending time with anyone but her."
DeGeneres noted, "We think the same things, say the same things at the same time, finish each other's sandwiches — no, sentences," and added, "We're in a rhythm that's easy."
DeGeneres said that the pair practices a lot of appreciation and that they are fortunate to have each other.
DeGeneres once referred to de Rossi as the ideal match.
DeGeneres noted in 2007 to The Advocate, "I could say the same thing I've said in every relationship: 'I'm happy.' But there's happiness and there's love, and then there's completion. It doesn't take away from any of the relationships that I've had, 'cause I've had amazing relationships. … But I feel like I found my perfect fit."
The Couple's first meeting
Since the pair were married on August 16, 2008, it appears that they are commemorating the day their romance became "official." Despite having allegedly met at a party in 2000, they didn't begin dating until 2004. In a 2004 interview, Portia remarked that seeing Ellen during a picture session the previous year "took her breath away." That evening at the VH1 awards ceremony, they ran across each other again, and the rest is history.
Also Read: Drew Barrymore Back To Dating Life But Ready To Walk Down The Aisle Again