'Black Panther: Wakanda Forever' came to an end!
'Black Panther: Wakanda Forever' came to an end!
Published on December 12, 2022 23:50 PM by Ella Bina
Black Panther: Wakanda Forever has finally landed in theatres. Ryan Coogler, the director of the movie, wrote with Joe Robert Cole. The movie pays tribute to Chadwick Boseman, who starred as the title superhero of the movie. It ended with Shuri and Namor reaching a truce after understanding one another's struggles and personal issues. Namor accepts when Shuri offers a ceasefire in exchange for protecting Talokan from outside invaders.
Shuri and Namor called a truce!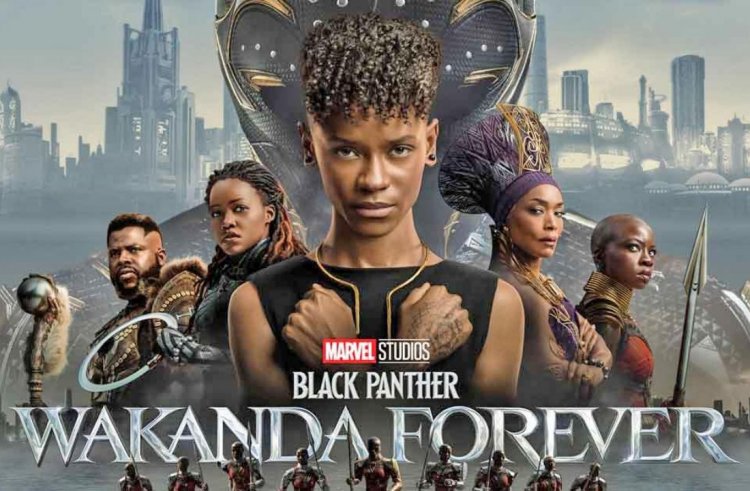 (Image Credits:koimoi)
Black Panther: Wakanda is not a romantic film but plenty of signs pointing towards a semi-romantic connection between Shuri and Namor through Wakanda Forever. Wakanda Forever centered on a conflict between the African nation of Wakanda and the Maya nation of Talokan. The two-headed leaders put aside their differences and embrace their similarities at the film's end. Namor surrender as a path to future world domination.
Riri is one of the most exciting introductions from Black Panther: Wakanda Forever. She built her prototype Ironheart suit and also working on more. The MIT student, unfortunately, didn't allow taking her Ironheart suit with her. Riri's story will continue in 2023 on Disney + with the series Ironheart.
Shuri is not a Queen of Wakanda!
Shuri became the newest Black Panther in Black Panther: Wakanda Forever, which seemed logical. At the film's end, Shuri leaves Wakanda to visit Nakia in Haiti and mourn her brother and mother's passing. She is the Black Panther and the protector of the powerful nation, but she did not succeed her mother and took the throne. M'Baku is the king of Wakanda at the beginning of the first Black Panther film.
Okoye and Aneka are the Midnight Angels!
The midnight angles are a group within the Dora Milaje consisting of Okoye and Aneka. Dora Milaje is the Black Panther's bodyguard and Wakanda's all-female Special Forces. In the comics, Aneka and Ayo lead the rebellion as the Midnight Angles, not Aneka and Okoye. Ryan Coogler develops more Midnight Angeles for the Wakanda series for Disney+ about Dora Milaje.
Martin Freeman is a fugitive!
Martin Freeman was introduced in Captain America: Civil War and continued his role in Black Panther: Wakanda Forever. The head of the CIA arrested him happens to be his ex-wife. Julia Louis Dreyfus has been collecting gray characters in The Falcon and the Winter Solider, and Black Widow loves violence and chaos. He is an official citizen of Wakanda.
The Mid-Credits Scene!
The Mid-Credits Scene is a game-changer for the Marvel Cinematic Universe. The cherubic little boy reveals his secret name is Prince T'Challa, son of King T'Challa. There is ultimately not a post-credits scene for Black Panther: Wakanda Forever.
Avengers movie in the future!
Avengers movies are The Kang Dynasty and Avengers: Secret Wars in May 2025 and 2026. There is plenty of space for unannounced films and plenty of space for more of Shuri and Wakanda.
Also Read: Why Wakanda Forever Opposed Shuri and Namor's Romantic Relationship