Will Smith and Margot Robbie caught themselves in yet another controversy with their Deepfake clip that went viral
Will Smith and Margot Robbie caught themselves in yet another controversy with their Deepfake clip that went viral
Updated on February 23, 2023 18:16 PM by Andrew Koschiev
Will Smith has got himself in another controversy when his first controversy is still buzzing around.
The MIB actor is still working to fix his image after the slap, but he has found himself in yet another one. While the netizens were still pulling his leg for the famous Oscar slap, he made sure to add more fuel to the fire that is already existing.
Recently, videos of Will Smith embarrassing Margot Robbie during the Suicide Squad bus promotion is going viral amongst fans.
A video of Margot and Will hanging out in a bus with his showing an "inappropriate."
The image of herself has made the netizens enraged and so bonkers over the situation,
In a seven-minute video, it is seen that the actor is attempting to show a group of people a deep fake photo of Margot. She is unsuccessful at diffusing the situation and making it less awkward for herself. Whilst Will was seen making fun of the photo and attempting to make the opposite party laugh.
Online Buzz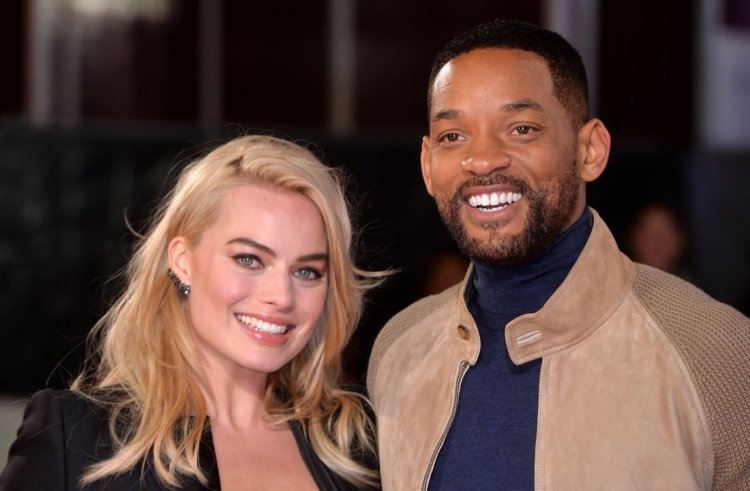 (Image Credits: Showbiz Cheat Sheet )
A single video can make many go goo-goo over any situation and image one about a celebrity.
Will has been in the spotlight since the infamous 2022 Oscar Slap. He has put himself in the crosswires again after this situation. It isn't looking good on him.
The netizens took things online, and Smith was bombarded with multiple posts. Despite the fact it is a deep fake picture, netizens are not pleased with Will Smith's behaviour and have named him a "Definition of a hypocrite."
You can see in the video that Will Smith showing the picture of the Suicide Squad co-star and friends, her meticulously trying to avoid that situation is going on-and-on in the internet. And netizens are showing pure disgust over Smith's behaviour.
Some even posted," Though co-stars normally share a good bond, no one has the right to do that to anyone."
Their Relationship
In 2013, during the shoot of Suicide Squad, there was a rumour that Smith and Robbie were closer to each other, unlike others, and they also had a fling going on at the time.
Smith was accused of cheating on his wife when photos of the duo went viral online as they looked cosier and more comfortable with each other.
Also Read: Rihanna has praised Will Smith's latest film Emancipation, and his performance