Unforgettable Tribute: Vanessa's Heartfelt Honor During Taylor Swift's Eras Tour!
Unforgettable Tribute: Vanessa's Heartfelt Honor During Taylor Swift's Eras Tour!
Updated on August 04, 2023 16:42 PM by Andrew Koschiev
(Image Credits: InStyle)
The best way to honor those that departed us is to make sure their legacy lives on and on. Vanessa Bryant decided to honor her late husband's memory Kobe Bryant at Taylor Swift Eras Tour.
Vanessa Bryant Shares a Sweet Tribute
Vanessa Bryant demonstrated her unending love for her late husband duringTaylor Swift series of tours in Los Angeles. Vanessa paid tribute to Kobe Bryant by displaying a larger silkscreen of him and Taylor Swift on her Eras Tour jacket during the concert at SoFi stadium.
The photo on the jacket was from when Kobe joined Swift on stage in the 1989 tour to present her with a championship banner. Kobe revealed a special memory during their 1989 tour in 2015. Kobe Bryant's impact on Taylor Swift can be seen through a post he shared alongside the photo, "Friends hang from time to time, but banners hang forever @taylorswift." The banner, honoring Taylor's unprecedented achievements at the storied arena, was triumphantly hung in the Staples Center rafters next to the Lakers' countless championship banners and retired uniforms. This demonstrated their friendship and mutual respect for each other.
Kobe Bryant was a legendary basketball player and a beloved husband and father.
Kobe met Vanessa in 1999 during a music video shoot and got engaged in April 2001. They were blessed with 4 beautiful children Natalia, Gianna, Bianka, and Capri. Clearly, Kobe had a deep affection for his family as he often posted them on his social media pages and even supported his daughters through their dreams whether in basketball or ballet.
Kobe Legacy Swells on and on
Like any transcendent star dying young, Kobe Bryant will forever be beautiful and perfect in memory, the appreciation for his gifts always swelling. He has been gone for close to 3 years now taking along his daughter Gianna, and seven others in a tragic helicopter crash that took place on January 26, 2020.
He entered the NBA directly after highschool and spent a 20-year professional career with the Los Angeles lakers. He won 5 NBA championships
Kobe Bryant's influence on music can be highlighted throughout his 20-year NBA career; rappers dropped Kobe's name several times and even named some songs after him. Among the most notable was Lil Wayne's 2009 track "Kobe Bryant.'
A shoulder to Lean on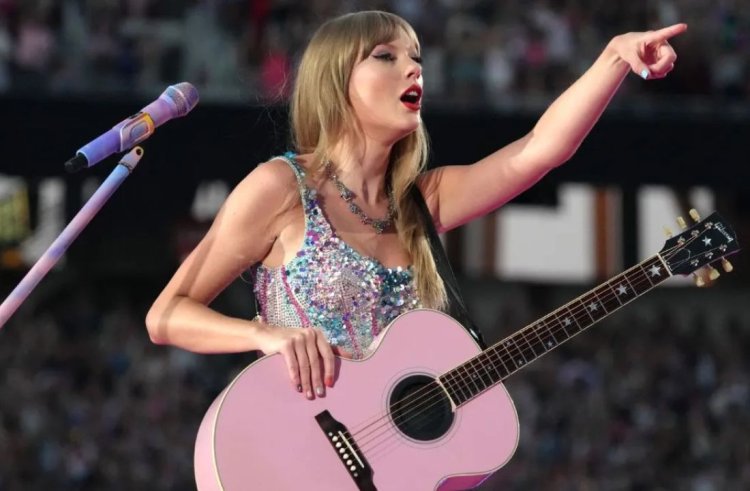 (Image Credits: People)
Kobe Bryant was also known for giving out to charities, his legacy lives on as Vanessa Bryant charity work foundation on Mamba and Mambacita sports lives on. Bryant and his wife started the foundation to help the lives of young people and their families.
Following the tragic helicopter crash, Taylor swift shared her condolences on social media. She wrote, 'My heart is in pieces after hearing the unimaginable tragedy. I can't fathom what the families are going through. Kobe meant so much to me and all of us.' She also added, 'sending my prayers, love, and endless condolences to Vanessa and the family and anyone who lost someone on that flight.'
Taylor Swift has remained close to Vanessa Bryant and her kids amid the tragic deaths of Kobe Bryant and his daughter Gianna. Swift made a sweet gesture in July 2020 when she gave Natalia, one of Vanessa's daughters, a copy of the cardigan she wore in a music video from her album "Folklore."
The Relaxing Effect of Music
Kobe Bryant sports music connection was felt when he played. He revealed that he often listened to Jay-Z, Beethoven and Journey to find inspiration when he was still playing. Music brings a therapeutic effect and has been credited with helping people relax, relieve stress, or even get inspired. Kobe Bryant was no different, and he greatly demonstrated that music brings in joy in sports.
Taylor Swift's music dedication can be seen during the Eras Tour which is a reflection of her journey through all of her music 'eras' paying homage to her album. Her tour features 146 shows around 5 continents making it an international remarkable tribute to pop culture music. Taylor Swift's emotional moments could be seen as she finished singing 2008's Breathe, one of the surprise songs from her Fearless album.
The tens of thousands of Swifties who attended the show could not hide their joy. 'It's heartwarming to hear about the impact Taylor Swift has had on her fans'. Eva Zalamea, a 14-year-old from Santa Rosa, expresses her excitement about finally getting the chance to attend one of Taylor's shows. Fans also enjoyed sharing bracelets, they said that they cherished every memory they had with strangers after trading the bracelets.
Also Read: How Taylor Swift Supported a Competitor to Disney Theme Parks?

Also Read: How Taylor Swift's 'August' Memes Took Over the Internet