Tim Burton and Monica Bellucci Address Dating Rumors with a Beautiful Kiss
Tim Burton and Monica Bellucci Address Dating Rumors with a Beautiful Kiss
Updated on February 25, 2023 19:04 PM by Andrew Koschiev
The "Wednesday Addams" director Tim Burton has recently found pleasure in calling himself a boyfriend recently. The director was romancing the Model/actress Monica Bellucci since October 2022.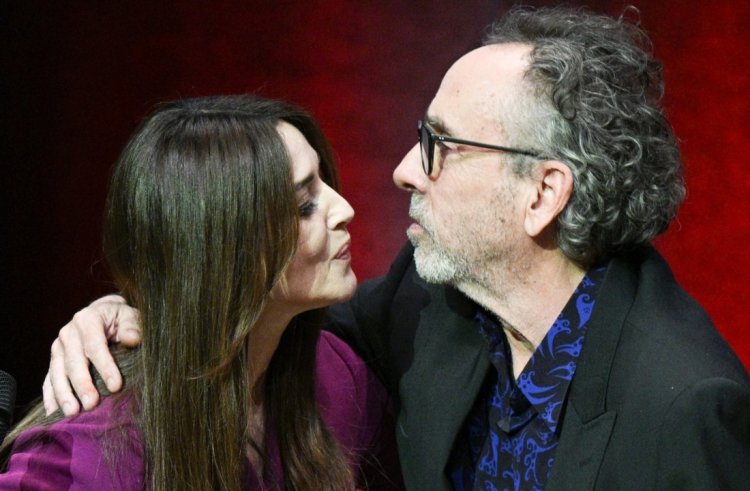 (Image Credits: NY Morning Star)
Hollywood is a brewing hot place for relationships and affairs. The most recent one is Monica Belluci, 58, and Tim Burton, 64, who were seen romancing around the streets of France as they came to attend the Lumiere Film Festival in Lyon.
Looking Love Stuck
According to recent news, the couple met on the Palais des Festival de Cannes steps in 2006. Sixteen years after their first encounter, they found joy in the company of each other, which turned into love later on.
Recently, in October 2022, as they were attending the French festival, love sparked between them, and they started dating each other.
The spark happened on the Lumiere Festival stage as Monica was presenting an award to Burton. The connection was instantaneously felt by the audience as well.
What did Monica Bellucci say about this
Both actors' past was dry, as they were out of the dating game for several years. After her breakup with Nicholas Lefebvre, Monica has not dated anyone since 2019.
Speaking of love, Monica describes her love as based on feeling over reason.
Adding onto that, Monica said: "I am ruled by moment and instinct. Not by rationality, only emotions, it is either you love, or you don't love. For you to fall in love sometimes beyond reason."
When it comes to Tim and Monica's relationship, they were friends with each other for 15 years. And when they met again on stage, they felt a thing for each other, which is how it started.
Monica went on stage to present her then friend's now boyfriend, "Alice in Wonderland", director the Lifetime Achievement Award, and the rest is news for you guys.
Also Read:A bad virus kept Whoopi Goldberg off The View this week