Heidi Klum shares New Year's celebration in Hot Tub with Husband, Tom Kaulitz
Heidi Klum shares New Year's celebration in Hot Tub with Husband, Tom Kaulitz
Published on January 02, 2023 14:24 PM by Laura Mendes
On Saturday, Heidi Klum shared a picture of herself and Tom Kaulitz kissing passionately in a hot tub with her husband's hand resting on her butt.
Heidi Klum in a hot tub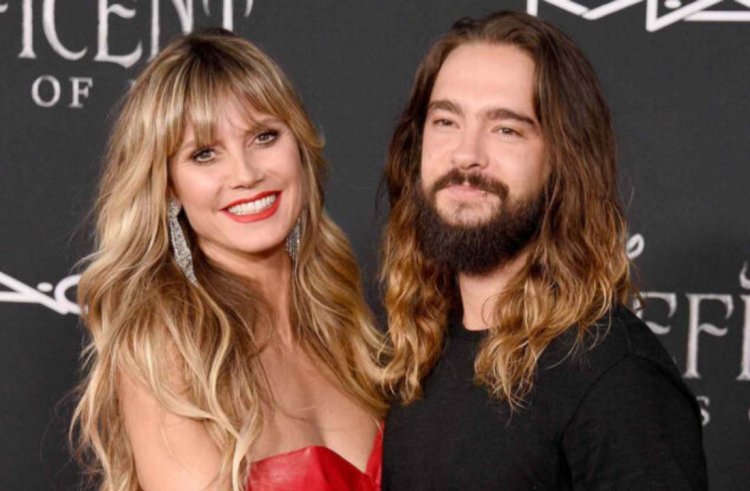 (Image Credits: Yahoo Finance.com)
Heidi Klum shared a snapshot of herself and her husband, Tom Kaulitz, relaxing in a hot tub in Aspen on Instagram on Saturday, giving followers an insight into her family New Year celebration.
The couple soured the temperature as Klum shared the picture of the two wearing look-alike golden hats passionately kissing each other while leaning by posing their back on the edge of the tub marking the New Year 2023.
Christmas post of Klum as present
This Instagram post was followed by her recent humorous encounter with her husband, Tom, who wrapped herself up as a present for him. To her song "Wonderland," Klum could be seen rolling herself as a gift wrap near the Christmas tree as her husband Kaulitz is leaving.
Also Read: Miley Cyrus' Comment On Sexuality Sparked Controversy Among Netizens
Klum and Tom's wedding
After a brief courtship, Klum and Kaulitz were wed in an extravagant ceremony in Capri, Italy, in August 2019. After being engaged on Christmas Eve that year, the couple formally wed in February of that same year.
Klum is happy with Tom
In January 2020, in her interview with a publication, Klum spoke about her husband, Tom saying she is a happier person with Tom's role in Klum's life.
Klum was excited about being with a partner with whom she could discuss and share her chores. She used to do everything on her own, and now for the first time, she got to experience what it is to have a life partner.