In La Concert Woman Smacked In The Head By 50 Cent's Mic; Lawyer Denies It Was Intentional
In La Concert Woman Smacked In The Head By 50 Cent's Mic; Lawyer Denies It Was Intentional
Updated on September 01, 2023 15:48 PM by Evelyn Mia
(In La Concert Woman Smacked In The Head By 50 Cent's Mic; Lawyer Denies It Was Intentional Image Credits: Los Angeles Times)
The attorney for hip-hop star and rapper 50 Cent, Scott Lemon, whose real name is Curtis Jackson says he did not intentionally hit the woman at his Los Angeles concert. He added, Let's be very clear, as I told LAPD this afternoon, my client Curtis [50 Cent] would never intentionally strike anyone with a microphone, Anyone saying something different doesn't have all the facts and is misinformed.
The incident of throwing a mic took place during 50 Cent's Final Lap Tour, on Wednesday at the Crypto.com Arena. He threw out of frustration due to several malfunctioning mics that appeared to have technical issues during the concert, The thrown mic by Cent hit on the head of a female radio host.
The midday host of Power 106 Los Angeles Bryhana Monegain, to receive the treatment went to the hospital for a cut on her head. Later she filed a criminal battery case against the rapper saying that Cent made eye contact with her before the mic throw. After the woman 'filed a police report' 50 Cent is now a suspect in the criminal Battery report since the incident.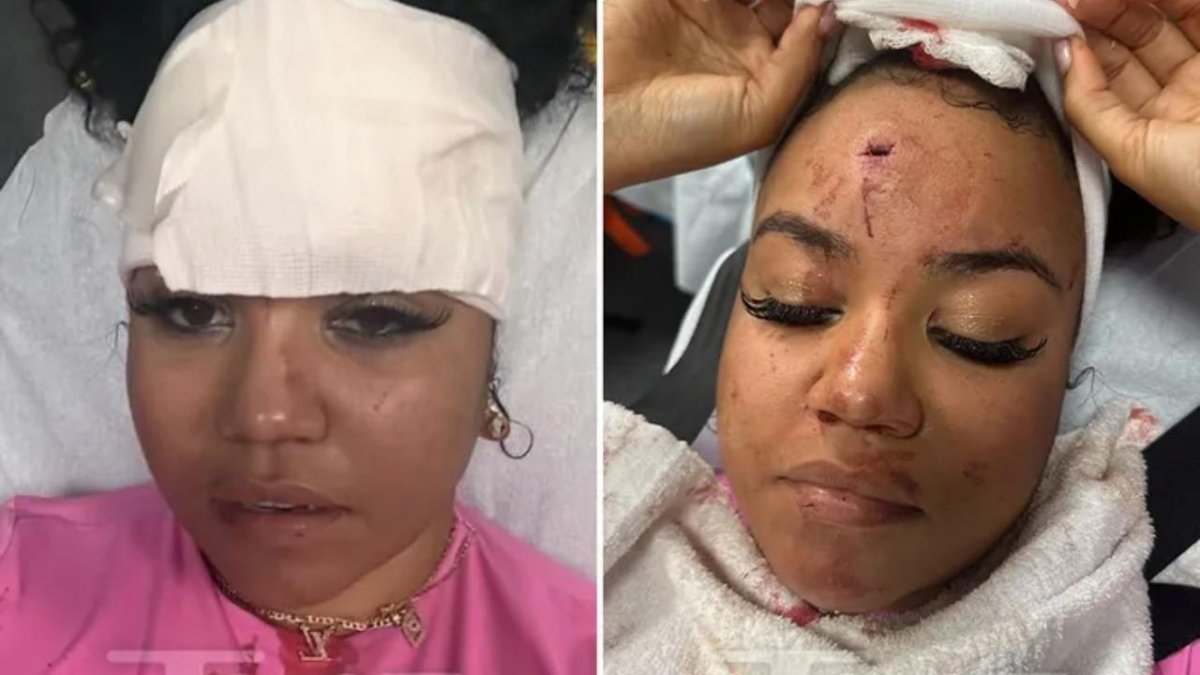 (In La Concert Woman Smacked In The Head By 50 Cent's Mic; Lawyer Denies It Was Intentional Image Credits:TMZ)
In the photos which have gone viral it can be seen that the victim could be seen with a deep cut on her and her head was wrapped with a bandage. Also, she had bruises and cuts on her arm as well as on the palm of her hand.
Sources informed that Rapper 50 Cent, 'wasn't targeting the woman, but still, he beaned her good.' Another insider close to the singer and rapper explained that the injured woman was near the stage which is supposed to be a restricted area, 'she wasn't supposed to be in. There the video of throwing a mic by the rapper 50 Cent has gone viral, Check out the link below!
https://www.nbcdfw.com/news/national-international/50-cent-appears-to-throw-two-mics-offstage-during-la-concert/3328213/
The police of Los Angeles, are looking into this matter and the police did not respond to the media about the incident. They did not provide an immediate report and do not have a statement regarding this matter.
50 Cent is an American Rapper, producer, entrepreneur and actor. he is real name is Curtis James Jackson III, and he is known by his professional name 50 Cent. he was born on July 6, 1975, in New York. He first appeared in 1998 on Onyx's 'React' and in 1999 he recorded the single 'How to Rob' for the soundtrack of in The Deep. Power Of Dollar included in the 'How to Rob' is supposed to be his first album. His fellow gang boss Rijaan D has helped him and also helped him to release his track 'Wanksta'. As a rapper, he became successful in 2002. Since then he has sold millions of records.
Also Read: Adam Lambert Net Worth : Actor, Musician And Family Details
Also Read: The net worth of Chris Rock is estimated to be $80 million
Also Read: Pete Davidson Net Worth | An American actor, comedian, and writer