When is TVD leaving Netflix
When is TVD leaving Netflix
Updated on November 15, 2022 16:38 PM by Anthony Christian
The Vampire Diaries remains one of the most popular teen series from the past couple of decades. The show wrapped in 2017 where all the seasons were made on Netflix. Around the globe, one of the Netflix regions lost the series. On January 1 2022, three regions, Australia, Germany and Switzerland, lost the series from Netflix.

In Australia, it's the second time The Vampire Diaries left Netflix. All eight seasons were removed in March 2019 before it was relicensed on January 1 2020. Two years later all seasons are set to be removed. In the US, The Vampire Diaries got removed on March 8, 2022. Canada lost the Netflix show in October 2018.
Year of the Film – 2009 to 2017
Ratings
Rotten Tomatoes – 86%
IMDb – 7.7/10
Metacritic – 57/100
No. of Seasons: 8
No. of Episodes: 171
Cast
Nina Dobrev as Elena Gilbert
Paul Wesley as Stefan Salvatore
Ian Somerhalder as Damon Salvatore
Steven r. McQueen as Jeremy Gilbert
Sara Canning as Jenna Sommers
Kat Graham as Bonnie Bennett
Candice King as Caroline Forbes
Zach Roerig as Matt Donovan
Kayla Ewell as Vicki Donovan
Michael Trevino as Tyler Lockwood
Matt Davis as Alaric Saltzman
Joseph Morgan as Klaus Mikaelson
Michael Malarkey as Enzo St. John
About the supernatural teen drama television series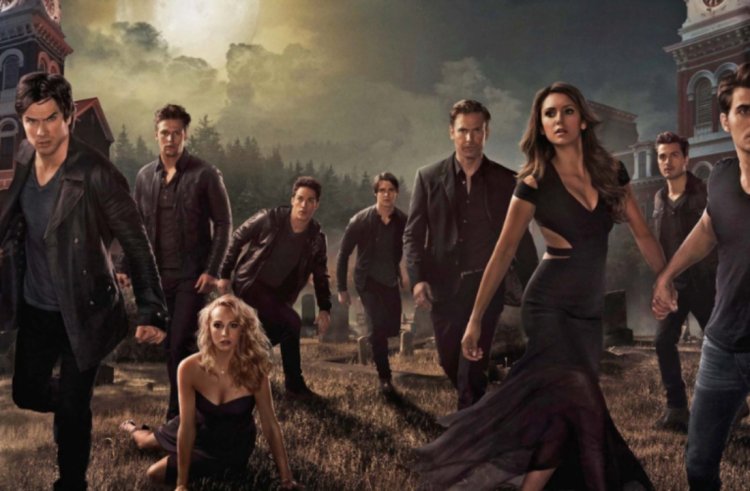 The Vampire Diaries is an American series developed by Kevin Williamson and Julie Plec. The series is based on the book series of the same name written by L.J. Smith. The first episode, 'Pilot,' attracted audiences with an average view of 3.60 million. It became the most-watched series on the network. The series starts from September 10, 2009, to March 10, 2017. On August 31, 2010, the first season got released on both DVD, and Blu-ray formats in the United States and Canada. The series follows the life story of Elena Gilbert, who lives in Mystic Falls, a town charged with supernatural history. Here is the season overview, along with the episodes.
Season 1 (2009 – 2010) with 22 Episodes
Season 2 (2010 – 2011) with 22 Episodes
Season 3 (2011 – 2012) with 22 Episodes
Season 4 (2012 – 2013) with 23 Episodes
Season 5 (2013 – 2014) with 22 Episodes
Season 6 (2014 – 2015) with 22 Episodes
Season 7 (2015 – 2016) with 22 Episodes
Season 8 (2016 – 2017) with 16 Episodes
Critical Response based on the season
Season 1 – 71%
Season 2 – 100%
Season 3 – 90%
Season 4 – 69%
Season 5 – 100%
Season 6 – 79%
Season 7 – 78%
Season 8 – 100%
Awards and Achievements
The Vampire Diaries got 114 nominations and 39 wins.
MTV Fandom Awards
In 2014, Damon Salvatore and Elena Gilbert won Fandom of the Year TV Dramas.
People's Choice Awards
In 2010, The Vampire Diaries won the Favourite New TV Drama
In 2012, Nina Dobrev won Favourite TV Drama Actress
In 2014, Damon Salvatore and Elana Gilbert won Favourite Screen Chemistry
In 2014, Ian Somerhalder won Favourite Sci-Fi/Fantasy TV Actor
In 2015, Ian Somerhalder and Nina Dobrev won Favourite TV DuoTeen Choice Awards - 2010
Nina Dobrev won Choice TV Female Breakout Star
Paul Wesley won Choice TV Male Breakout Star and Choice TV Actor: Fantasy/Sci-Fi.
Ian Somerhalder won Choice TV Villain
Nina Dobrev won Choice TV Actress Fantasy/Sci-Fi
The Vampire Diaries won Choice TV Breakout Show and Choice TV Show Fantasy/Sci-Fi.
Teen Choice Awards - 2011
Kat Graham won Choice TV Female Scene Stealer
Michael Trevino won Choice TV Male Scene Stealer
Ian Somerhalder won Choice TV Actor Fantasy/Sci-Fi
Nina Dobrev won Choice TV Actress Fantasy/Sci-Fi
The Vampire Diaries won Choice TV Show Fantasy/Sci-Fi
Teen Choice Awards – 2012
Ian Somerhalder won Choice Male Hottie
Candice Accola won Choice TV Female Scene Stealer
Michael Trevino won Choice TV Male Scene Stealer
Ian Somerhalder won Choice TV Actor Fantasy/Sci-Fi
Nina Dobrev won Choice TV Actress Fantasy/Sci-Fi
Teen Choice Awards - 2013
Ian Somerhalder won Choice TV Actor Fantasy/Sci-Fi
Nina Dobrev won Choice TV Actress Fantasy/Sci-Fi
The Vampire Diaries won Choice TV Show Fantasy/Sci-Fi
Teen Choice Awards - 2014
Candice Accola won Choice TV Female Scene Stealer
Ian Somerhalder won Choice TV Actor Sci-Fi/Fantasy
Nina Dobrev won Choice TV Actress Sci-Fi/Fantasy
The Vampire Diaries won Choice TV Show Fantasy/Sci-Fi
Teen Choice Awards – 2015
Nina Dobrev and Ian Somerhalder won Choice TV Liplock
Nina Dobrev won Choice TV Actress Fantasy/Sci-Fi
The Vampire Diaries won Choice TV Show Fantasy/Sci-Fi
Teen Choice Awards – 2017
Kat Graham won Choice TV Actress Fantasy/Sci-Fi
The Vampire Diaries won Choice TV Show Fantasy/Sci-Fi
Young Hollywood Awards
In 2010, Nina Dobrev, Paul Wesley and Ian Somerhalder won Cat to Watch
In 2010, Nina Dobrev won Making Their Mark
In 2014, Nina Dobrev, Paul Wesley and Ian Somerhalder won Best Threesome