When is season 3 Outer Banks coming out on Netflix?
When is season 3 Outer Banks coming out on Netflix?
Updated on November 12, 2022 11:42 AM by Andrew Koschiev
When is season 3 Outer Banks coming out on Netflix?
In 2023, Netflix will release Outer Banks season 3, which is finished filming. In 2023, Netflix will release Outer Banks season 3. We have updated our preview of everything we know, including the casting announcements, production schedules, what we can expect from the new season, and more, so read on for details.
Outer Banks: When was Season 3 renewed?
However, the series was renewed in December 2021 despite rumors, including one on Facebook that went viral. According to the official Netflix Twitter account, the renewal was announced on December 7. The cast also posted the following message: "This just in from Poguelandia…Outer Banks will be back for a third season!"
Who is returning to Outer Banks Season 3?
The showrunners and executive producers will return as showrunners and executive producers, according to a press release seen by What's on Netflix. Season 3 will also feature the following key cast members:
New cast members of Outer Bank Season 3
(Image Credits: UsWeekly)
Andy MacQueen (Station Eleven) - The character she will play is the sophisticated, ruthless, and intelligent Carlos Singh, who is out on an individual treasure hunt.
Fiona Palomo (Netflix's Control Z) - Sofia plays a quirky, scrappy young woman whose secret wish is to be a part of the country club crowd. She builds a strong bond with Rafe due to her likability and scrappiness.
Lou Ferrigno Jr (Star Girl) - Described as a calm, collected, and hungry security officer, Ryan is Singh's top enforcer. Even though he has completed numerous missions, he is aware of the consequences if he fails.

On July 1, local news station WCBD News 2 reported that casting was being conducted for a young John-B look-alike. Their report stated:
"Several casting agents have told the publication that the show's director is seeking a young actor to portray the show's key character, John B, next week. If you're a parent, please don't submit your child unless they fit that age range and look like Chase Stokes, the actor who plays the character."
Smaller castings have also been made, including Bartenders, waitstaff, photo doubles, old Kooks and Pogues. For the new season, IMDb suggests some smaller castings, such as:
Rick Perez as Ted
Art Newkirk as Officer Henderson
Angela Lentz as Cruise Ship Patron
Drew Broderick as a Security Guard
As you may have heard, Alexander Jennings, one of the body doubles for season 3, died in a hit-and-run accident during filming. According to Kimmie Stewart, casting director Jennings was "The kindest person I have ever met" The casting director said, "We are all in complete shock right now."
Season 3 of Outer Banks is in production; what is the status?
The filming dates for the third season of Outer Banks were revealed in December 2021. According to season 3 filming schedules, filming would start on February 16, 2022, and run until August 19, 2022, in Charleston, South Carolina. In a post on February 14, 2022, Valerie Weiss confirmed filming had begun on February 15 with the caption: "Big love to my @obx family as they begin shooting Season 3 tomorrow!!!! See ya'll soon!"
Outer Banks season 3 will be directed by Valerie Weiss, including an episode shot over the weekend in early August 2022. The series had been in production for more than a week by the time Netflix officially announced on February 28 that production had begun with new cast pictures. Throughout the summer of 2022, Outer Banks season 3 was filmed. As Chase Stokes' Instagram stories indicated, most of the filming was likely over by August 10. On August 31, a cast member announced that Barbado's filming had ended.
Let us look into Charles Esten's Instagram post: "Last Night in Barbados! 3 weeks shooting Season 3 of @obx in this extraordinary paradise, but now it is time to go home. More to shoot in Charleston, but at this moment, I could not be more grateful for this amazing job that keeps bringing me here, or the wildly talented and deeply kind cast and crew I get to work with every day. VERY thankful, too, for all the incredible Bajans that have made us feel so welcome here! Put Barbados on your bucket list. You won't be sorry!"
Is Outer Banks season 2 performing well on Netflix?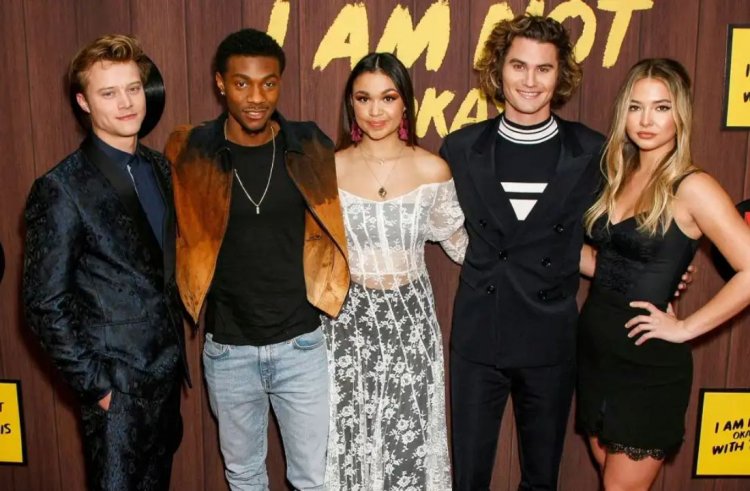 (Image Credits: Us Weekly)
The series was ranked in Netflix's top 10 metrics from July 26 to September 5, 2021, racking up 322.59 million hours of viewing worldwide. On the IMDBPro MovieMeter, it reached eighth place on the list of most popular shows on Netflix for the first four weeks after it was released.
The renewal process took a little longer than expected, but it is possible to see what the issue was by looking at past renewals that took some time. The salary negotiation process of shows like 13 Reasons Why, Never Have I Ever, and On My Block seems to be coming down due to the large ensemble casts such as Outer Banks.
How Outer Banks Season 3 will pan out?
Let us take a quick look at season 2 of Outer Banks before we move into season 3. Pope wants to retrieve the golden cross that the Camerons and the Pogues stole. It does not end there, though, as Pope warns, "it's not over," as they flee a large vessel and seek refuge on an abandoned island. The family reports them missing, so they will unlikely stay much longer. Additionally, Pope is expected to continue exploring Santo Domingo's Cross.
After faking his death in season 2, Ward Cameron is now living off the radar. In the future, it is likely Ward will play a crucial role in the conflict as he has done in the past, including John B sparing his life, but will he be caught? Season 3 has the biggest question to answer about Big John, who alluded to knowing where Denmark's Cross is but was diagnosed as "half-dead". What impact will he have? Watch this space for updates.
In anticipation of season three, here is what the cast and crew have teased. EW reports that Josh Pate said the following about Big John: "John B's relationship with his dad is a huge theme and having his dad back around and eventually they are going to meet back up and John B must reconcile his idealized version of his dead dad with the reality of his alive dad. It gives us a lot of thematic father-son stuff to work with."
As Josh Pate, Shannon Burke, and Jonas Pate have said, the Pogues are not out and are determined to win gold once again. Madelyn Cline told ET we should learn more about their marriage in season 3: "It would be fun in season 3, if we get one, to see them start to truly get to know each other in a very real sense. They are married, but they kind of do not know a whole lot about each other. I feel like that would be fun. They have been through a lot together."
The writers of season 3 are known for keeping us on our toes, which creates performances that catch you by surprise... Chase Stokes teased EliteDaily that season 3 would have a "vibe shift," saying, "I don't know what's going on beyond what we've shot in Barbados." He added, "I believe there will be a lot of loose ends tied up and many questions answered." It is expected that these kids will go through many wringers as usual.
What is the storyline for Outer Banks season 3?
As the Pogues continue their search for treasure after their wild season 2 finale, this season will continue their new adventures. It will certainly be full of drama, especially after discovering that John B's father is alive.
In a previous interview about season 3, showrunner Josh Pate described the relationship between John B and his father as an important theme. Having his father back around, eventually having them meet up again, and John B reconciling his idealized image of his deceased father with the reality of his alive father gives us many thematic opportunities to explore the relationship between father and son.
"We really liked that element of season 1, which isn't as much of an element of season 2," Pate said, especially with Kiara and JJ. Pate teased some new romances that might be developing as well. "That's the plan, kind of building the characters so they could get some romance in season 3."
When will Netflix release Outer Banks Season 3?
The Netflix series officially announced the third season in December 2021 for Outer Banks, which is hardly surprising since the show topped Netflix's U.S. summer charts.
The popular Netflix show will be executive produced and backed by its In 2023, OBX 3 is scheduled to premiere, created by Jonas Pate, Josh Pate, and Shannon Burke, according to Madelyn Cline. She revealed Season 3's release date accidentally in late October 2022. Netflix announced that Outer Banks Season 3 would be released in 2023 late September 2022.
As Jonas Pate mentioned previously, Outer Banks is expected to have around four to five seasons, but Netflix will ultimately decide whether to green-light new episodes.
As reported by Small Screen, a person involved in the show said, "I don't know what the future holds for OBX S3, but it will not happen this year." According to a report from Small Screen, in September of 2021, Outer Banks Season 3 production source says the third season is likely to premiere in mid-2022, assuming all goes well.
Moreover, Netflix is reportedly working on Outer Banks Season 3, as was confirmed by an unconfirmed source. Season 4 scripts are already being written, and Season 4 is already in the works. A production listing indicated filming would begin again on August 19, 2022, in Charleston, South Carolina. On Instagram, Chase Stokes hinted that Outer Banks Season 3 had wrapped up filming.
Is there any update regarding Outer Bank Season 4?
Although Netflix has yet to renew the show, showrunner Jonas Pate expressed his desire for it to run for four years at least. From the very beginning, he said that it was always envisioned as something that would probably run for four seasons, maybe five seasons, but four seasons. The story has been long-arced far. Hopefully, we will be able to tell it.