When is season 15 of Heartland coming out on Netflix
When is season 15 of Heartland coming out on Netflix
Updated on November 11, 2022 15:12 PM by Sally Harbor
A family-packed comedy genre entertainment show called Heartland premiers on Canadian television CBC on October 14, 2007, where the entire story revolves around Amy Fleming and her sister Louise "Lou" Fleming, pursued on their family ranch, "Heartland," in Alberta, where they live with their father Tim Fleming and grandfather Jack Bartlett, who is widowed, and hired farmhand Ty Borden. The show proceeds with how the family unites and comes close as they go through ups and downs in their life.
Series based on Book
This comedy-drama series is based on the Heartland book series by Lauren Brooke.
This series Heartland is the longest-running one-hour in Canadian television history.
Heartland Cast members
Amber Marshall as Amy Fleming
Michelle Morgan as Samantha Louise "Lou" Fleming Morris
Shaun Johnston as Jackson "Jack" Bartlett
Alisha Newton as Georgina "Georgie" Fleming Morris
Chris Potter as Timothy "Tim" Fleming
Kerry James as Caleb O'Dell
Gabriel Hogan as Peter Walter Morris
Aidan Moreno as Rick Adderly
Nathaniel Arcand as Scott Cardinal
Jessica Steen as Lisa Stillman
Ziya Matheson as Katie Fleming Morris
Lucian-River Chauhan as Luke Kashani
Spin-off web series
(Image Credits: What's on Netflix.com)
On March 31, 2019, CBC Gem debuted Hudson, a six-part spin-off web series featuring Jade Verani as the lead character. It took up the Best Web Series prize at the second annual Stinger Awards presented by the Calgary Society of Independent Filmmakers.
Season 1:
Release date: October 14, 2007
Storyline:
After her mother is killed in an accident, Amy keeps helping neglected horses. Her life will soon alter when her estranged father and sister, who lives in New York, arrive.
Ratings:
IMDB: 8.5/10
Just Watch: 9.3/10
Season 2:
Heartland's second season chronicles the ups and lows of life on a family-run horse ranch for sixteen-year-old horse whisperer Amy and her elder sister Lou. Amy has her problems as Ty returns and vies for her affection with Caleb, the new stable worker, while Lou settles into her new life in the country.
Release date: 5 October 2008
Season 3:
Amy and Ty are now a couple in season three, while Lou discovers herself in a budding romance. Tim, their father, is also increasingly present in his daughters' life.
Release date: 4 October 2009
Season 4:
When Ty's traveling companions Grant and Blair return to Heartland, Ty and Amy's relationship is at risk. When Amy finds out Tim is selling the horse in a claiming race, she tries to keep Dexter in the family.
Release date: 26 September 2010
Season 5:
Lily, Ty's mother, comes to Heartland with disturbing information about Ty's father and a secret that might jeopardize their bond. In the meantime, Amy keeps working with Alcatraz and asks Lily for assistance in regaining the horse's confidence in people.
Release date: 18 September 2011
Season 6:
Jack, Amy, Ty, Tim, Lou, and Peter strive in Season 6 to overcome new obstacles and venture into unfamiliar terrain. Amy is having trouble understanding Ty's silence over the engagement diamond she found in his pocket in the Season Five finale as the new season gets underway.
Release date: 16 September 2012
Season 7:
Heartland's seventh season is about taking chances and risking everything for what you stand for. Amy concludes that she has to recapture her "Miracle Girl" title and concentrate on her work with horses as the family struggles to adjust to recent changes at the ranch.
Release date: 6 October 2013
Season 8:
Georgie's history is revealed through a school assignment, which might eventually alter her life at Heartland. Casey expresses interest in purchasing one of Ty and Caleb's bulldogging horses, so Caleb trains the horse with Amy's assistance to close the transaction.
Release date: 28 September 2014
Season 9:
While Tim is forced to reevaluate his current relationship by the appearance of a former lover, Amy and Cass team together to save a racehorse with a malady that would terminate its career.
Release date: 4 October 2015
Season 10:
Heartland's tenth season finds the Bartlett-Fleming family facing exciting new beginnings and taking significant chances while relying on their close-knit relationships for support, love, and direction.
Release date: 2 October 2016
Season 11:
When Ty's mother unexpectedly visits in an effort to build a relationship with her granddaughter, he battles with control issues, and Amy is compelled to mediate. Georgie is thinking about an incredible offer while Amy and Georgie deal with a traumatized elite jumping horse.
Release date: 24 September 2017
Season 12:
The healing of a wild mare and her foal could help Amy and Ty solve their parenting issues. Lou, who has a significant decision, returns home, but Mitch's situation diverts her attention. And when Georgie is invited to participate in an interview for an equestrian magazine, she fights to get over old phobias.
Release date: 6 January 2019
Season 13:
Amy and Ty obstruct a poacher's errant gunshot with their bodies. The bullet only strikes Amy's shoulder because of Ty's bravery. Ty hurries her to the hospital, where a nurse informs her that he has also been shot.
Release date: 22 September 2019
Season 14:
One year after Ty's terrible death, Season 14 begins. Amy is still clearly experiencing sadness, but she will eventually have the will to face the truth and go on. Heartland Season 14 shows us Amy's gradual recovery following Ty's death. She needs to be steadfast for her kid and give her daughter an explanation of why her father is staying away.
Release date: 10 January 2021
Is Season 15 available on Netflix?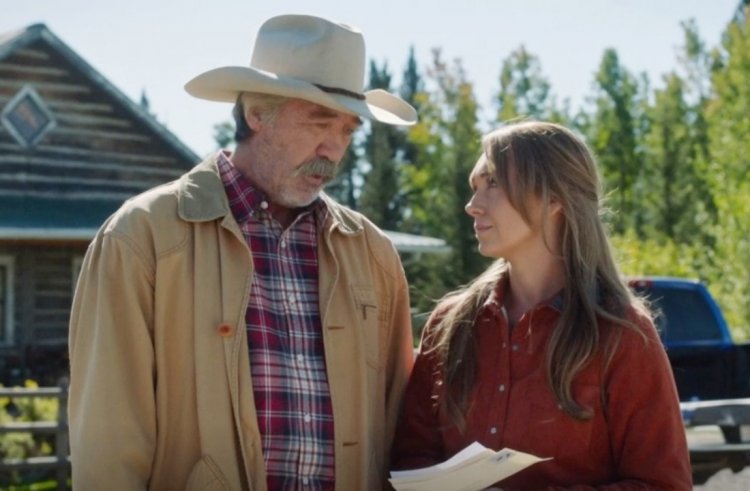 (Image Credits: Trending News Buzz.com)
Die-hard fans of Heartland are now eagerly waiting for the release of season 15 of Heartland. But a small problem with this Canadian show is that it doesn't launch on Netflix in every country at once if we refer back to previous seasons of Heartland.
Except for the United States, Canada, and France, most of the globe has already gotten the most recent season. Heartland Season 15, which debuted back in 2021, will likely take at least a few months after the conclusion of Season 14 to be accessible for binge-watching since Season 14 was released on Netflix US on April 1, 2022. Therefore, the winter of 2022–2023 will be the closest.
Season 15 trailer out on Netflix
The season 15 trailer provides insight into Amy's efforts to put herself together for her kid following Ty's passing and mend things. Although losing a loved one does leave a void in the heart, she is back to her duties as a mom at night and a horse whisperer during the day.
Season 15 cast
Amber Marshall as Amy Fleming
Michelle Morgan as Samantha Louise "Lou" Fleming Morris
Shaun Johnston as Jackson "Jack" Bartlett
Alisha Newton as Georgina "Georgie" Fleming Morris
Chris Potter as Timothy "Tim" Fleming
This upcoming season comprises ten episodes.
Where else to watch Heartland?
With the release of the new series season, UPTV'sUP Faith & Family streaming service and channel now hold American distribution rights. So, to view the most recent season of Heartland, go to the streaming service of UP Faith & Family.
How many seasons does Netflix offer?
Heartland seasons 7 through 15 are presently available on Netflix in most nations. However, Netflix in the United States only offers seasons 1 through 14, whereas Netflix in Canada additionally offers season 15.
Unfortunately for many people, Netflix has pulled most of Heartland's first several seasons. The United Kingdom, France, Greece, Turkey, Israel, Australia, South Africa, and a few South American and Asian nations are impacted.
Fans will undoubtedly be disappointed by this move, but there is a strong probability that it will only last a short while. We previously took down Heartland seasons 1-3 in 2019 before being added back a short time later. Let's hope it will be soon that we can stream those cherished first seasons!
In which country is Season 15 available?
As of March 19, 2022, new episodes of Season 15 are now accessible on Netflix UK. The new season is not anticipated to debut on the streaming juggernaut in the US until early 2023. With that said, Heartland Season 15 on Netflix should already be available to the rest of the world.
Heartland is available on Up Faith & Family
Heartland's 15 seasons are currently accessible to watch on Up Faith & Family as of March 27. Netflix has replaced other streaming services as the preferred option for Heartland fans in the US and abroad because of its erratic release schedule.
What is wrong with Netflix?
Geoblocking is the culprit here. In some nations, Netflix imposes regional limitations, commonly referred to as geoblocking, but this is a workaround for these limitations. For instance, you can use a Virtual Private Network to access the Netflix collections of various nations (VPN).
While a VPN occasionally allows you to view your favorite show instantly, Netflix aggressively works to prevent customers from accessing other libraries. As a result, you may need to test out a few different servers until you locate one that works for a certain nation. It's still worth a shot, though.
According to the official Heartland block
(Image Credits: CBC.com)
A certain amount of time is frequently required for new episodes to run in Canada before they may be shown in the United States. Suppose a nation's TV network purchases the exclusive rights to telecast the most recent season of Heartland.
In that case, Netflix can only distribute the episodes once everyone has aired on that network. A similar situation occurred with UPTV in the US, whose license expires in March 2022. Unfortunately, several conditions need to be satisfied before fresh Heartland material may be seen by audiences worldwide.
Other ways to watch Heartland
Seasons 1 through 13 of the show are available on DVD right now on Amazon. The episodes will be yours to keep forever, even if this choice is slightly pricey.
Season 15 of Heartland will be available only in 2023 on Netflix
The wait for Season 15 for Netflix subscribers in the US might last up to an additional year. Because Up Faith & Family has an exclusive deal for the upcoming season, the episodes will be available on the streaming giant's platform for at least March or April 2023.
The upbeat program is offered in Argentina, Australia, Canada, France, the United Kingdom, Greece, Hong Kong, Brazil, Columbia, India, Japan, Singapore, Mexico, South Korea, Thailand, Turkey, and Hong Kong. However, in these nations, not all of Heartland's seasons are available on Netflix. So, my dear American Readers, your wait to watch Season 15 of Heartland is still ongoing.