When does Wednesday come out on Netflix?
When does Wednesday come out on Netflix?
Updated on November 11, 2022 11:22 AM by Andrew Koschiev
Movie Name: 'Wednesday' (TV Series)
Year of release: November 23, 2022
Cast
Jenna Ortega plays Wednesday Addams
Issac Ordonez plays Pugsley Addams
Catherine Zeta-Jones plays Morticia Addams
Luis Guzman plays Principal Larissa Weems
Cristina Ricci plays Marilyn Thornhill
Hunter Doohan plays Tyler Galpin
Georgie Farmer plays Ajaz Petropolus
Moosa Mostafa plays Eugene Ottinger
Emma Myers plays Enid Sinclair
Naomi J. Ogawa plays Yoko Tanaka
Joy Sunday plays Bianca Barclay
Percy Hynes White plays Xavier Thorpe
Riki Lindhome plays Dr Valerie Kinbott
Jamie McShane plays Sherriff Galpin
Victor Teodor Dorobantu plays Thing
Calum Ross plays Rowan Laslow
Lynda Uniti Lewis plays Deputy Rita Santiago
Produced: MGM Studios
Directed: Tim Burton
Synopsis of the Movie: Supernatural Horror comedy television series
Filmed location: On September 13, 2021, the series began to film in Bucharest, Romania, and the series concluded on March 30, 2022.
Reviews and Rating on OTT:
Ratings: weighted average vote of 8.7/10.
Awards: (Nominee) Hollywood Music in Media Awards (HMMA) in 2022.
Teaser of Wednesday!
(Image Credits: Stylist)
On June 6, 2022, Netflix revealed a quick teaser for the series showing fans the first look at Jenna Ortega as the iconic character.
On August 17, 2022, the first teaser trailer for Wednesday was revealed, where gives fans their long-awaited first good look at Tim Burton's take on the Addams Family. The first looks came along, Wednesday attending a new mysterious and chaotic school after being expelled from her last one for dropping piranhas in the water polo pool.
On October 9, 2022, the second trailer was released; Wednesday arrived at her new school and met her new roommate. She has growing suspicions about Nevermore Academy and is introduced to Christina Ricci's character, miss Thornhill.
Episodes!
'Wednesday's Child is Full of Woe' – Tim Burton
'Woe is the Loneliest Number' – Tim Burton
'Friend or Woe' – Tim Burton
'Woe What A Night' – Tim Burton
'You Recap What You Woe' – Gandja Monteiro
'Quid Pro Woe' - Gandja Monteiro
'If You Don't Woe By Now' – James Marshall
'A Murder of Woes' – James Marshall
About the 'Wednesday' series!
Netflix's upcoming series 'Wednesday' is expected to arrive on the streaming platform in late 2022. This show is based on the character Wednesday Addams from the iconic Addams Family. The Addams Family has made several films and shows, but this Wednesday series has a massive fan base worldwide.
About The Addams Family!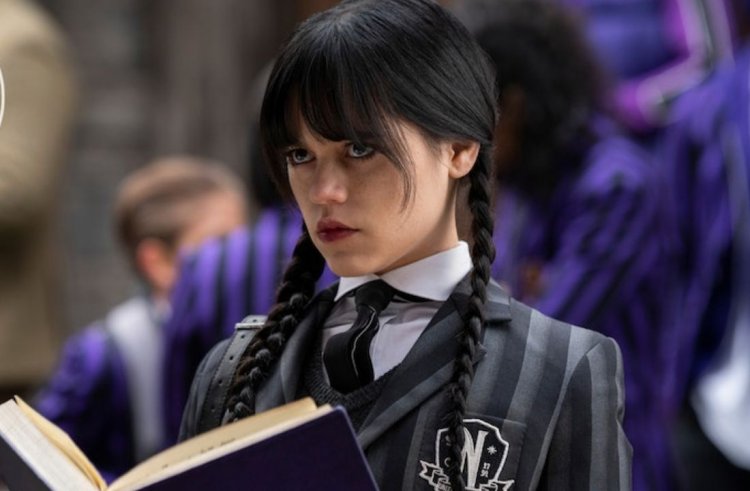 (Image Credits:Empire Online)
The Addams Family and The Addams Family Values are the iconic movies of the early 90s. The Addams Family is an eccentric aristocratic family with an obsession with all things morbid, and a complete unawareness of their unique interests makes outsiders uncomfortable. In 1964, they came to life on the television screen, and the first live-action portrayal of the family aired on ABC. In 2019, The Addams Family, a computer-animated version movie, was released, followed up with a sequel in 2021 named The Addams Family 2.
Wednesday contains a right-part series focusing on the scene-stealing daughter of the Addams family, Wednesday. It has become a symbol for everything about The Addams Family. In this horror comedy series, she navigates high school and seeks to develop her psychic abilities, which had plagued her family since before she was born. On Wednesday, she was a young girl jumping into her early adulthood would open the door for slightly-homicidal prowess and new relationships that she would navigate.

Leading role Play!
Jenna Ortega will play the lead role with Chicago star Catherine Zeta-Jones as Morticia and Narcos' Luis Guzman as Morticia's husband, Gomez Addams.
Issac Ordonez, who was in A Wrinkle In Time, plays Pugsley, Wednesday's brother obsessed with violence.
Fred Armisen is a comedian and SNL cast member playing Wednesday's Uncle Fester.
Gwendoline Christie, a star, after Wednesday's trailer revealed her as the head teacher, Larissa Weems, of Wednesday's new school.
Christina Ricci was, starring in the film The Addams Family and the sequel in 1993, part of Wednesday's cast.
Christina plays a teacher role at Wednesday's School at Miss Thornhill in the second Wednesday trailer.
Development Details!
During the 1991 film, during pre-production, Tim Burton was assigned to direct, but he passed on it due to some conflicts with Batman Returns resulted in Barry Sonnenfeld taking the job.
In March 2010, it was announced that Illumination Entertainment partnered with Universal Pictures as the underlying rights to the Addams Family drawings.
Based on Charles Addams Original drawings, the film was planned to be a stop-motion where Burton was set to co-write and co-produce the film. Finally, in July 2013, the film was canceled.
In October 2020, Burton helmed a Wednesday project announced by the unnamed Addams Family. For this, MGM Television handled the production with director Burton.
The showrunners were Alfred Gough and Miles Millar.
Gail Berman, Jon Glickman, and Andrew Mittman were the executive producers alongside Gough, Millar, and Burton.
In February 2021, Netflix gave the production of a series consisting of eight episodes.
In August 2021, an executive producer was Kayla Alpert, where Tee, Charles Addams Foundation, and Glickmania were also producing the series.
In December 2021, Danny Elfman joined the series to compose the original theme and score.

Expected to be released!
On November 23, 2022, Netflix confirmed that Wednesday would be released. The Countdown is on!