What time do Stranger things 4 come out on Netflix
What time do Stranger things 4 come out on Netflix
Updated on November 18, 2022 18:15 PM by Dhinesh
Stranger Things finally Hit Netflix. The last two episodes of Season 4 dropped. Hawkins gang takes on Vecna. The California Gang attempts to rescue Eleven, and the Russian gang face off against a giant Demogorgon. So do they all reunite in Hawkins before Vecna takes a dig at the next culprit?
Stranger Things' 4 characters are set to return to face a terrifying villain Vecna. Stranger Things 4 is brief and covers more storylines than combined season 3 for Stranger Things fans. Some major new things are happening in Volume 2 in a brief encounter.
Netflix releases the show and movies dependent on the timeline given by the headquarters in California. Hence Stranger Things was released on July 1 at midnight Pacific Time.
Also, there were some regions where Strangers Things didn't stream, as the release date varied from region to region. Read below to determine where the Stranger Things release date depends on your location.
The release date and Country
The show Strangers Things was released on Friday, July 1 2022, at midnight PT. The exact time of the Volume 2 release may vary. So here is the list of major time zones andcountries with the release date and times.
United States (PDT) - 12:00 am
United States (EDT) - 03:00 am
Canada - 3:00 am
Brazil - 4:00 am
United Kingdom (GMT) - 8:00 am
Europe - 9:00 am
Europe (EST) - 10:00 AM
South Africa - 9:00 am
India - 12:30 pm
Indonesia - 2:00 pm
Philippines- 3:00 pm
Hong Kong - 3:00 pm
Singapore - 3:00 pm
Australia - 3:00 pm
Japan - 4:00 pm
New Zealand- 7:00 pm
Episodes length of each episode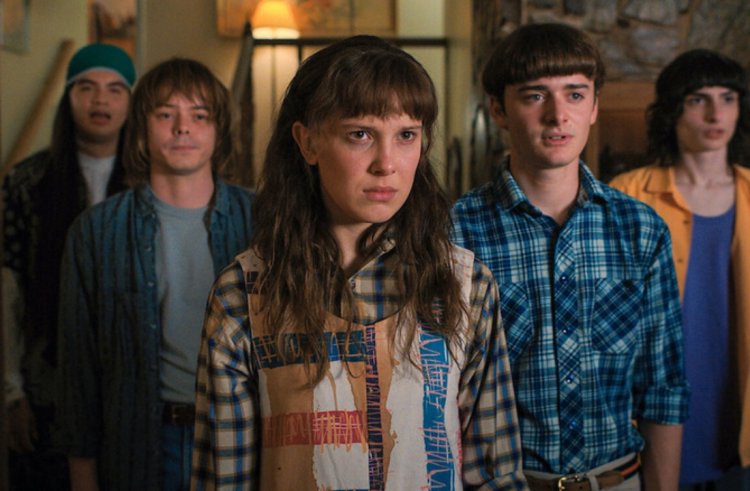 (Image Credits: Slash Film.com)
The Stranger Things Volume 2 will consist of 2 episodes. It brings the total number of all the chapters in Season 4 to 9. Suppose you are waiting to binge-watch all the seasons. It should take at least 4 hours.
Episode 8 will run for 1 hour 25 minutes, and Episode 9 of 2 hours 19 minutes.
What is the story at the end of Stranger Things 4 Volume 1
Here is a quick and brief recap of where they left Hawkins Heroes while the credits get rolled in.
The Eleven's storyline
Eleven finds out the big truth behind the massacre at the Hawkins Lab. She also is on the verge of getting her powers back. Vecna was exposed to be 001/Henry Creel. While also revealing that Eleven created Vecna. She opened a gate and set him hurling upside down.
While the Storyline of Hawkins
Nancy gets caught by Vecna and finds the truth about Henry Creel and Creel's house. Robbin and Eddie return to the real world due to the open gate. Meanwhile, Steve is still in the Upside Down along with Nancy. They are still in Vecna's trance.
What happened in California
Mike, Jonathan, Will and Argyle are leaving for Nevada. To see if EL is taking help from Suzie.
What happened in Russia
Hopper and Joyce are back in a Russian jail. Joyce and Murray saved Hopper from a bad envision.
So what happens in Stranger Things 4
The trailer reveals that the final episode is a deal breaker.
The gang in Hawkins decides to take a dig on Vecna. Max, Lucas and Erica move to the Creel House. Eddie and Dustin protect the gate Of Upside Down in Eddie's Trailer.
While Steve, Nancy and Robin enter the Creel house.
While Eleven gets her powers back in California and Nevada, the government has discovered her secret. In the trailer, Eleven and Vecna's face match.
Hopper, Joyce, Murray, Yuri and Dmitri in Russia are trying to escape the prison. The group also discovers a weird Demogorgon lab to complete a fragment of Mind Flayer.
While the trailer shows
Hopper is running behind a Demadog to shoot.
What happened in Volume 1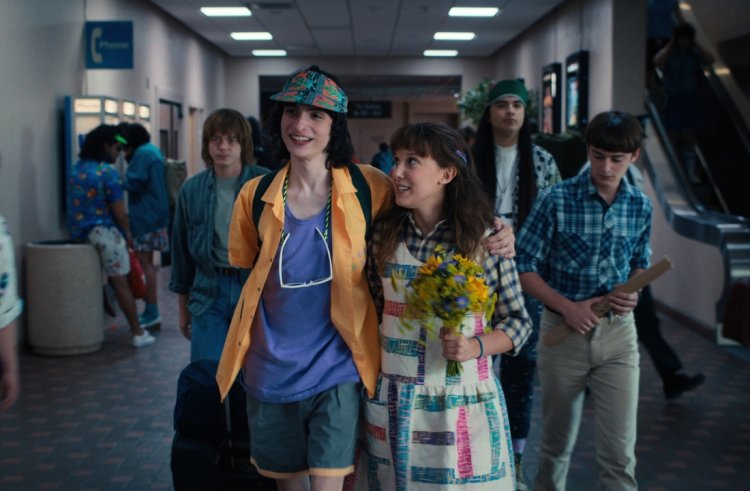 (Image Credits:Startefacts.com)
Volume 1 of Stranger Things 4 was released on May 27. It consisted of seven episodes. At the same time, the other two episodes are coming in Volume 2. The nine episodes combined to cover a short 13 hours Upside Down. In the last season, we witnessed the Hawkins citizens separate following the battle of Starckurt. While six months later, the stars Mike, Will, Eleven, Dustin and Lucas find out how to end Upside Down. However, the action is limited until Hawkins. Much drama in Russia is unfolding and even in California.
The end of Volume 2
Eleven is still in the underground bunker. El is relieving her memories as a Nina Project. Lt. Col. Sullivan finds out about the project after Wallace gives her the location.
Seems like they are on the way to Nevada to Debunk the bunker. So it is evident that even by the trailer, El makes it alive. Brenner and Ownes's story is completely in the hands of the lord.
While El learns about her past 001 and what happens in the lab, given Brenner and Owens's reaction seems like El gets back her powers. The trailer did give a peek into her powers, so safe to say she does get her power back.
She does end up in Upside Down at a point.
Hawkins group
The story of the group ended in episode 7. But if you are wondering what about Nancy being killed by Vecna. Seems kike she got a day more to live.
In Volume 2, the Hawkins groups divide into three groups. Max, Lucas and Erica move to Creel's house. Maybe they are headed for big trouble. Dustin and Eddie are stuck in
Upside Down. They guard the gate as it opens in Eddie's trailer since they use it as a mediator to move past the real world.
In either of the two episodes, we can also see Eddie play his guitar at the top of the trailer.
Nancy, Steve and Robin who finally make it to Creel's house. Nancy gets her hands on the guns. The three return to Upside Down for the final battle. Robin gets stuck in vines, and Nancy and Steve save her.
Meanwhile, we cannot see Karen Wheeler saving Kolly from the attack.
Could a group of people be attacking the Wheeler home that Karen and Holly are in, given that everyone in town is hellbent on finding Eddie and the members of the Hellfire Club, who are currently accused of killing Chrissy, Fred, and Patrick?