The complete overview of 'Cardiac Arrest of Damar Hamlin'
The complete overview of 'Cardiac Arrest of Damar Hamlin'
Published on January 04, 2023 23:38 PM by Michael Davis
Five cardiac experts concurred that Damar Hamlin of the Buffalo Bills' cardiac collapse on Monday night during a football game may have been caused by a strange accident.
About nine minutes into the game against the Cincinnati Bengals, Mr. Hamlin's heart stopped for unknown reasons. However, given his youth, state of health, and other factors, it's possible that a collision with an opposing team's receiver caused him to take a blow to the chest that caused an arrhythmia.
While a strike to the chest "is obviously a front-runner" to explain what happened on Monday, Dr. Aaron Baggish, a sports cardiologist at Harvard Medical School who has worked with the New England Patriots, advises that "it is premature to be definite." He predicted that Mr. Hamlin would go through a battery of tests to be sure there was no other explanation.
It takes what Dr. Baggish called "a perfect storm" for an arrhythmia to happen: the chest should be struck in the correct spot, at the right time, with the appropriate amount of power, while the heart is unwinding after pumping blood.
Dr. Michael Mack, the director of cardiovascular services at Baylor Scott & White Health in Dallas, described the situation as "not uncommon, but pretty unique." A player being struck in the chest by a ball has happened most frequently in baseball, although it has also happened in lacrosse and hockey. The incidents in various sports were not stopped by chest protection. According to Dr. Baggish, "no commercially marketed pads for any sport promise complete protection," so he would not rely on football pads either.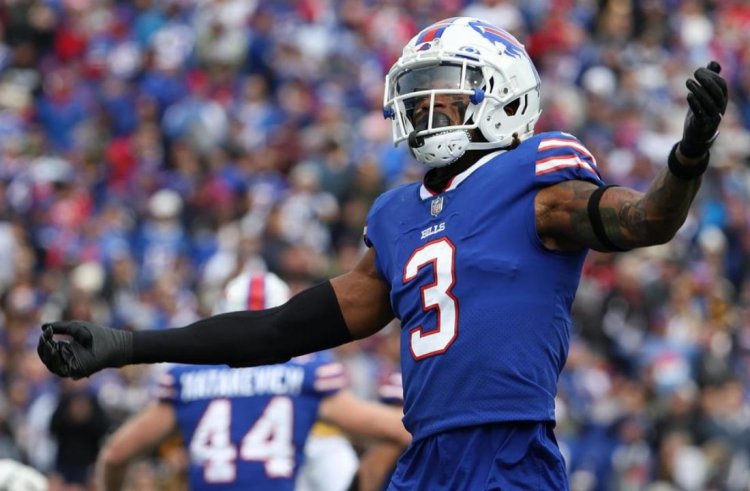 (Image Credits: Linkedln)
The force of a strike "may go straight through" a pad, Dr. Mack continued.
According to Dr. Javid Moslehi, a cardiologist at the University of California San Francisco School of Medicine, an arrhythmia can be brought on by a forceful blow to the heart within a brief 20-millisecond window in the heart's cycle.

Medical workers at the game performed cardiopulmonary resuscitation on Mr. Hamlin, 24, shortly after he passed out for nine minutes in an effort to maintain blood flow to his body. They transported Mr. Hamlin to the University of Cincinnati Medical Center once his heart rhythm was stabilized, where he is still in serious condition.

According to Dr. Mack, using a respirator on individuals like Mr. Hamlin is commonplace. But if he is still using the respirator today, he hasn't awakened, the man said.
The question is whether Mr. Hamlin's brain suffered brain damage from a lack of blood during those long minutes before his heart rhythm recovered, according to heart experts. In order to give the brain time to recover after a patient experiences cardiac arrest, doctors frequently induce a coma, according to Dr. Mack. In some cases, medical professionals will use cooling blankets and headpieces, which include coils that circulate cooled water, to cool the brain to reduce its metabolism while it heals.

Dr. Mack continued, "Doctors are more proactive about sedation and hypothermia, the more fear there is about brain harm. There is "a major concern" if Mr. Hamlin is still unconscious 72 to 96 hours after his cardiac arrest, according to Dr. Mack.
Other sportsmen, including marathon runners, have passed away or collapsed due to heart attacks or arrhythmias brought on by underlying heart problems. Examples, according to Dr. Mack, include long QT syndrome, a condition that affects how the heart signals, and hypertrophic cardiomyopathy, in which the heart walls swell.
Also Read: The first openly transgender person was executed for a murder committed in 2003 in Missouri

Heart specialists don't believe Mr. Hamlin has these diseases, despite the fact that they can't rule them out. The N.F.L. thoroughly tests its athletes, so it would be anticipated to identify such issues, as per Dr. Rajat Deo, an expert in arrhythmias at the University of Pennsylvania's Perelman School of Medicine.
Heart attacks, which happen when an artery providing blood to the heart is clogged and the organ is deprived of oxygen, are different from cardiac arrests. An arrhythmia or possibly abrupt death may result from that.
"Could a blockage have caused it?" questioned Dr. Brahmajee Nallamothu, a University of Michigan professor of internal medicine and cardiology. I suppose, but it's doubtful in a young man.