The 1980s goth scene inspired Wednesday's best moves
The 1980s goth scene inspired Wednesday's best moves
Published on December 16, 2022 17:11 PM by Michael Davis

With its portrayal of the youngest Addams child as a teenager, Netflix's latest Addams Family series, Wednesday, is one of the streaming service's biggest hits. It has been a delight for fans to watch Jenna Ortega portray Wednesday Addams on social media. The iconic dance of Wednesday Addams has been recreated on apps such as TikTok, set to Lady Gaga's "Bloody Mary." In what way was the actress inspired to create Wednesday's dance, and what does it mean for her character?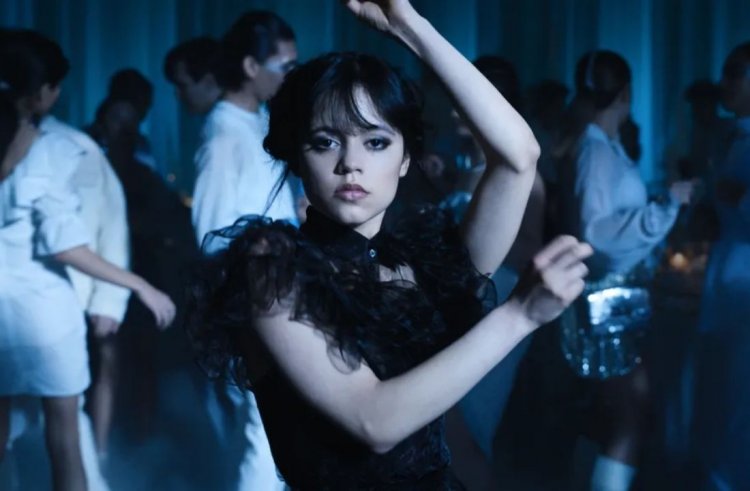 (Image Credits:consequence.net)
A black-and-white outfit makes Wednesday stand out at Nevermore's Rave'N dance. Her signature braids are tied up, and she looks stunning. "Goo Goo Muck" by Goth rock legends The Cramps captures Wednesday's trademark oddness in a dance as the DJ switches from traditional pop music to it. Jenna Ortega embodies Wednesday's trademark oddness in dance with jerky movements and flaring spins. While the camera does not always linger on Wednesday's movements and often cuts away from her dance, Wednesday proves that she is much more than an aloof outcast during "Goo Goo Muck."
Also Read: 90 Day Fiancé: Anna & Mursel celebrate first Christmas with son Gokhan John
Inspiration from Jenna Ortega
The character of Wednesday Addams required a lot of research by Jenna Ortega. For her Raven dance routine, Ortega claims she used sources such as "Siouxsie Sioux, Bob Fosse's Rich Man's Frug, and Lene Lovich, A few fans confirmed her sources by making side-by-side videos of Denis Lavant and Goths dancing in clubs in the 1980s." A monster of dance is created when these cinematic and gothic influences are combined.
Ortega may be taking a few dance moves and techniques from the original Goth scene, but she breathes new life into a style that has been ridiculed for so long. Wednesday proves beauty in society's dark and strange corners, even if Goth dances (among other subcultures) are mocked for their eccentric style and deviation from mainstream trends. In addition to appreciating how Goths danced in the '80s, her dance is perfectly in tune with Wednesday's character. The author admits her sources, which reveals her care in portraying Wednesday Addams' gothness. Ortega's influences are right up with any Goth culture fan.
Detecting characters that represent specific subcultures or attitudes is easy. Since the Addams Family adopted macabre attitudes toward a mainstream society in the 1960s, their macabre attitudes have perfectly matched those of the Goths. Similarly, Wednesday's Rave'N dance wins over the dark look and mannerisms that continue this trend. Even if Wednesday is not officially renewed by Netflix yet, its creators and star Jenna Ortega can certainly give the moody teen a gothic authenticity.