Steve Harvey's Net Worth Is $200 Million, But How Does He Spend It
Steve Harvey's Net Worth Is $200 Million, But How Does He Spend It
Updated on August 17, 2022 15:38 PM by Laura Mendes
Steve Harvey not only appears on television, but he also commands it. It's because Steve Harvey has immersed himself in all types of entertainment, proving to his fans and following that hard effort genuinely does translate into enormous career success.
Harvey's present net worth is an incredible $200 million, a far cry from the days when he was homeless and living in his Ford Tempo.
Acquires: Immediate Fame With the kings of Comedy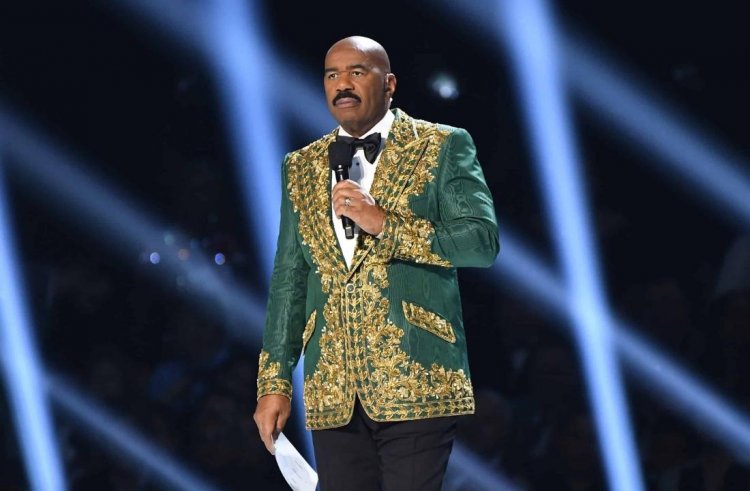 Steve Harvey's initial claim to fame courtesy of Spike Lee's film Kings Of Comedy. Harvey had dabbled in comic entertainment before, but this was the feature performance that cemented his status as a household celebrity.
He co-starred with Bernie Mac, Cedric the Entertainer, and D.L Hughley, all of whom have gone on to have tremendously successful comedic careers since the film's premiere. Since then, humor has remained Harvey's 'real love,' and he has amassed millions of dollars due to his antics.
Also Read: How Does Steve Harvey Spend His $200 Million Net Worth?

Expenditure: A Collection Of High-End Real Estate
Steve Harvey hasn't forgotten his background and understands real estate acquisition value. He has a sizable real estate portfolio, with homes spread over all of his favorite locations.
Harvey has a $3.95 million estate in Plano, Texas, a $7.7 million penthouse in Illinois, two properties in Texas, a 9258 square foot complex in Atlanta, Georgia, and an 11,234 square foot Beverly Hills mansion that he leases for $111,000 per month.
Earns: He's a well-known author
In addition to his media empire and highly successful profession as a comedian and television host, Steve Harvey has a sizable income from a completely different source: his writing skills
. Act Like A Woman: Think Like A Man, his guidance book delves deeply into the semantics of relationships and intimacy. The book rapidly became a best-seller due to its accessible content. His book's original substance was eventually turned into a film series.
Also Read: 'Little People, Big World's Chris Marek has a massive net worth!

Spends: A wild Car Collection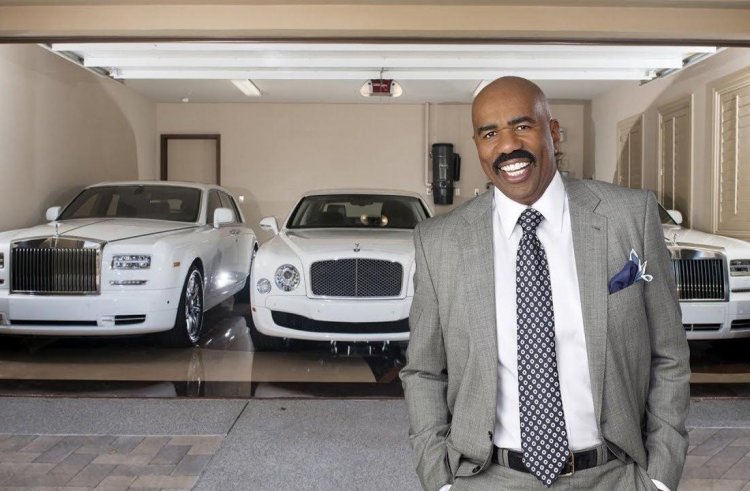 Steve Harvey's incredible automotive collection includes a Bentley Mulsanne, a black Rolls-Royce Phantom Drophead Coupe Convertible, a rare 1941 Cadillac convertible worth $95,000, and many others more like to a fleet.
Steve is enamored with his flashy car and does not attempt to hide that he collects them. He's always been drawn to the speed and style of some of the most high-end vehicles ever produced, and he enjoys being surrounded by luxury.
Also Read: What is the Net Worth of the British Super Model Kate Moss
Appearances in 'The Family Feud' and Other Films
Steve Harvey has made a lot of money with his shows Family Feud and Celebrity Family Feud. He's known for his distinctive hosting style, his candid comic approach to television, and his ability to instantly quip back and make even the most ordinary occasions seem amusing, continue to draw followers.
He earns almost $10 million each year just hosting Family Feud. His time on The Steve Harvey Morning Show, which pays Harvey $20 million, adds to his rich earnings. He is also well-known as the host of the Miss Universe pageant.
Also Read: How Steve Harvey Earns And Spends His $200 Million Net Worth
Spends: A Couple of Stylish Suits
Steve Harvey is obsessed with his appearance and is usually outfitted in the most fashionable, custom-made clothes money can buy. His suits cost a tiny amount and come in various bright colors and patterns.
He admits to having over a thousand outfits, all of which were custom-made at one stage. He regularly donates his clothes to charity to give back, and he has mentioned that his mother insisted on him wearing a suit and tie to church, which he has reflected on in his adult years.
Earns: 'Judge Steve Harvey'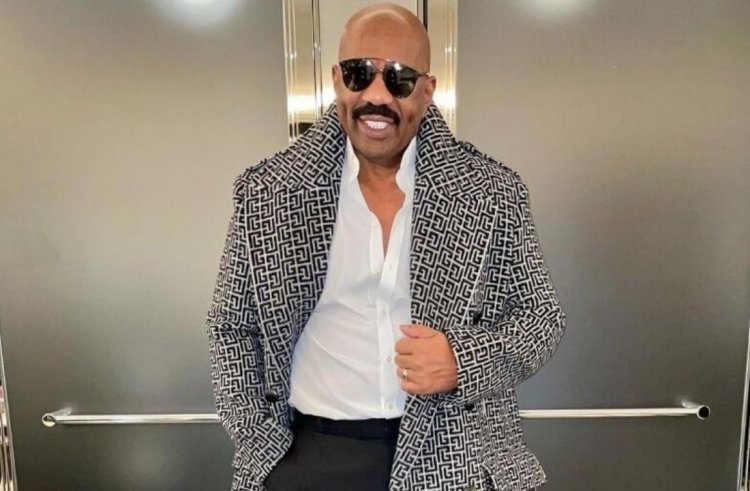 Steve Harvey keeps the huge cash pouring in by coming up with new projects. Harvey could quickly retire and live well for the rest of his life, but instead, he continues to take on new initiatives and increase his net worth.
Also Read: How much is Steve Harvey's Net Worth in 2022?
He recently debuted his hot new television series, Judge Steve Harvey, identical to Judge Judy in style. Harvey's enormous impact on his fans is amplified thanks to the ABC courtroom show, which allows him to make real-life, legally binding decisions.
Spends: His Obsession to Cigars
On occasion, Steve Harvey isn't simply a fan of a good cigar; he's committed to the pastime. He owns a lot of humidors and insists on having one in each of his many houses to store his cigar addiction. He takes delight in unwinding with some of the finest cigars ever created. OpusX and Cohiba Siglo VI are two of his absolute favorites, and he's also been known to enjoy an Ashton Maduro.
Earns: A Media And Entertainment Empire
The vast amounts of money collected by Steve Harvey do not all exist in front of the cameras. He's also a hugely successful entrepreneur with several businesses under his belt. He began his career as a member of the Steve Harvey Global label and then established his production firm, East One Twelve, and Harvey Events, which his daughter operated. Steve Harvey Global was formed in 2017 when these organizations were united into one. He has now acquired stakes in the foreign aspects of Family Feud and be credited as the co-founder of NBC's Little Big Shots and other projects.
Spending: Luxury Vacations
Harvey works hard and often has multiple projects on the go simultaneously, so he understands the value of taking time to relax and spend time with his family. When it comes to living the good life, he spares no expense, and he is known to lavish on his travels. Harvey and his wife Marjorie recently returned from a two-week luxury vacation on a private yacht. The yacht alone cost them $2 million for their Mediterranean adventure.