Snowstorm, the Masked Singers identify revealed during the Semi Finale
Snowstorm, the Masked Singers identify revealed during the Semi Finale
Published on November 25, 2022 15:10 PM by Sally Harbor
Battle of the Semi-Finals on Fox
(Image Credits: Distractify.com)
The Masked Singer made a comeback right at the time of Thanksgiving. It was the semi-final night. The theme of Thanksgiving witnessed Nikki Glaser unmasked as a Snowstorm. Now there are two finalists Harp and Lambs.
Nikki Glaser was unmasked after a face-off with Harp and Lambs. It was a three-way battle where the three sang the song "Since U Been Gone" by Kelly Clarson.
While recognising the singer Jenny McCarthy-Wahlberg was right about Nikki Glaser. Robin assumes it was Whitney Cummings. While Nichole picked Iliza Schlesinger and Ken Jeong thought it was Kristen Wiig.
Nikki Glaser was Snowstorm, and she joined Ray Parkey. Linda Blair: Scarecrow, Chris Jericho: Bride, Adam Corolla: Avocado and many others were witnessed in unique appearances. Everyone was dressed as The Masked Singer in Season 8.
The format of the season
The Masked Singer has adopted the theme of Kings and Queens. It meant three or four costumes celebrities perform every week. At the same time, one made it against the two or three in the next week.
It eventually led to the semi-finals. Harp survived Round 1 and made it to the semi-finals and Lambs was the one to make it in Round 2, and Snowstorm won Round 3.
Season 8 of The Masked Singer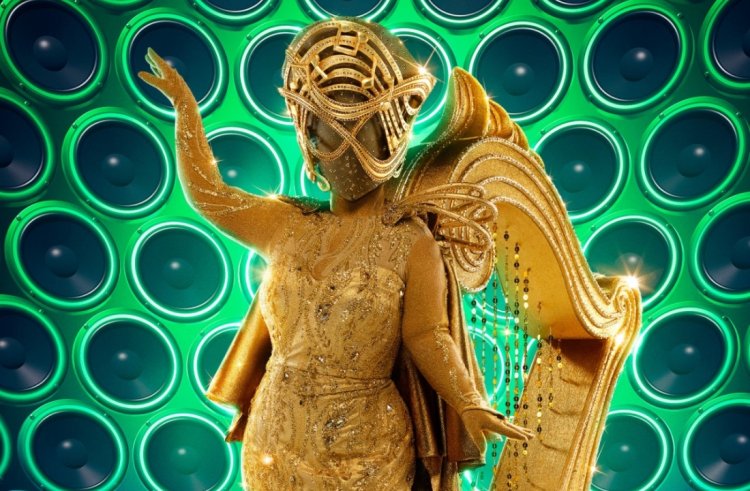 (Image Credits: Parade.com)
It features costumes of Bride, Avacodo, Scarecrow," "Hedgehog," "And mummies. The theme of the episode includes Vegas Night," "Comedy Roast," "And Hall of Fame."
The Guest this season were Donny Osmond, Andrew Lloyd Webber, The Muppets, Will Arnett, Leslie Jordan, Drew Carey and many more.
Contestants of Season 8 boasts a combined 32 Grammy nominations, 16 Emmy wins, eight gold albums, 4 Golden Globe nominations, 42 books, 10 Teen Choice awards, and five stars on the Hollywood Walk of Fame," as per FOx.
Contestants and their performance
1.Snowstorm
Performed on: Thinking of You" by Katy Perry.
Hint: Squiggly. Bob Saget. "The squiggly monster was a dear friend of mine who is no longer with us, and it feels weird to cry with this voice."
Package Voiceover: "Ever since I was a little girl, I dreamed of being a pop star. When I was in high school, I was taking voice lessons. And one day in high school, my mom said she got a call from my teacher, saying, 'I'm sorry, but your daughter doesn't have it.' That was the day my dream died. That's why I'm thankful I'm still on this show. I'm grateful for the opportunity to express myself in a way I never thought I'd be able to artistically and on."
Guesses: Whitney Cummings, Nikki Glaser, Kristen Wiig.
Earlier guesses of Panel: Erika Jayne, Countess Luann, Kyle Richards and others.
2.Harp
Performed on: About Damn Time" by Lizzo.
Hint: Oprah Winfrey." When I met Oprah for the first time, I brought my mom with me and was going to introduce her, but before I did, she said hello and already knew her name. You know you've made it when Oprah knows your and your mom's names."
Package Voiceover: "I'm excited about making the semi-finals, and I want to win."
Panel Guesses: Jennifer Hudson, Jordin Sparks, Fantasia, Amber Riley.
Earlier Panel guesses: Amber Riley, Ashanti, Yvette Nicole Brown, Queen Latifah, and more.
3. Lambs
Performed on: Need You Now" by Lady A.
Hint: Reunion." "For a long time, I never thought we would be singing together on a stage again. "
On this Thanksgiving, there's nothing we're more thankful for than each other. We've always known that we've always known that we've always known. We were young ladies when we hit it big. We were burned out and had more issues.
Panel Guesses: All Saints, Spice Girls, Wilson Phillips.
Earlier Panel Guesses: The Kardashians, Haim, The Chicks, The Corrs, Fifth Harmony, SWV.
To Conclude.
Although this was a fun season of The Masked Singers, it was finally revealed. Snowstorm is none other than Nikki Glaser.