Rihanna's Net Worth
Rihanna's Net Worth
Updated on August 25, 2023 14:57 PM by admin
Name: Robyn Rihanna Fenty
Nick Name: Caribbean Queen, Bajan beauty, RiRi, Queen of Pop.
Date of Birth: February 20, 1988
Age: 34 years
Height: 1.73 m
Weight: 60 kg
Nationality: Barbados
Profession: Singer, actor, Fashion Designer, Songwriter
Net Worth: $1.7 billion
Rihanna is a Barbadian singer born in Saint Michael and raised in Bridgetown, Barbados. She is now the world's richest female musician and a well-known and financially successful musician working today.
The early life of Rihanna
(Image Credits: Insider.com)
Rihanna is the daughter of accountant Monica and warehouse supervisor Ronald Fenty. Her mother is an Afro-Guyanese, and her father is a Barbadian of African, English, Irish and Scottish descent. Rihanna has two brothers and two half-sisters named Rorrey and Rajad Fenty. On her father's side, she had a half-brother, each born to different mothers from his previous relationship. Rihanna's childhood was affected by her father's alcoholism and crack cocaine addiction. At the age of 14, her parents divorced.
Education of Rihanna
Rihanna grew up listening to reggae music. She attended Charles F. Broome Memorial Primary School and Combermere School. She studied future international cricketers Chris Jordan and Carlos Brathwaite in that school. Rihanna was in a sub-military programme as an 11-year-old. She graduated from high school and chose to pursue a musical career instead.
Rihanna's musical Career
Rihanna began her singing career in 2003 at 16 years old. She succeeded in establishing her well-earned Career and rose to fame through hard work.
In 2004, she was invited to audition and signed to a six-album record deal.
In 2005, she worked with a team of producers, including Jay-Z, on her studio album 'Music of the Sun.
In 2006, she followed up with other songs like 'A Girl like Me.
Her album 'Good Girl Gone Bad' in 2007 received positive critical reviews, and 'Umbrella' sold over 8 million copies.
The movie 'Bring It On: All or Nothing from August 2006 included Rihanna in a Cameo as herself.
In 2012, her television show 'Styled to Rock' debuted in the U.K., while the American version debuted in 2013.
Movies she appeared in were
Battleship – 2012
Valerian and the City of a Thousand Planets – 2017
Ocean's 8 – 2018
Guava Island – 2019
Subsequent release of Rihanna was:
Rated R' – 2009
Loud – 2010
Talk That Talk' – 2011
Unapologetic' – 2012
Anti' – 2016
Her singles with collaborated were
Run This Town with Jay-Z and Kanye West – 2009
Love the Way You Lie with Eminem – 2010
Princess of China with Coldplay – 2012
Take Care with Drake – 2012
This Is What You Came for' with Calvin Harris – 2016
Personal Life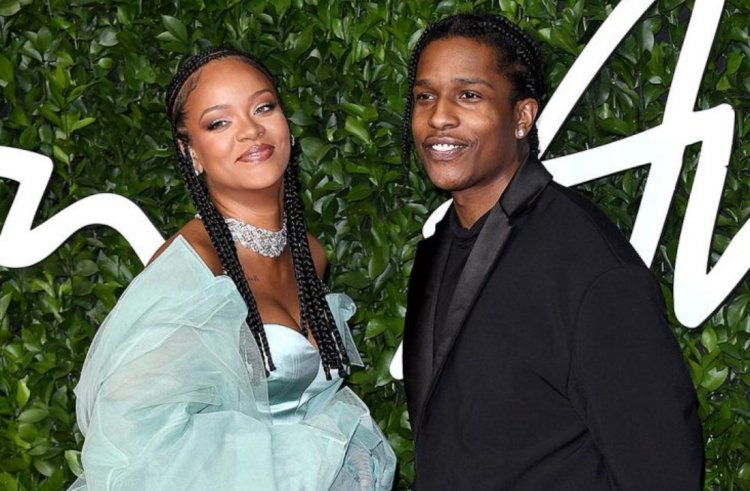 (Image Credits: Filmysiyappa.com)
From 2007 - 2009, she had a notable connection with the artist Chris Brown and suffered physical abuse from her ex-husband Brown. Their relationship ended in February 2009.
From 2009 – 2016, she was in a relationship with Canadian rapper Drake.
In 2017, she again began dating Saudi businessman Hassan Jameel, and they got split in January 2020.
In 2021, Rihanna was in a relationship with American rapper ASAP Rocky. On January 31, 2022, they revealed that they were expecting their first child, and on May 19, 2022,
Rihanna gave birth to a son.
Achievements
Rihanna has received numerous awards, including nine Grammy Awards, thirteen Music Awards, twelve Billboard Music Awards and eight People's Choice Awards.
Business Billionaire
In 2015, she agreed to a $25 million deal with Samsung to advertise their galaxy line of products. She also worked with companies like Secret Body Spray, M.A.C. Cosmetics, Budweiser, Armani, Dior, Cover Girl, Gucci, Clinique and River Island.
In 2014, she joined Puma as a creative director and oversaw the company's women's line. She introduced collaborations for garments and footwear that sold out quickly.
She is also the co-owner of Tidal's music streaming service along with Jay-Z, Madonna, and Kanye West.
In September 2017, she debuted her Fenty Beauty makeup brand in collaboration with LVMH's Kendo Brands. The brand granted $100 million in sales in the first two months. She also owned the clothing company and accessory Fenty, which was shut down.
Net Worth
Net Worth (2022) - USD 1.7 Billion
Monthly Income and salary - $6 Million
Yearly Income - $70 Million
In 2016, she made $22.3 million from her musical Career. Rihanna's Fenty company cosmetics business made 72 million U.S. dollars in sales in a single month in 2017. She introduced a brand-new high-end clothing line. She also starred in well-known movies and made millions of dollars touring.
Assets of Rihanna
She has a penthouse valued at 14 million U.S. dollars in New York and Manhattan, which translates into 102 cores. To her job with Fenty label, she bought a mansion in West London for $7 million in June 2018.
Car Collection
Lamborghini avedator - $750000
Porsche 911 Turbo S - $190000
Mercedes SLR McLaren - $96000
Maybach 575 - $417402
Porsche 997 Turbo - $160000
Chevrolet Suburban L.T.Z. - $5100
Rihanna's organizations and charities
UNICEF
Red Cross
Alzheimer's Association
Save the Children
B.I.D. 2 Beat Aids Feeding America
In 2012, she was the founder of the Ctara Lionel Foundation, which works to improve the quality of education and Healthcare for children f rural communities.
Facts of Rihanna
She is the wealthiest female musician in the world
She owns 50% of Fenty Beauty
Fenty Beauty is worth an estimated $1.5 billion
She also owns 30% of Savage x Fenty Lingerie
Rihanna has over 100m followers on Twitter and Instagram.
Her debut number-one single on the U.S. Billboard Hot 100, S.O.S., was released in 2006.
Social Media Handle
FAQ's
Q: How much does Rihanna own Fenty Beauty?
A: She owns 50% of Fenty Beauty
Q: How many followers does she have on Twitter and Instagram?
A: She has over 100m followers on Twitter and Instagram
Q: Does she rent the house?
A: She is renting the house out for $35,000 a month.
Q: How much does Rihanna own of Savage X Fenty Lingerie?
A: She owns 30% of Savage x Lingerie.
Q: When did she start her music career?
A: She started her singing career in 2003 at 16