Netflix Vs Amazon Prime, which one is better?
Netflix Vs Amazon Prime, which one is better?
Updated on November 14, 2022 15:52 PM by Andrew Koschiev
Netflix Vs Amazon Prime, which one is better?
Netflix and Amazon Prime are some of the most widely used video streaming services and are people's favorite choices. The growth of online streaming changed the multimedia and entertainment ecosystem.
Both offer great original content and a library of third-party movies and series. Price and value are deciding factors for some users. These two platforms have to compete with Disney+, Hulu, HBO Max, Peacock, Apple TV, and a growing roster of streaming services that are expensive for audiences.
Overview of Netflix
Netflix is an online streaming video-on-demand subscription service that provides its viewers access to a massive list of movies and TV shows worldwide. Reed Hastings and Marc Randolph founded it, and the entertainment company grew from a DVD mail-order service to a global Internet TV sensation.
Since 1997, Netflix has undergone many ups and downs, but it is now the most common digital name. Netflix offers a three-tier model with Basic, Standard, and Premium options.
Overview of Amazon Prime
Amazon Prime Video is a digital subscription-based streaming service owned and operated by Amazon. It offers movies, TV shows, comedy specials, documentaries, etc.
It also offers ad-free music on top of Amazon-exclusive deals, plus free two-day shipping after a 30-day free trial. Amazon Prime Video has only one plan that includes a Prime membership and plenty of perks such as 4K Ultra HD video quality.
Comparison of Amazon Prime Vs Netflix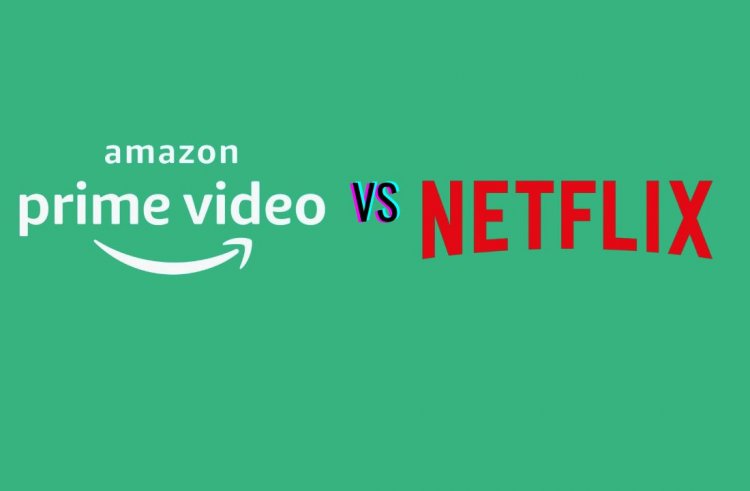 Internet
Netflix excels in providing 4K and HDR content with great video and audio, whatever the internet speed is.
Amazon Prime Video falls behind in providing high-resolution content when the internet speed is lower.
Subscription
Netflix offers 30-day free trial to all subscribers, where the charges, later on, are higher. In the Netflix free trial pack, you can look at the content and decide if it works for you.
Amazon Prime Video has a free trial for 30 days. You can enjoy it with a lower subscription price later on.
Gaming
Netflix supports display on gaming consoles.
Amazon Prime Video does not support gaming consoles.
Cost
Netflix packages are at a higher cost.
Amazon Prime Video had less cost compared to Netflix.
Downloads
Netflix downloads are limited.
Amazon Prime Video downloads are unlimited, so you can enjoy more freedom.
Content Provided
People who prefer International content can prefer Netflix.
Amazon Prime is based on regional content and has a wide range of choices for each regional language.
Popularity
In April 2016, Netflix announced that it had 81.5 million subscribers, of which 42% were outside the U.S. Amazon Prime is estimated to have 54 million members in the United States.
Networking Company Sandvine estimated its popularity in June 2016. Netflix accounts for 35.15% of Prime-time Internet usage in North America, and Amazon Video accounts for 4.26%.
In 2022, the Netflix subscribers count is 223.09 million, whereas Amazon Prime Video subscribers count is 157.4 million.
Device Compatibility
Netflix
Amazon Fire TV
Android devices
iOS devices
Google Chromecast
Apple TV
Nintendo
Playstation
Nvidia Shield
Wii
Roku
Smart TVs
Xbox
Web browser
Amazon Prime Video
Amazon devices
Android devices
Amazon Fire TV
Android TV
Apple TV
Google Chromecast
iOS devices
Roku
Nintendo
Smart TVs
Xbox
Web browsers
Subscription plans
Netflix subscription rates have four plans:
Mobile-only Plan
Basic Plan
Standard Plan
Premium Plan
The Mobile-plan costs Rs.199 per month and Rs.2388 per year. Users can access one screen and view content at high resolution.
The Basic-plan costs Rs.499 per month and Rs.5988 per year. Users can access one screen on mobile, TV, Tablets, or computers.
The Standard-plan costs Rs.649 per month and Rs.7788 per year. Users can access two screens on mobiles, TV, tablets, or computers.
The Premium plan costs Rs.799 per month and Rs.9588 per year. Users can access four screens on mobiles, TV, tablets, and computers.

Amazon Prime subscription had two plans:
Monthly Plan
Annual plan
In Amazon Prime Video, the monthly plan costs Rs. 129, and the annual plan cost Rs.999. The plan offers video service, music service, and prime delivery, so most of the users prefer Amazon Prime.
Best series on Netflix and Amazon Prime Video based on viewer's preference
Best Netflix series based on viewer's preference
White Tiger
Riverdale
Firefly Lane
Bridgerton
Fate the Winx Saga
Friends
Best Amazon Prime series based on viewer's preference
Made In Heaven
The Family Man
Mirzapur
Palatal Lok
Inside Edge
Coicstaan
Is Netflix better than Amazon Prime?
Both Netflix and Amazon prime offer competitive content, making it much harder to decide which one is the best. Netflix gained popularity on the internet, and users are using Netflix more to chill and enjoy engaging content.
On Amazon Prime, you can find Tamil, Bengali, Telugu, and similar regional movies but not on Netflix. Netflix wants to grow on regional content as it has a rich library only for international content.
By 2020, Netflix planned to launch 22 original movies and 11 series from India, and they get an entry for making movies and series in regional languages based on the audience's native languages. Amazon suggests quantity more than quality.
Based on cheaper plans, Amazon Prime Video is the best option where users can save from buying expensive Netflix. People who prefer content quality can choose Netflix because it has highly subjective choices and depends entirely on the end user's preferences. Amazon Prime is not much entertaining as Netflix. The choice is subjective.