'Modern Family' alum Sofia Vergara flaunts her curve in Dolce & Gabbana Swimsuit
'Modern Family' alum Sofia Vergara flaunts her curve in Dolce & Gabbana Swimsuit
Updated on January 04, 2023 15:58 PM by Andrew Koschiev
Sofia Vergara flaunted her exquisite physique in a stunning blue and white Dolce & Gabbana bathing suit as she continued to look stunning in 2023.
Sofia and Joe's beach vacation
The 50-year actress and her 46-year-old husband, Joe Manganiellois, share a peek of their beach getaway with her 28 million Instagram followers. The "Modern Family" alum posed in her bikini for her first post of 2023, using sunglasses to protect her eyes from the glaring sun. Sofia was the epitome of holiday chic, with her long, honey-highlighted brunette hair falling over her shoulders.
Another image Sofia posted on her Instagram story shows her taking a mirror selfie while wearing the blue and white one-piece swimming suit from the Italian clothing line. Although the matching cover-up is visible hanging on the door behind her, she decided not to wear it for the photograph, given her exquisite curves.
Also Read; After 11 seasons on 'SNL,' Cecily Strong is leaving: 'One of the Best to Ever Do It.'
Sofia in Black bikini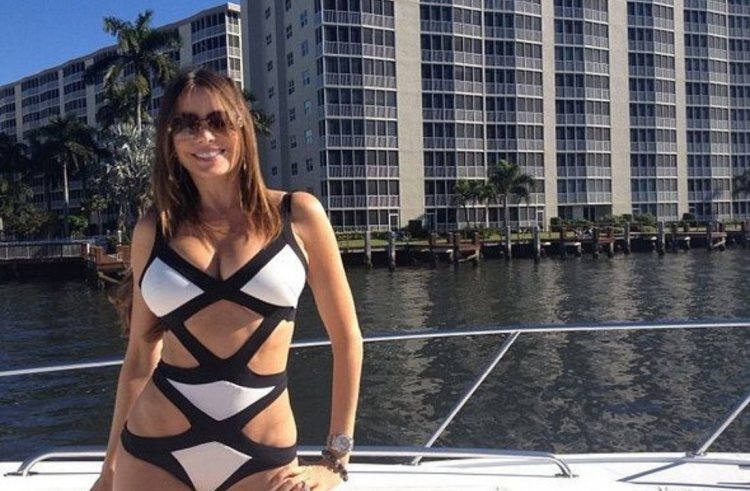 (Image Credits: Pinterest.com)
Sofia had flaunted her well-kept figure a week earlier in a little black bikini. The actress from "Hot Pursuit" displayed ample cleavage in the push-up black bikini top in the image with the message, "Beach breeze and sea." She matched the top with low-rise bottoms that showed off her slender hips.
Also Read: Who are Celeb Couples Wed or Engaged During the Christmas Holidays ?
Couple shares special Christmas
On December 28, Sofia and her husband Joe celebrated his birthday, and she shared a sweet picture of the two of them ringing in the new year. Because Joe and Sofia became engaged on Christmas Day of 2014, the season is very important. The couple got married in Palm Beach, Florida, the following year.
Joe spoke to Men's Health in 2019 about what makes the marriage work, even though the couple keeps their love lives relatively secret, and addressed Sofia as a bold and confident lady.