Lupita Nyong and Selema Masekela go official , post video on Instagram
Lupita Nyong and Selema Masekela go official , post video on Instagram
Updated on December 24, 2022 12:19 PM by Michael Davis
Lupita's Stylist take
Lupita knows the Instagram game well as she announces her relationship with her boyfriend, Selema Masekela. He is a tv host and Sports commentator.
They click Lupita wrote on her Instagram caption. It is a fun reel. The two are snapping their fingers side by side on "The King's Affirmation" The Couple is wearing blue and white robes in fluffy footwear as the video later transitions into purple cheetah swimwear.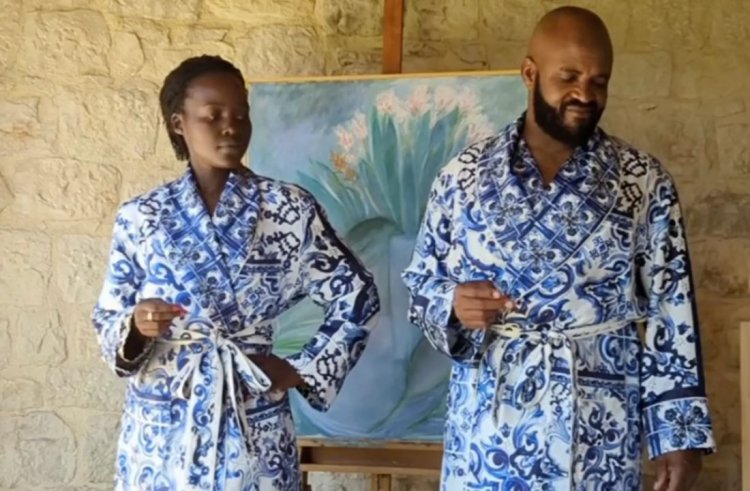 (Image Credits: LOVEBSCOTT)
The couple does various glam looks in the clip. Lupita and Selema wear a light yellow and blue co-Ord set. Lupita wears a long evening gown with pineapple motifs in the second clip. Samela wears a yellow suit.
The last clip shows Lupita wearing a black dress with Orange motifs, and Selema wears a similar color headgear with black sunglasses.
The last clip is all Orange in their final look. The detailing on the costume looks like camellia flowers. Masekela wears a black suit with Orange under his shirt. The fun part is that they break the trend s they start free dancing at the end.
Also Read: Top Gun: Maverick Is Now On Paramount+. Here's Brief Review
Lupita has always kept her dating life private. Previously her dating rumors with Micheal Jordan were sparkling. There was some intimate scene in InStyle & Warner Bros.
But they denied the dating rumor in 2019.
Lupita also dated Jared Leto when they grew close in the 2014 awards season. It is only Selema she when official about her relationship.