'Love Island USA' Isaiah Campbell Stumped After Katherine Kat Gibson Breaking Down Mukbang Videos
'Love Island USA' Isaiah Campbell Stumped After Katherine Kat Gibson Breaking Down Mukbang Videos
Updated on August 05, 2022 18:08 PM by Laura Mendes
Love Island USA's new arrival Katherine "Kat" Gibson, had her date Isaiah Campbell stumped when she disclosed exactly what she does for a living (you know, besides looking for love on a reality TV show).
Katherine told about her Mukbang videos to Isaiah:
"I don't know if you know what a Mukbang is?" Katherine asked during their one-on-one dinner, as seen in the August 3 episode now streaming on Peacock.
When Isaiah replies no, Katherine details how she eats large amounts of food on camera. The Love Island USA app describes Katherine's role as a Mukbanger as eating for an audience as part of a social media trend popularized in South Korea.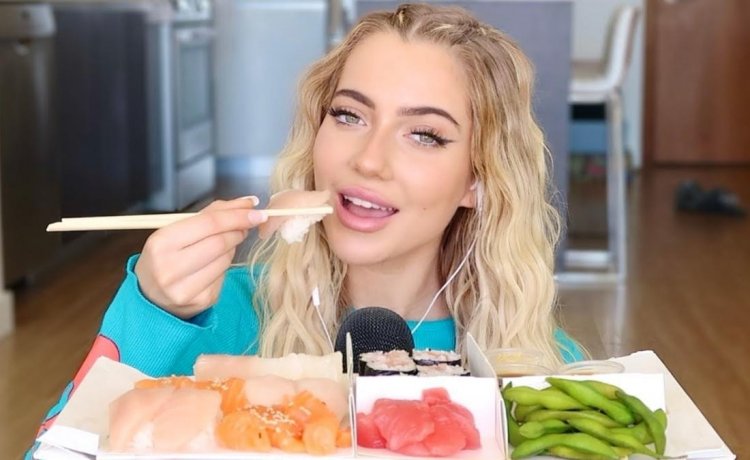 She said, "OK, well, you eat healthily, and I eat like copious amounts of unhealthy food," adding, "Like, very large table-worths, and then I film it."
Mukbang has a wide appeal!
Katherine described the wide appeal, noting, "It's essential for people who eat alone, so they feel like a comfort of watching the video, and they feel like they're eating with someone."
The revelation about her career left some Love Island viewers hungry for more information about her line of work. As it turns out, the influencer has more than 530,000 followers on her YouTube channel, with her latest eating video, titled "SEAFOOD BOIL MUKBANG!" racking up over 50,000 views.
The Boiling Crab!
The video, uploaded in March, shows her diving into a meal from The Boiling Crab, which includes fried calamari, white rice, Cajun fries, corn, crab, potatoes, and eggs.
In its description, she wrote, "I'm back with another seafood boil!" adding, "I know you guys enjoyed my previous seafood boils, so what's the harm in doing another? Plus, it tasted like heaven... Hope you enjoy it! XOXO."
Katherin's Instagram page also features a sampling of food-focused content, including a shot of her digging into an In-N-Out burger in May with the caption, "doing what i do best."
Besides her Mukbang-inspired content, Katherine also has an OnlyFans account, where she teases in her bio, "welcome-back to my OF! how'd you find my secret hideaway?"