Legendary Sword Swallower 'Murrugun The Mystic' shows injuries after life threatening accident
Legendary Sword Swallower 'Murrugun The Mystic' shows injuries after life threatening accident
Published on December 09, 2022 12:32 PM by Laura Mendes
A San Diego-based sword swallower has pledged never to perform with swords again following life-threatening injuries sustained following his dangerous stunt at Six Flags America in the Washington, D.C., region on October 31.
Scott Nelson, aka "Murrugun The Mystic"
Scott Nelson, also known by the name "Murrugun The Mystic," is a renowned sword swallower who has performed dangerous stunts and entertained viewers for the past 25 years.
Life-threatening accident
(Image Credits: YouTube)
During his performance at the Six Flags of America on October 31 in Washington, D.C., Scott Nelson swallowed a five-sword length between 24 and 28 inches and half inch width that accidentally cut open his abdominal cavity and pierced a lobe of his liver. Fifteen minutes into the stunt, he felt uncomfortable and was rushed to the hospital.
"Murrugun The Mystic" to his Facebook fans
Scott Nelson, a.k.a. "Murrugun The Mystic," said on his Facebook page that he was kept in a medically-induced coma for a month and undergoing numerous operations. This accident resulted in him being out of work for three to four months and incurring considerable medical expenses.
Scott Nelson- "ace of swords:"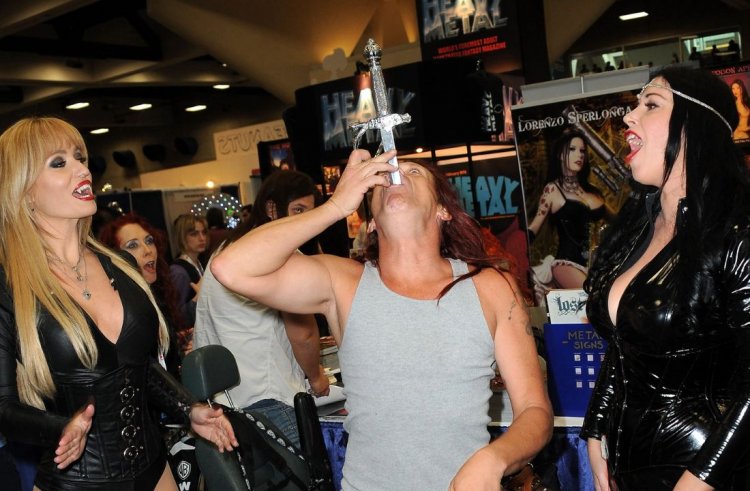 (Image Credit: New York Post)
This is the second incident in the career of the Sword swallower, and he calls himself "the most dangerous man in show business" and an "ace of swords."
He said, "no idea just how bad this was" in a Facebook post that included photos of his wounds shot from a hospital bed.
Scott Nelson, on his Facebook page, mentioned, "HOLY MOLLY!!!! I HAD NO IDEA JUST HOW BAD THIS WAS !!! I'm going to have gigantic bills coming my way and can't work for 3-4 months."
GoFundMe page started for Scott
Since then, a GoFundMe page has been made to raise money to help Nelson as he continues his medical care. The San Diego stuntman has received donations totaling $3,225 (£2,645) so far, and in a recent Facebook post, Nelson shared several heartfelt tributes left outside the hospital where he is undergoing treatment.
GoFundMe campaign's raised $6000
The GoFundMe campaign's coordinator, Demetrius Antua, claimed that Nelson hasn't been able to eat for a month and will be in the hospital for another week. By Thursday night, the campaign had raised about $6000 of its $20,000 target.
Scott Nelson's reason for success
He is also popularly known for swallowing a "rocket-powered sword" and credited for practicing transcendental meditation for 35 years which is the secret to his success of sword swallowing.