Keke Palmer rips open her jacket to expose Her Growing Bump in 'SNL' Sketches
Keke Palmer rips open her jacket to expose Her Growing Bump in 'SNL' Sketches
Published on December 05, 2022 18:49 PM by Sally Harbor
Keke Palmer is anticipating her first baby with Darius Jackson, her boyfriend, and she is excited about it.
Revealed during Saturday Night Live
The 29-year-old actress hosted Saturday Night Live over the weekend, and during her opening monologue, she revealed that she is anticipating her first child with partner Darius Jackson.
Boyfriend Darius' sweet Instagram post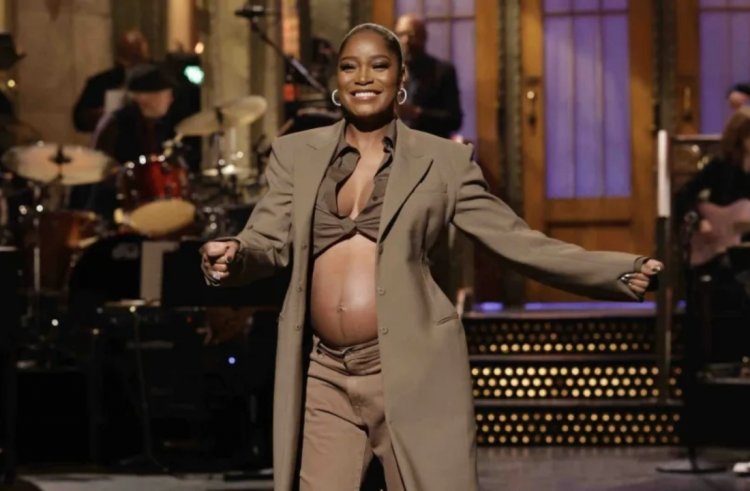 (Image Credits:The Shade Room com)
Darius Jackson took to Instagram to announce the news on Saturday by sharing a sweet photo taken during a dinner outing where Palmer was seen and her bulging tummy under a brown sweater outfit with the caption, "2023."
While hosting Saturday Night Live, Palmer allowed her growing baby bulge to appear in two skits. In one, she played a mother who goes to an ultrasound visit to check on her rowdy twins. In the other, she played a mother in a Kenan and Kel revival comic with Kenan Thompson.
Documentary BTS
Palmer portrayed Kelly in a behind-the-scenes documentary that highlighted how she persuaded the veteran SNL performer to undertake the program, which she wanted to put a more dramatic twist on it than the original 1990s series, in her skit with Thompson, 44.
Palmer played a pregnant woman who engaged in several unhealthful behaviors, such as smoking while carrying the babies and eating fish from McDonald's, in the other skit that aired later in the evening.
Palmer proved her rumor
Palmer joked in her opening speech that "some rumors are circulating, and folks have been in my comments saying, 'Keke's having a baby, Keke's pregnant,' "To prove the rumor, Palmer ripped open her long jacket and revealed her bump on the Studio 8H stage.
Also Read: Cardi B paid $ 1 million to perform for half an hour
Palmer is more blessed
Palmer said,
"I gotta say, though, it is bad when people on the internet spread rumors about you y'all, but it's even worse when they're correct. I mean, like, I was trying so hard to keep it on the down low, cause I got a lot of stuff going on, you know?" she continued. "... But honestly this has been the biggest blessing, and I am so excited. Guys, I'm going to be a mom."
And also added that "Even though some people feel a little weird about me having a baby cause I was a child actor, I just wanna say, look, I'm 29, I'm grown, I have sex, I own a home, I stormed the Capitol on January 6, you know? Things adults do."
On December 10, Martin Short and Steve Martin will serve as the hosts, while Brandi Carlile will perform as a guest.