Is wolf of wall street on Netflix?
Is wolf of wall street on Netflix?
Updated on November 18, 2022 18:35 PM by Andrew Koschiev
The 2013 Oscar-nominated American biographical dark comedy crime film Wolf of Wall Street is based on Jordan Belfort's 2007 autobiography of the same name.
It describes Belfort's viewpoint on his time working as a stockbroker in New York City and how his company, Stratton Oakmont, was ultimately responsible for his collapse due to widespread Wall Street corruption and fraud. In the movie, Kyle Chandler plays FBI agent Patrick Denham, who works to bring down Belfort. In contrast, Jonah Hill plays his buddy and business partner, Donnie Azoff, and Margot Robbie plays his wife, Naomi Lapaglia. Leonardo DiCaprio plays the role of Belfort, directed by Martin Scorsese and written by Terence Winter.
Wolf of Wall Street Storyline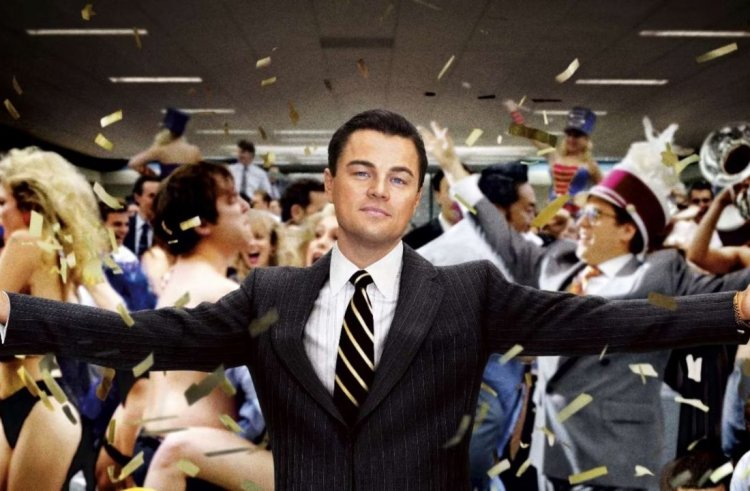 (Image Credits: Screen Rant)
Leonardo DiCaprio's character Jordan Belfort accepts an entry-level position at a Wall Street brokerage house in 1987. While still in his 20s, Belfort founded his own company, Stratton Oakmont, at the beginning of the 1990s. Belfort builds a fortune by scamming rich investors out of millions of dollars with the help of his dependable sidekick (Jonah Hill) and a merry band of brokers. However, the SEC and the FBI are closing in on Belfort's extravagant empire while he and his friends indulge in a hedonistic cocktail of sex, drugs, and thrills.
Release Date: December 25, 2013
Book Adaptation: The movie Wolf of Wall Street is based on the 2007 memoir Wolf of Wall Street written by Jordan Belfort.
Budget: Wolf of Wall Street was made with a budget of $100 million and grossed a box office of $406 million.
Ratings
IMDb: 8.2/10
Rotten Tomatoes: 8/10
Common Sense Media: 9/10
Run Time: 3 Hours
Wolf of Wall Street Cast
Leonardo DiCaprio as Jordan Belfort
• Jonah Hill as Donnie Azoff
• Margot Robbie as Naomi Lapaglia
• Kyle Chandler as FBI Agent Patrick Denham
• Rob Reiner as Max Belfort
• Jon Bernthal as Brad Bodnick
• Matthew McConaughey as Mark Hanna
• Jon Favreau as Manny Riskin
• Jean Dujardin as Jean-Jacques Saurel
• Joanna Lumley as Aunt Emma
• Cristin Milioti as Teresa Petrillo
• Christine Ebersole as Leah Belfort
• Shea Whigham as Captain Ted Beecham
• Katarina Čas as Chantalle Bodnick
• Stephanie Kurtzuba as Kimmie Belzer
• P. J. Byrne as Nicky Koskoff
• Kenneth Choi as Chester Ming
• Brian Sacca as Robbie Feinberg
• Henry Zebrowski as Alden Kupferberg
• Ethan Suplee as Toby Welch
• Jake Hoffman as Steve Madden
• Mackenzie Meehan as Hildy Azoff
• Bo Dietl as himself
• Jon Spinogatti as Nicholas
• Aya Cash as Janet
• Jordan Belfort as Auckland
• Catherine Curtin as FBI Agent
• Stephen Kunken as Jerry Fogel
• Barry Rothbart as Peter DeBlasio
• Welker White as Waiter
• Danny Flaherty as Zip
• Ted Griffin as Agent Hughes
• Steven Boyer and Danny A. Abeckaser
• J. C. MacKenzie as Lucas Solomon
• Ashlie Atkinson as Rochelle Applebaum
• Giselle Eisenberg as Skylar Belfort
• Thomas Middleditch as Stratton Broker
• Fran Lebowitz as the Honorable Samantha Stogel
• Spike Jonze as Dwayne
Awards
The film had 82 nominations in all, winning 22 awards.
In the 2014 American Cinema Editors awards, the film was named Best Edited Feature Film - Comedy/Musical.
Furthermore earned the 2014 American Film Institute's Top Ten Films of the Year award.
The film took up the Best Actor in a Comedy award from the Broadcast Film Critics Association in 2014.
In 2015, the Casting Society of America also awarded it the Big Budget Comedy prize.
The 2014 Empire Awards category for Best Female Newcomer went to the film.
The 2014 Golden Globe Awards awarded it Best Performance by an Actor in a Motion Picture - Musical or Comedy.
Critics' response
Since the movie highlights crime, it was rated as A, which sparked controversy among the fans. Moreover, as a memoir was converted into a movie, this garnered many positive reviews from the audiences and fans of the leading actor. Fans appreciated the brilliant portrayal of the stockbroker and the way the movie was made. In short, the movie was called an epic.
Movie Popularity
A huge smash in 2013, The Wolf of Wall Street was a film. The performers and the director are to thank for the film's fame. The fact that Leonardo Di Caprio played a major part made the movie the talk of the town even before it was released. Another factor contributing to The Wolf of Wall Street's popularity before its premiere was Martin Scorsese's superb filmmaking.
Second, the movie features nudity and is based on a true story, increasing its popularity with spectators. Another reason for the film's appeal is its concept, which combines the stock market, business, and entrepreneurship to produce a masterpiece.
Is Wolf of Wall Street on Netflix?
The Wolf of Wall Street, starring Leonardo DiCaprio, is available on Netflix, but only in a select few nations. The reason for this discrepancy results from the copyrights to the film that multiple other streaming providers in different locations have. The movie is already accessible on Netflix UK, Australia, and Italy, but not in the US or any other nation.
But don't worry, we have the ideal answer for this issue, and after following this advice, you may watch The Wolf of Wall Street on Netflix.
Step-by-step process
Step 1: Download Express VPN to access Netflix
Step 2: Install it on your device.
Step 3: Join a local IP address in Australia (Australia – Melbourne)
Step 4: Open the Netflix website or the Netflix app.
Step 5: Search for "The Wolf of Wall Street" on Netflix
Step 6: Enjoy the picture.
Watch the movie on a rental basis
There are several places where you may rent the movie. Below is a list of a few.
Amazon Video
Google Play Movies
YouTube
Vudu
Apple iTunes (4K)