Is maze runner on Netflix
Is maze runner on Netflix
Updated on November 14, 2022 10:21 AM by Michael Davis
Geeky, nerdy fans can never say no to science fiction movies, and that, too, with The Maze Runner Franchise is an impossible task. The 2014 American-based Dystopian Science fiction movie The Maze Runner had intense sequences that can send you chills down the spine with power-packed action violence and few disturbing images and scenes. As a result, MPAA gave the movie PG-13. The Movie was directed by Wes Ball and produced by Ellen Goldsmith-Vein, Wyck Godfrey, Marty Bowen, and Lee Stollman.
Storyline
(Image Credits: The Atlantic.com)
Dylan O'Brien's character, teenage Thomas, comes into a glade in the center of a huge labyrinth. Like the other young individuals who were brought there before him, he is unable to recollect his previous existence. Thomas joins the group immediately away and soon demonstrates a unique perspective that leads to his advancement to Runner level (those who patrol the constantly altering maze to discover an exit). With the aid of Teresa (Kaya Scodelario), the sole other girls, Thomas tries to convince his companions that he knows how to escape.
Release Date: September 19, 2014
Budget: Despite having a $34 million budget, the Movie made nearly $348 million at the box office globally.
The Movie based on Book: The Movie is based on the 2009 Novel The Maze Runner by James Dashner.
Ratings
IMDB: 6.8/10
Rotten Tomatoes: 6.5/10
Parent Previews: 6/10
The Maze Runner cast
Dylan O'Brien as Thomas
Kaya Scodelario as Teresa
All Ameen as Alby,
Thomas Brodie-Sangster as Newt
Ki Hong Lee as Minho
Will Poulter as Gally,
Patricia Clarkson as Ava Paige
Blake Cooper as Chuck
Dexter Darden as Frypan
Jacob Latimore as Jeff
Chris Sheffield as Ben
Joe Adler as Zart
Randall D. Cunningham as Clint
Alexander Flores as Winston
Don McManus as Masked Man
Awards
Maze Runner movie won the 2015 MTV movie awards under three categories:
Best Breakthrough Performance
Best Fight
Best Hero
The Maze Runner was also nominated for the 2015 Teen Choice Awards under the categories:
Choice Movie: Action/Adventure
Choice Movie: Breakout Star
Choice Movie: Chemistry
Choice Movie Actor: Action/Adventure
Choice Movie Actress: Action/Adventure
The Maze Runner sequels
The Movie later came up with two other The Maze Runner sequels
Maze Runner: The Scorch Trials
(Image Credits: IMDb.com)
Thomas and his fellow young Gladers are sent to a secluded guarded outpost where they discover a sinister scheme by the enigmatic and potent WCKD. The Gladers undertake a daring escape into the Scorch, a barren area littered with perilous barriers and infested with the virus-infected Cranks, with assistance from a new ally. Finding the Right Hand, a group of resistance fighters who can assist the Gladers in their fight against WCKD may be their only chance.
Release Date: September 18, 2015
Budget: The Maze Runner: The Scorch Trials was made with a budget of $61 million, and that grossed a worldwide box office hit of $312.3 million.
The Movie is based on a book: The Movie is based on The Scorch Trials, the second book in The Maze Runner series, written by James Dashner in 2010.
Ratings
IMDB: 6.3/10
Rotten Tomatoes: 4.8/10
Common Sense Media: 6/10
Maze Runner: The Death Cure
Some Gladers who have fled are led by Thomas on their most hazardous expedition yet. To save their comrades, they must enter the fabled Last City, a maze run by the WCKD that may wind as the deadliest maze of them all. The questions the Gladers have been asking since entering the maze will be answered for everyone who survives.
Release Date: January 26, 2018.
Budget: This Movie grossed $288.2 million at the Box Office to an estimated budget of $62 million.
The Movie based on the book: The Movie is based on the 2011 novel The Death Cure by James Dashner.
Ratings
IMDB: 6.2/10
Rotten Tomatoes: 4.3/10
Parent previews: 7/10
Is The Maze Runner available on Netflix
It's a piece of sad news that Maze Runner and its sequel are not available for US Netflix subscribers, but the first film is available for Canada Subscribers. Even though the second movie cannot stream on US or Canadian Netflix, users in the UK may access it.
It is obvious that there is now no discernible pattern in the distribution of films throughout the various geographical areas. This makes it challenging to predict whether the most recent Movie will be available on Netflix.
In which Country Maze Runner is available?
Maze Runner is available only on Netflix, Germany, and South Korea Netflix.
How to watch Maze Runner?
The maze Runner trilogy is available on Disney+.
However, to view Maze Runner on Netflix, you will need access to German Netflix. You can use ExpressVPN to access UK Netflix, American Netflix, German Netflix, French Netflix, and several other Netflix areas.

Step 1: Download the ExpressVPN software and link to a German server.
Step 2: Restart your Netflix browser or app.
Step 3: Go back to Netflix and look for Maze Runner.
Step 4: Netflix is currently streaming Maze Runner: The Death Cure.
Similarly, you may use ExpressVPN to access Netflix content from the other areas stated. Additionally, you may view streaming services like Hulu, Amazon Prime, Disney+, and others from countries other than the United States by using ExpressVPN.
Why is there a problem with Netflix?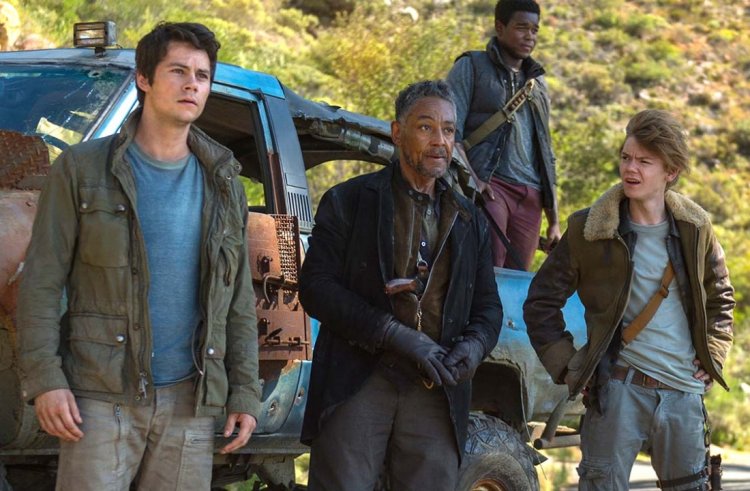 (Image Credits: Cinema Clock.com)
Netflix is unavailable in your country because geo-blocking software prevents users from accessing material from other countries. Additionally, the exact Movie or series must be displayed when searching for your preferred program.
Why use VPN to watch The Maze Runner?
The simplest and safest way to bypass geo-restrictions and get Netflix movies from anywhere globally is with a VPN. I suggest utilizing a VPN with Netflix if you love viewing movies and TV shows.
ExpressVPN unblocks Netflix Libraries
By unblocking Netflix libraries in the nations indicated below, you may also unblock thousands of more titles in addition to The Maze Runner movie:
Canada
Australia
The United Kingdom
United States
France
Italy
Japan
Germany
Turkey
The Netherlands
India
Brazil
Spain
South Korea
Finland
Poland
This Express VPN can unblock The Maze Runner on the following devices,
iPhone/iPad
PC
Mac
Android Phone/Tablet
Amazon Fire TV
Roku
Apple TV
Google Chromecast
Speed test of Express VPN
ExpressVPN has passed our tests with several servers in many nations, allowing excellent HD streaming with little lagging and buffering. And even with my mobile Internet connection, I could watch this Movie in high definition.
Price Plan for VPN
Pricing: There are three alternatives available, each of which costs $12.9/month for a one-month plan, $8.32/month for a one-year plan, and $9.99/month for a six-month plan. If you check my discount links, you can buy these plans for even less.
So Readers, now you might be aware that The Maze Runner Trilogy is not available on Netflix; go about the steps by using an Express VPN connection and enjoy watching the movie with your loved ones.