How to Watch Suits on Netflix in 2022
How to Watch Suits on Netflix in 2022
Published on November 14, 2022 17:47 PM by Andrew Koschiev
Suits is a highly entertaining and successful television series that concluded its last season in 2019. Many admirers continue to binge-watch or replay it on Netflix.
Mike Ross (Patrick J. Adams) exploits his eidetic recall to charm his way into a job as an associate working with successful closer Harvey Specter (Gabriel Macht) at a fictional New York City law firm, despite having dropped out of college and never having attended law school.
Suits focus on Harvey and Mike's ability to win litigation and close cases while also concealing Mike's secret. Rick Hoffman portrays the neurotic financial attorney Louis Litt, Meghan Markle plays the ambitious paralegal Rachel Zane, Sarah Rafferty plays Harvey's legal assistant and confidante Donna Paulsen, and Gina Torres plays the firm's managing partner Jessica Pearson.
The series was renewed for an eighth season on January 30, 2018, despite the departures of Torres, Adams, and Markle, with Katherine Heigl joining the cast as Samantha Wheeler. Alex Williams (Dulé Hill) and Katrina Bennett (Amanda Schull) were elevated to series regulars from recurring roles. On January 23, 2019, the sitcom was revived for a ninth and final season of 10 episodes, which began on July 17, 2019.
Suits were nominated for multiple accolades over its run, including individual recognition for Torres and Adams. In addition to two nominations for her role as a supporting actress, Torres received the 2013 NHMC Impact Award for Outstanding Performance in a Television Series.
Adams was nominated for the 2012 Screen Actors Guild Award for Outstanding Performance by a Male Actor in a Drama Series. The show itself received two People's Choice Award nominations.
The program's success generated a short-lived spin-off, Pearson, focusing on Jessica Pearson's entrée into Chicago politics, which began on July 17, 2019, concurrently with the last Suits season. On September 25, 2019, Suits ended after nine seasons and 134 episodes.
Suits on Netflix in the USA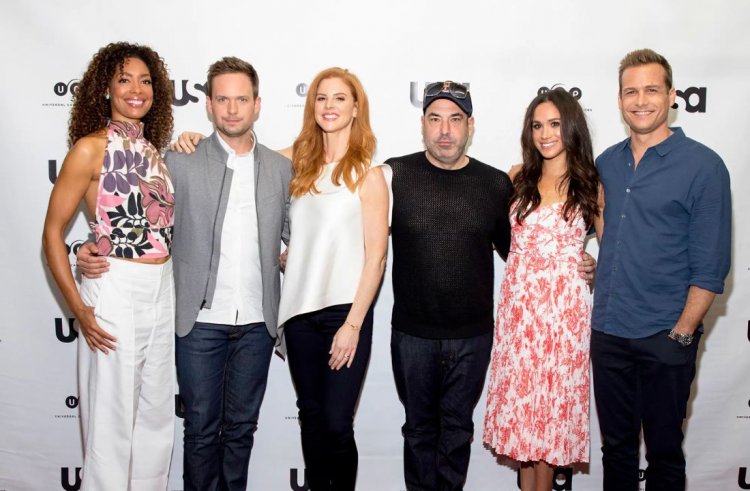 (Image Credits: UsWeekly)
Due to licensing arrangements, the legal drama Suits is no longer available to stream in the United States on Netflix. Unfortunately for viewers in the United States, the show is only currently broadcast in other nations, including the United Kingdom, Australia, Germany, and several other countries.
In addition to that, you can watch it streaming on Peacock TV and Amazon Prime Video.
You are, nonetheless, still able to watch Suits on Netflix, even if you are located in the United States. Sign up for a virtual private network (VPN) that supports streaming. You can access the show as soon as you establish a connection to a server even though Netflix believes you are coming from another country.
Cast
Gabriel Macht as Harvey Reginald Specter
Patrick J. Adams as Michael James "Mike" Ross
Rick Hoffman as Louis Marlowe Litt
Meghan Markle as Rachel Elizabeth Zane
Sarah Rafferty as Donna Roberta Paulsen
Gina Torres as Jessica Lourdes Pearson
Amanda Schull as Katrina Amanda Bennett
Dulé Hill as Alex Williams
Katherine Heigl as Samantha Wheeler
And many more.
Season-wise synopsis of the show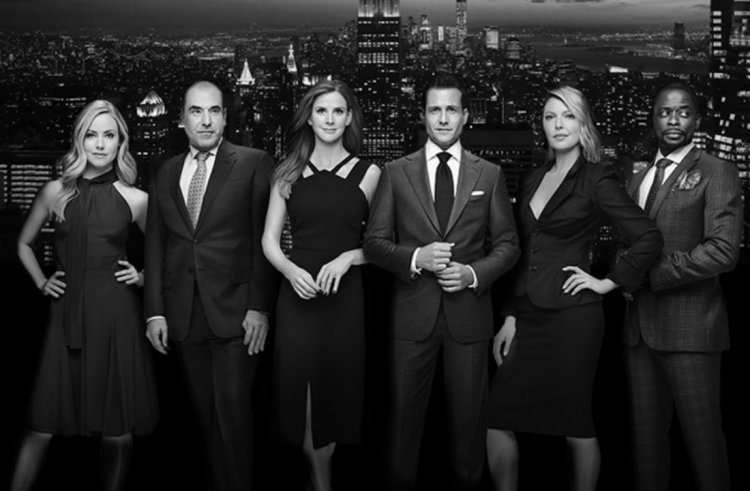 (Image Credits: IMDb)
Season 1
Mike Ross, a former student who was expelled, now takes the LSAT on behalf of others to do a job. He began doing this to help cover the costs of taking care of his elderly grandma. In the first episode, Mike deals with his drug dealer best friend Trevor for a big payoff in exchange for transporting a case of marijuana. Mike sidesteps an arrest during a sting operation, only to wind himself at a job interview with Harvey Specter, the city's top closer. Despite Mike's lack of qualifications to lawfully practice law and the fact that he did not attend Harvard, Harvey hires him as an associate because of his persistence and grasp of the law. Working as a team, they attempt cases for Pearson Hardman while covering up the fact that Mike is a con artist. The season premiere also serves as an introduction to the dynamic between Mike and Rachel. Throughout the first season, it provides viewers with a romantic angle on the main plot.
Season 2
The managing partner, Jessica Pearson, discovers Mike's secret, but other things arise when co-founding partner Daniel Hardman returns to the firm and puts pressure on Jessica and Harvey. When Louis Litt supports Daniel Hardman's bid to be named senior partner, Jessica and Harvey are angry. Mike starts a relationship with paralegal Rachel Zane, but after his grandmother dies unexpectedly, he ends up with other romantic interests. Harvey and Donna, his secretary, are accused of hiding evidence. They have to find out the truth while keeping incriminating evidence from Hardman, who would use it to get a position as managing partner. Because Hardman's threat is worsening, Jessica has to merge with a British company by Edward Darby. Mike reveals his secret to Rachel.
Season 3
Due to Darby's presence there, Harvey now has more leverage to pursue a position in the firm as a named partner. In the meantime, the merger led to a disagreement between senior partner Louis Litt and his counterpart in the United Kingdom. Ava Hessington, a customer of Darby International, drags Harvey into an extended trial against his former mentor, and the case ultimately results in a murder charge against Harvey. After concluding that he cannot perpetuate his fraud indefinitely, Mike decides to seek employment in the investment banking industry rather than remain at the law firm formerly known as Pearson Specter.
Season 4
As a result of Mike and Harvey's new jobs, the SEC will accuse them of engaging in illegal coordination because they will be on opposing sides of a takeover struggle. Following Mike's dismissal from Pearson Specter, Louis makes a concerted effort to get Mike to accept a position with the law firm rather than taking a job with the dubious billionaire investor Charles Forstman. Louis seeks a name partner position to compete with Harvey for the post. Still, his wrongdoings end up getting him fired. When Louis discovers that Mike never attended Harvard, he uses this information to coerce Jessica into rehiring him and giving him the promotion he had been seeking. Rachel accepts Mike's proposal, and Donna leaves Harvey to work for Louis.
Season 5
Harvey is having a hard time coping with the death of Donna, and he has started talking to a therapist about his troubled connection with his mother. However, Louis' fear and his attempt to undercut Harvey open the door for Jack Soloff, an ambitious partner whom Hardman is manipulating, to take advantage of the situation. Rachel's plans for her wedding and her relationship with her parents are hampered by the fact that Mike keeps a secret from them. Mike and Harvey resign to safeguard their careers, but Mike is immediately arrested for fraud shortly after his resignation. As more and more persons involved concluded that the claims are accurate, Mike decides to make a deal with the persistent prosecutor Anita Gibbs, plead guilty, and turn himself in so that no one else would be sent to jail as a result the incident. Mike informs Rachel that he will not marry her right now but that if she is still interested in him in two years, he will marry her after he is released from prison. This exchange takes place at the wedding. He is taken to jail by Harvey, and the two of them exchange their final few words.
Season 6
Mike, who faces two years in prison, is at the mercy of convict Frank Gallo, who harbors resentment toward Harvey. There aren't many people left to help at Pearson Specter Litt. Rachel is assisting her law professor with an Innocence Project case, while Jessica works pro bono but eventually leaves the firm to focus on her personal life. Mike's cellmate ends up playing a critical role in the agreement that gets Mike out of jail after he secretly films Frank's attempt at murder. Even though the news of his deception had spread, he could secure employment at a law firm. Harvey tutors Rachel through the bar exam and convinces Mike to rejoin the firm after he fails it.
Season 7
Everyone at the company is having a hard time adjusting to the new routine that exists without Jessica. Harvey's friends Alex and Donna join the team, with Donna taking on the role of a chief operating officer. Louis' appointments with Dr Lipschitz, his therapist, have a mixed track record of success, while Harvey initiates a romantic relationship with his former therapist, Paula. After successfully passing the bar exam, Rachel will begin her career as an attorney. Mike continues to work on pro bono cases at the clinic with Harvey's permission; nevertheless, one of the cases puts Alex, Harvey, and other people in danger. Jessica can reunite with her family in Chicago, as is also the case with Louis and Sheila. Before moving to Seattle, Mike and Rachel got married and then accepted a position with a company that allows them to manage their own business and represent clients in class-action lawsuits. As the current episode of the show comes to a close, Robert Zane's partners, Ellen Rand and Eric Kaldor are responsible for a case that places Specter Litt in jeopardy. After Zane discovers the truth, he works with Specter Litt.
Season 8
Mike and Rachel are leaving Zane Specter Litt now that they are married. Robert Zane is now the managing partner, and Donna is still the COO. Robert brings on Samantha Wheeler as a new senior partner. She will be his right hand and fixer. Wheeler becomes a name partner with Alex Williams in the future. Louis finds out that Sheila is with a child. Katrina Bennett becomes a senior partner and struggles with romantic feelings for her married personal associate. As Season 8 comes to a close, Donna and Harvey finally tell each other how they feel about each other. However, Donna's poor treatment of the client/boyfriend, Thomas Kessler, forces Zane to give up his legal career for the firm's good.
Season 9
Robert has been kicked out of the bar, so Faye Richardson, a special master from the bar, is sent to oversee the firm because of the shady things they are thought to have done for years. Faye wants to break up and destroy the company, but she has some secrets that can be used against her. At the end of the season, Louis marries Sheila, Sheila gives birth to their child, Harvey marries Donna, and the three of them move to Seattle to live with Mike and Rachel. Louis makes Katrina a name partner, but he still runs the company, which is now called Litt Wheeler Williams Bennett.
Conclusion
Netflix no longer lets people in the United States stream Suits. Because of how well the show did, a short-lived spin-off called Pearson started on July 17, 2019. After nine seasons and 134 episodes, Suits came to an end on September 25, 2019. The show is about a man who used to go to law school and now takes the LSAT for other people as a job. It also adds a romantic touch to the main storyline. You can enjoy the full series in the US through Netflix by using some VPN tools that can help you get access by changing the IP location of your system