Doctor Who Actor David Tenant Continues The Legacy Of Family Tradition And Trolls Their Son At London's Comic Con
Doctor Who Actor David Tenant Continues The Legacy Of Family Tradition And Trolls Their Son At London's Comic Con
Updated on November 25, 2022 12:35 PM by Michael Davis
The tradition of dad pulling his son's leg can never get old despite the age of the family head, and one such similar incident was recorded at London's Comic-Con this week.
What is special at London's Comic Con?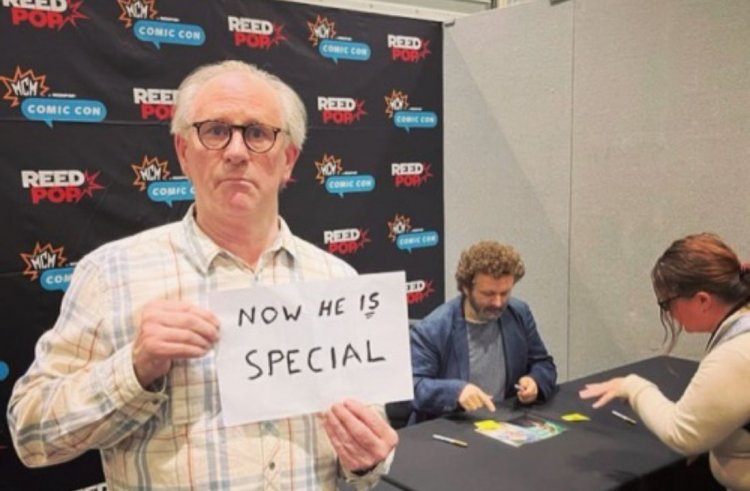 (Image Credits:Tumblr)
Doctor Who and his team are attending London Comic Con for the second year in a row from Friday, October 25, through Sunday, October 27. This features the official both will have a storefront with intriguing new book releases and LCC-only merchandise.
For the first time at London Comic Con, a series of panels honouring everything Doctor Who will be placed throughout Sunday, October 27, and that's exactly where this prank was recorded.
The Funny Sign
The "Doctor Who" star was present with his son, who most recently appeared in HBO's "House of the Dragon." Georgia Tennant, the mother of the 20-year-old actor, posted a picture on Instagram where the elder Tennant holding a funny sign over his son's head that read,
"He's not that special!"
The David Tenant looks straight at the camera holding the funny sign while his son is engaged in a fan meet-and-greet table, and looks away from the camera.
Reason for the tease:
He may have mocked his kid after becoming popular for portraying "Aegon II" in the popular television show that centres on House Targaryen in the mythical continent of Westeros. Tom Glynn-Carney, an actor, took his position as the play fast-forwarded, but the audience still adores him.
Fans response
A fan on seeing the post "The saga continues," displaying a picture of someone putting up another sign that reads, "Now he is special," close to Michael Sheen, who co-starred with David Tennant in the television series "Good Omens," in what seems to be Davison.
Another comment being a big Family, this tradition continues.
Another commented, "This post has just made my day Georgia. I really do love your family."
And guess what? This prank is a family tradition that has been played for ages, and previously one such prank was made by the same family member.
Prank a part of family tradition
David Tennant's father-in-law and Ty Tennant's grandpa is Peter Davison, who portrayed the fifth "Doctor Who" in the 1980s. At a different Comic Con in Wales in April, Davison displayed a placard like this for his son-in-law; however, this time, the word "that" is underlined, whereas Tennant highlighted "He's," possibly in response to the original months later.
And this post was made on his Instagram account with the caption,
Here I am protesting in front of the half-mile queue for your husband.
Georgia Tennant, who also performed in "Doctor Who," got to know David Tennant, who played the 10th and 14th doctors in the television programme. According to an interview David Tennant gave to Absolute Radio in 2012, they had five kids together, including Ty Tenant, Georgia Tennant's first-born son, who David Tennant adopted.