CBS's Upcoming Holiday Movie Fit For Christmas Stars: Watch The Performance Of Amanda Klotz And Paul Greene & Others
CBS's Upcoming Holiday Movie Fit For Christmas Stars: Watch The Performance Of Amanda Klotz And Paul Greene & Others
Updated on December 05, 2022 12:44 PM by Michael Davis
In its holiday season lineup announced last month, CBS has announced that Fit for Christmas premiered on Sunday, December 4 at 8.30 pm ET on both CBS and Paramount+. Fifteen more holiday specials, including Fit for Christmas, are scheduled to air on the channel. Robbie the Reindeer and The Story of Santa Claus have already aired on the channel.
This drama stars Amanda Kloots, Paul Greene, and Rebecca Budig. Jessica Harmon directed it. The drama Girl in the Shed: The Kidnapping of Abby Hernandez was nominated for Outstanding Directorial Achievement at this year's Directors Guild of Canada Awards. As a dancer and fitness instructor, Amanda Kloots co-hosts The Talk, a daytime talk show she has been hosting since last year.
Fit for Christmas: the inspiration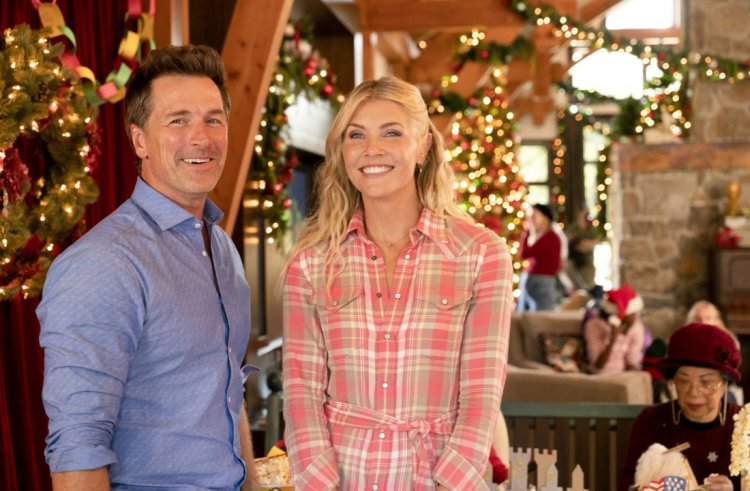 (Image Credits: Monsters and critics)
Her numerous Broadway musical credits are Good Vibrations, Young Frankenstein, Follies, Bullets Over Broadway, and the 30th season of Dancing with the Stars, where she placed fourth. The inspiration for Fit for Christmas came from Kloots' late husband, Broadway actor Nick Cordero, who died from complications due to COVID-19 in July 2020.
During that period of struggle, Kloots was frequently unable to sleep. On one occasion, Kloots conceived Fit for Christmas, a Christmas film centered around a fitness instructor. During the past two years, Kloots and co-writer Anna White have been developing the script for CBS while filming began in Vancouver in August.
Also Read: It's time to enjoy! The greatest music albums are here
Efforts are being made to transform the project
As part of the shoot, the actors wore winter clothing like coats, scarves, and hats, but Kloots was unfazed by the heat. Her role will be that of Audrey in the upcoming drama. The project is intended to help transform a "financially distressed community center in quaint Mistletoe, Montana," into a successful resort/ski lodge.
Since he has been involved in more than 11 Christmas films, he has become known as the "King of Christmas." He starred in Fit for Christmas this year, and I'm Glad It's Christmas this year. Greene portrayed a jingle writer opposite Jessica Lowndes, who played an aspiring singer in the Great American Family show, I'm Glad It's Christmas.
Also Read: For your sweet and savory choices, here are 28 festive Christmas snacks
With Fit for Christmas, Budig is making his film debut
In Fit for Christmas, Rebecca Budig plays Lisa, Audrey's friend, who runs a café in the community center, which Griffin intends to take over. Budig will make his film debut with Fit for Christmas alongside the stars, as mentioned earlier, Mark Brandon and Jacklyn Collier.